US Home Values Hit $350,000 As Prices Increase for Fourth Straight Month, New Zillow Report Shows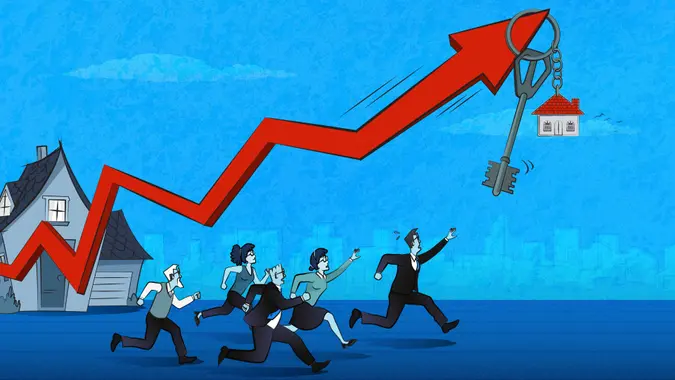 Cemile Bingol / Getty Images
The latest Zillow report shows that the typical home price hit $350,000 for the first time as buyers continue to come head-to-head with reluctant sellers in the residential real estate market.
"Home buyers have persisted this spring despite daunting affordability challenges and record-low inventory," said Jeff Tucker, senior economist at Zillow. "Demand typically begins to ease in the summer, and there are signs that competition is waning, but large price declines are unlikely until more homeowners list their homes for sale."
Home prices have increased for four consecutive months, rising 1.4% from May to June. The typical home value of $350,213 is nearly 1% higher than last June and beat the previous Zillow Home Value Index record set in July 2022.
There's been a massive slowdown in homes entering the market, and Zillow's experts say the likely culprits could be higher mortgage rates and homeowners holding out for higher prices. The interest rate on a 30-year fixed-rate mortgage is 6.81% as of July 6, up from 5.30% a year ago.
According to Molly Boesel, principal economist at CoreLogic, 80% of homeowners have a mortgage rate under 4%. Boesel says homeowners don't have a big incentive to give up that rate because selling would result in a big jump in housing costs.
But Zillow says there's been a recent drop-off in demand from buyers, and there's less competition in the market. Sales measured by newly pending listings fell 5% from May to June, following seasonal trends, and listings lasted longer in June (11 days) than in May (10 days). But this is still a big difference from what we saw pre-pandemic in 2019, when listings were pending for 21 days.
More From GOBankingRates