3 Ways Gen Z Is Investing in Real Estate With Minimal Capital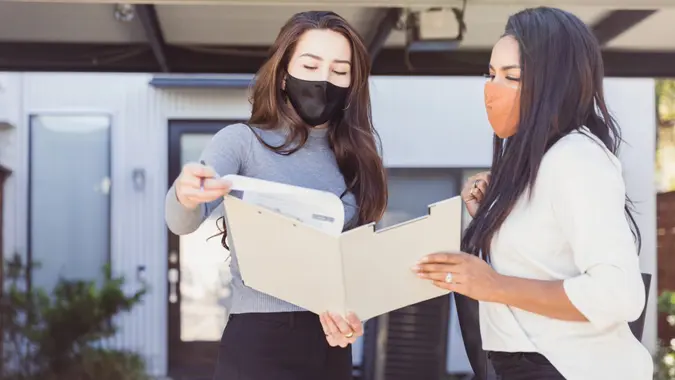 SDI Productions / Getty Images
Many Gen Zers plan to become homeowners in the near future — a new GOBankingRates survey found that 42% of Gen Z is planning on buying a home in the next five years. But, as this generation is early on in their careers, prospective Gen Z homebuyers may make less money than others.
However, this lack of funds isn't stopping Gen Z from achieving their real estate goals. Young investors are using social media and online resources to educate themselves on property investing and ownership. This has led Gen Z to come up with innovative alternatives to getting into real estate.
Here are a handful of creative ways that Gen Z is investing in real estate with minimal capital.
House Hacking
House hacking, a concept that has recently taken off on TikTok, is one method Gen Z is using to get into real estate.
House hacking involves buying a home, so prospective buyers need to qualify for a mortgage loan and have some money to put down. However, if they're able to overcome these initial hurdles, they won't need to pay for the whole home themselves. Instead of risking being "house poor" and living beyond their means, house hackers rent out rooms to tenants to help pay off the mortgage.
House hackers may either rent monthly to a tenant or list the space on Airbnb.
Crowdfunding
Crowdfunding has emerged as another popular avenue for Gen Z to generate enough money to invest in properties. Crowdfunding is a way to earn money using an online platform. Users can set up a donation bank and others can donate money to their cause.
By using crowdfunding to raise money, young investors are also creating interest in their ventures. Users who donate to these crowdfunds become invested in the success of the individual who set up the fund.
Platforms such as RealtyMogul and Fundrise are popular among Gen Z real estate investors. These platforms specifically focus on crowdfunding for real estate.
REITs
Real Estate Investment Trusts, or REITs, have also become an option for those in Gen Z who are interested in real estate.
REITs allow young investors to dip their toes into investing without actually owning properties themselves. Individuals who invest into REITs are investing into large-scale companies that operate income-producing properties.
REITs are not as high of a risk as physically owning property, but investors must do their due diligence in order to ensure they are investing in the right type of REITs.
Final Note
Due to their limited income, Gen Z has had to find more unconventional ways to invest in real estate.
Although Gen Z may not have had the time to build up wealth over the years, there are alternative ways for them to invest in real estate and begin building a portfolio.
More From GOBankingRates
Methodology: GOBankingRates surveyed 1,004 Americans aged 18 and older from across the country between May 26 and June 5, 2023, asking nineteen different questions: (1) When do you expect to buy your next house?; (2) How much do you plan to spend on your next house?; (3)How much did you spend on your current house?; (4) How much (as a percentage of the home cost) did you put as a down payment?; (5) How much is your monthly mortgage payment?; (6) What is the most you are willing to spend on a monthly mortgage payment in your current financial situation?; (7) How long did it take to save for your down payment?; (8) When you bought your house, did you pay more than your originally planned budget?; (9) How much do you spend on yearly maintenance for your house?; (10) When buying your current house, which costs were more expensive than you expected? (Select all that apply); (11) How much do you have saved in an emergency fund for house repairs/maintenance?; (12) What is holding you back from buying a house? (Select all that apply); (13) How much did you spend on home renovations in the last year?; (14) Do you expect a housing market crash to happen in the next two years?; (15)Do you think that homebuying will become easier or harder over the next 10 years?; (16) Are you currently using real estate/buying properties as a way to build wealth?; (17) How much did you spend on your vacation home?; (18) Where would you most want a vacation home?; and (19) Which of these fast-growing big cities would you consider relocating to?. GOBankingRates used PureSpectrum's survey platform to conduct the poll.