Real Estate 2023: Here's What $1 Million Buys in New Orleans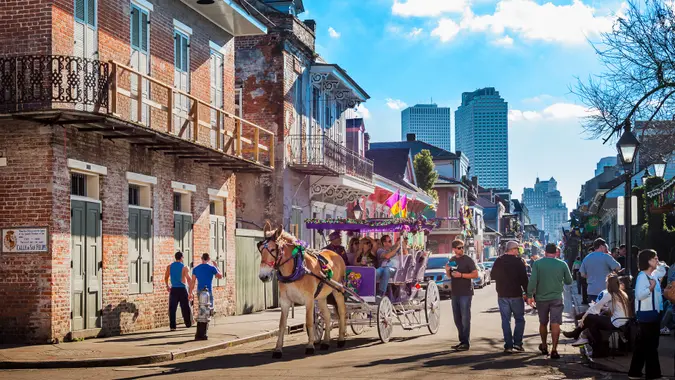 benedek / Getty Images
If buying a home in "The Big Easy" is a dream of yours, you might be wondering what the real estate market is like there.
Doug Van Soest, co-founder of Socal Home Buyers, a professional real estate investment company, said that the New Orleans real estate market has unique characteristics, including historic architecture, vibrant culture and diverse neighborhoods, which make it stand out from other big cities and contribute to its charm and appeal.
See: The IRS Has Refunded $15.7B as of Feb. 3 — Here's How Much the Average Taxpayer Is Getting Back
Find Out: 3 Things You Must Do When Your Savings Reach $50,000
"In recent years, the real estate market in New Orleans has been steadily growing, with an increase in property values and new development projects," said Van Soest. "However, compared to other major metropolitan areas, such as New York or San Francisco, the cost of living in New Orleans is generally more affordable, and the real estate market is less competitive. This can make it an attractive option for those seeking a more laid-back lifestyle or looking to invest in a market that has room for growth."
He added, "Nonetheless, like any real estate market, the New Orleans market is subject to fluctuations, influenced by factors such as economic conditions, natural disasters and demographic changes. Overall, while the New Orleans real estate market may not have the same level of hype as some other big cities, it still presents opportunities for buyers, sellers and investors looking for a unique and dynamic market."
If all that peaks your interest, here are some examples of what $1 million buys in New Orleans.
1849 French Quarter Townhouse
This one-bedroom, two-bath French Quarter townhouse was built almost 175 years ago and has a footprint of only 784 square feet. However, what it lacks in size it makes up for in character.
To begin, it's in a coveted location near the French Market and the river and features a balcony and a hidden courtyard. Once you step inside the home, you'll find all sorts of high-end custom details, such as an antique crystal chandelier, floating brass shelves and imported Calcutta Viola Italian marble. Plus, it's outfitted with all the modern appliances you'll need. Not only that, but this home underwent a major renovation in 2020, which involved the plumbing, electrical systems and foundation.
1893 Home With Wood Siding
This four-bedroom, three-bath 19th-century home located on Tchoupitoulas St. is roomy at almost 2,600 square feet. It features 11-foot ceilings and plenty of historical architectural details that speak to New Orleans-style charm.
If you enjoy flooding your home with natural light, this home is perfect due to the new double-paned windows and French doors outfitting the space. Additionally, the primary suite offers a roomy bathroom and huge walk-in closet, which will afford you plenty of privacy and storage. The property also contains a 550-square-foot back building with a large bedroom, kitchen and bathroom that has the potential for an art studio or home office.
Take Our Poll: What Do You Plan To Use Your Tax Refund For?
1925 Mediterranean Home With Raised Basement 
If your architectural preferences skew more toward Mediterranean-style, this 1925 home with a raised basement could be just what you're looking for.
The home, located on Fontainebleau Dr., features five bedrooms, three bathrooms and a sun room, game room and wine room within the roomy 4,473-square-foot living space. Other amenities include an expansive screened-in front porch and an elevator.
1948 Georgian-Style Home
This four-bedroom, four-bathroom Georgian-style home on Jefferson Ave. is perfect for outdoor entertaining with its covered rear porch that leads into a large backyard.
Indoors, you'll find that the approximately 4,000-square-foot space features two stories filled with spacious rooms, including a den, living area, formal dining room and study — all outfitted with gleaming hardwood floors. 
1982 Stucco Home
If you're looking for a newly renovated, spacious home with a separate short-term rental property onsite, you've found it. This stucco home from the early 80's is located on Bellaire Dr. in Lakeview.
It features five bedrooms and 2.5 baths within the 3,675-square-foot main home — plus, there's 412 square feet of living space in the two-bedroom, two-bath guesthouse that includes a separate meter. Outstanding features in the main home include a well-appointed chef's kitchen and 36×48 porcelain tile throughout the entire first floor.
More From GOBankingRates