What the Housing Market Will Look Like by the End of Spring 2023, According to Experts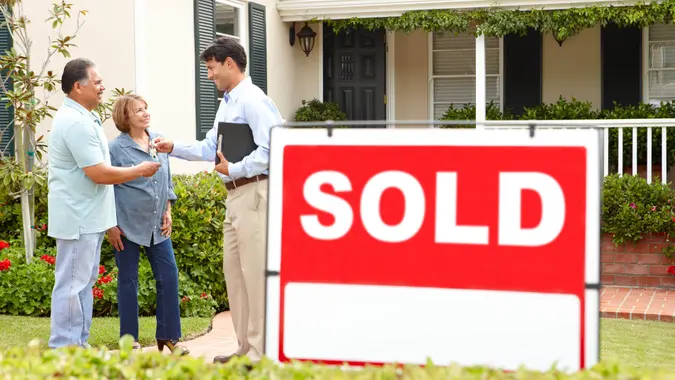 monkeybusinessimages / iStock.com
When it comes to real estate, timing is everything. If you've been waiting to buy or sell a home, you're probably anxiously waiting to see what the market will look like by the end of spring.
In March 2023, existing home sales declined 22% from one year ago, according to the National Association of Realtors. Additionally, the median existing-home sales price dropped 0.9% from 2022.
Notably, the inventory of unsold existing homes increased by 1% from February 2023, according to the NAR. This is equal to 2.6 months' supply of inventory at the current monthly sales rate.
While conditions are currently looking promising for buyers, it's never wise to get too comfortable in today's volatile market. To help you get a better idea of what to expect by the end of spring, GOBankingRates spoke with a couple of real estate experts to get their predictions.
There's no way to know for sure what the market will bring by the end of this season, but here are their projections.
Home Prices Will See 'Reasonable Reductions'
"Overall, home prices are trending lower, although that is not an indication of a deflation in value," said Rick Arvielo, co-founder and CEO at New American Funding, the largest Latina-owned private mortgage company in the U.S. "After the unprecedented increases in home pricing over the last two years, we are seeing the froth coming off some markets that saw home prices increase significantly."
However, he noted this is very market specific, so price decreases will vary across the country.
"For the most part, reasonable reductions are trending as we enter spring, which is a historically busy real estate season," he said.
It Will Still Be a Buyer's Market
"Due to the current housing shortage, spring would be an excellent time to consider buying," Arvielo said. "In 2021 through early last year, we saw multiple offers driving home prices up and finance buyers losing out to cash buyers."
During this time period, he said it wasn't uncommon for buyers to lose multiple bids, leading them to offer well over the asking price to win a deal.
"The market shifted last year, and buyers are now in the driver seat and are negotiating price reductions," he said. "Once interest rates trend down into the 5% range again, you are likely to see the shift back to a seller's market."
Consequently, he said buying now could help you get a better deal.
"When rates drop in the future, which is expected, homeowners can refinance to a lower rate," he said.
If Rates Drop, Home Prices Could Rise Again
Historically, Arvielo said homebuyers are more active in the spring through early-to-mid fall, with a slight dip during the summer months, when people are on vacation.
"After that, the holidays and colder conditions throughout much of the country slows activity," he said. "This year and last, interest rates have played a key part in the housing transaction slowdown, which has resulted in pent-up demand."
He said this could cause activity to increase this spring, depending on interest rates.
"If rates drop, we are likely to see an increase in activity," he said. "And when combined with historically low inventory, we could see home prices spike again."
New Home Sales Will Outpace Existing Home Sales
New home sales will rise to 680,000 units by the end of spring, which is well above the average of 620,000 realized over the past three months, said Albert Lord, founder and CEO at Lexerd Capital Management.
"Sales of existing homes will be on a declining path expected to reach 4.3 million in June, down from 4.44 million in January," he said.
Home Prices Won't Change Much
"Prices will remain stable with some increases in urban areas with limited supply," Lord said.
He said the average sale price in the U.S. was $515,000 in March, down from $552,000 in December 2022. By the end of spring, he said prices are expected to be close to $510,000.
"The rental market may be challenged, as rates have reached on average a monthly rate of $1,625 and the prospect of softening employment conditions will impact the rate of rental growth," he said.
Real Estate Market as a Whole Will Remain Moderate
"Rates for the 30-year fixed [rate] mortgage will remain high — around 6.5% — compared to 6.7% [in] December 2022," Lord said. "With the consumer confidence index moving down to 103 by May, from 106 in January, we expect the real estate market as a whole to exhibit conditions of moderation."
Overall, he said the changes probably won't be major.
"Compared to spring 2022, the market will show declines — albeit not significant — across key performance measures," he said.
Since they're just predictions, some of these forecasts might seem a bit contradictory. However, they still offer valuable insights on what to expect from the market by the end of spring.
Whether you're planning to buy or sell, hopefully these predictions will help you plan your next move. A home is a major investment, so you want to make sure you buy — or sell — at a price that fits your finances.
More From GOBankingRates