Housing Market 2023: What's Causing Surging Home Cancellation Rates?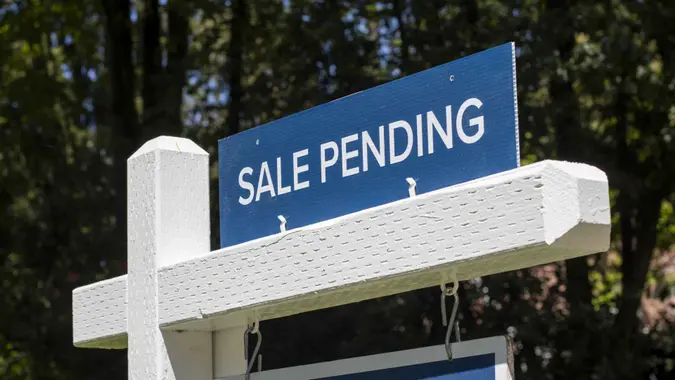 hapabapa / Getty Images/iStockphoto
As the housing market faces one of its biggest corrections in a decade, sales of both new homes and existing homes are facing high cancellation rates. Although the cancellation rate has dropped since late 2022, the cancellation rate for new homes under construction currently sits at 9%, according to a recent survey from John Burns Research and Consulting.
As of January 2023, the cancellation rate for new and existing homes was roughly 20%, Ali Wolf, chief economist at Zonda, told Marketplace.org. There are many reasons why contracts for new homes or existing homes may fall through. Why are home sales being cancelled? And what can you do if this happens to you and your prospective buyers cancel the deal or if you're faced with canceling your home purchase?
Rising Interest Rates Make Homes Under Contract Less Affordable
Interest rates for 30-year mortgages hover near 7% right now. If you did not lock in mortgage rates, you might now find that the home of your dreams is no longer affordable. If you have cash, you may try to buy down points on your mortgage to reduce your interest rate, put more money down, or search for another mortgage company.
More Options on the Market
With home sales declining since February, there are more houses on the market. This gives buyers more choices. If they previously settled for a certain home, they might find one they like better, perhaps for less money.
Take Our Poll: Are You Planning To Buy or Sell a House This Year?
Issues Found During Inspections or Appraisals
The tight housing inventory of the past few years left many buyers making concessions, such as waiving inspections or appraisals. Likewise, buyers were willing to forego negotiating for repairs in order to entice sellers to accept their bid.
With a loosening home inventory — coupled with higher mortgage rates — buyers are standing strong and canceling deals if the inspection or appraisal doesn't meet their expectations. If you are selling your home and the buyer is considering backing out, you might make some concessions to lower your selling price or make the necessary repairs to push the deal through.
Homeowners Insurance Cancellations and Climbing Rates
Homeowners and homebuyers in the South have faced home insurance cancellations, sometimes even before they've closed on the property. Rising homeowners insurance rates, coupled with rising mortgage rates, make it harder for buyers to afford a home that was previously within reach, financially.
You might see if you can get more affordable insurance for the home by making some upgrades, such as a new roof or fixtures. This could fall on the current homeowner to make the home insurable for the new buyers, or the new homebuyer could make the upgrades.
It's still a challenging time to purchase a home, even with median sale prices slowly declining since February. To secure the lowest mortgage rates available today, see if you can improve your credit score, reduce your debt-to-available credit ratio, and shop around to at least five different lenders before locking in your rates.
More From GOBankingRates