40% of People Have Vacation Homes: Where You Can Find One for Your Budget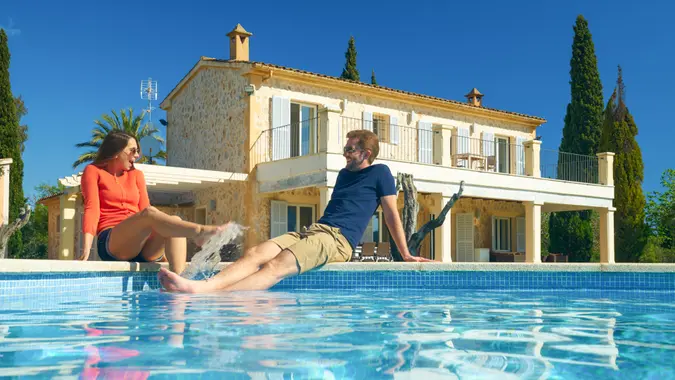 amriphoto / iStock.com
Second homes are no longer just a luxury for the rich.
According to a new GOBankingRates survey of more than 1,000 adults, four out of 10 Americans now own vacation homes. A little more than one in four of the remaining 60% don't aspire to buy one. For those who do, it's all about finding a location that matches their budgets.
The largest share of vacation home owners paid less than $200,000, with only small percentages spending $500,000 or more. At today's mortgage rates, that's a wise example to follow for most — but all of America's top states for vacation homes have something for everyone.
If Money Were No Object
Among those who dream of owning a vacation property, there was no consensus on the best place to buy. When asked about where they would most want to have their home away from home among the five most popular U.S. vacation destinations, they chose these states in order from most popular to least:
Florida
California
Hawaii
Texas
Arizona
Florida
Florida, where the typical home costs $388,000, is the No. 1 destination of choice for people with vacation property dreams — not surprising, considering it's the fastest-growing state in the country.
"Depending on where you look, you can get a great deal financially on a home," said Nathan Russo, director of operations at Destin Vacation Rentals. "And Florida can be an ideal location due to its tropical weather and settings."
Russo recommends looking in the Florida Panhandle, where his company is located, for affordable beachfront vacation homes.
The average house in Pensacola costs $254,435. In Panama City, it's $279,240. But if you have more money to spend, prices head north the farther south you go.
"For example, someone looking to purchase a vacation home — or more realistically a condo — in Miami's South Beach would be looking at a starting price upwards of $1.5 million," said Boca Raton real estate attorney Eric Klein of Klein Law Group.
California
With an average home value of $737,900, vacation homes in California are as inaccessible as they are desirable.
"California, with its stunning coastlines and diverse landscapes, captures the imagination of many seeking a dream vacation home," said Mike Qiu, owner of GoodAsSoldHomeBuyers. "Yet, California's real estate market is notorious for its high prices. Desirable areas such as Los Angeles and San Francisco can be especially costly."
Those two cities have average home values of roughly $913,000 and $1.27 million.
"If you are looking for an affordable vacation home in California, you may want to consider renting a home in a less popular area, such as the Central Valley or the Sierra Nevada foothills," said Aleks Grigoriev, co-founder of Priority Home Buyers.
For example, the average home in Modesto in the Central Valley is just over $427,000. In the Sierra Nevada foothills town of Sonora, it's less than $411,000.
Hawaii
Life in paradise isn't cheap — the average home value in Hawaii is $835,000.
"Hawaii's allure lies in its natural beauty and rich cultural heritage," said Qiu. "However, the cost of living in Hawaii is generally high, affecting the affordability of vacation homes. Popular areas like Honolulu or Maui can be particularly expensive."
If the cost of vacation rentals is any indication, the Hawaii Vacation Guide confirms that Maui is, indeed, the most expensive Hawaiian island. Next are Kauai and Big Island. Oahu is the least expensive.
Texas
The average home value in Texas is a little over $302,000, making it the most affordable state on the list — but like the others, location is everything.
"Texas is a relatively cheap place to buy a vacation property," said David Sayce, founder and director of the moving comparison company Compare My Move. "The state is in the top half of the cheapest average home prices, and this — as well as its climate and incredible scenery — is why it is one of the most popular places for a vacation home."
According to Sayce, Texas has some of the best lakes in the country, which makes it a top choice for anyone who dreams of a lake house.
"Lake Travis, Lake Livingston and Lake LBJ are just some of the popular lake destinations that people are buying vacation homes in due to the scenery that comes with it," he said.
Lake Travis is in the pricey Austin metro region — and the home values reflect it, with a typical range from $400,000 into the millions. Lake Livingston in the Houston region is much more forgiving with an average home value of $195,000.
Arizona
The least popular state on the list is one of the Southwest's premier vacation destinations.
"Arizona boasts plenty of sunshine, outdoor activities, and more affordable housing options compared to its neighbors," said Matt Teifke, founder and principal broker of Teifke Real Estate, which employs more than 140 agents and staff. "The median value of a home in Arizona is over $400,000, which represents a decrease of 5% compared to the prior year."
According to Zillow, it's $414,262, to be exact, which puts it between Texas and Florida on the low end and California and Hawaii on the high end.
"Known for its warm climate and breathtaking desert landscapes, Arizona attracts those seeking outdoor adventures and relaxation," said Qiu. "While Arizona offers popular vacation home destinations like Scottsdale, Sedona and Phoenix, it's essential to research various regions within the state."
The cities Qiu suggested have average home prices of $764,073, $894,443 and $404,818, respectively.
More From GOBankingRates
All home values were sourced from Zillow and are accurate as of June 15, 2023.