Why Is Nobody Buying Homes in 2023?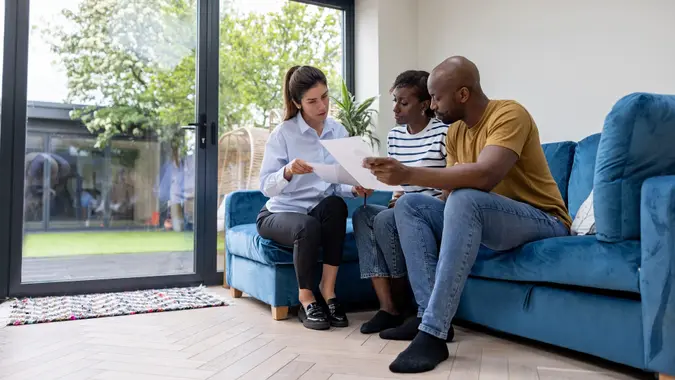 andresr / iStock.com
If you've felt like buying a home in 2023 is a lost cause, you're not alone. During the pandemic, home prices began to shoot up. In December 2020, home prices were 11.5% higher than the year prior, but there were also incredibly low interest rates, leading more prospective buyers to pull the trigger.
Home prices went up 16.9% in 2021, which was the highest increase on record. At the beginning of 2022, the average home price was $348,079 — a record high.
Interest rates are also rising, but what isn't rising is the number of homes available for consumers to buy. With these skyrocketing prices, climbing interest rates and lack of supply, it's no wonder many people abandoned the dream of buying a home — which leads us to where we are now.
What does the future of real estate hold? GOBankingRates spoke with a real estate expert to take a closer look at this current market and determine what prospective buyers can expect going forward.
Inventory Is Extremely Low 
It is truly a seller's market right now, as the amount of homes available for purchase has dwindled. Jonathan Rundlett, president of EXIT Mid-Atlantic, says it's considered a balanced market when there is about six months of inventory of houses available for sale. Currently, Rundlett says the amount of homes for sale is hovering around the one-month supply level.
"With the limited supply of houses, sellers are still seeing multiple offers and often selling for higher than the list price which has led to a steady increase in home prices despite the reduction in transactions," Rundlett says.
Sellers Are Holding on Tight
Despite great conditions for sellers, many are still choosing to wait for the most opportune time to put their home on the market.
"There is still significant demand for houses, but many people who are contemplating selling their home are sitting on the sideline waiting for interest rates to drop thinking this will allow them to sell their house for more money," says Rundlett.
Is There Relief in Sight?
What goes up must come down, right? That's what many experts are predicting for the current market. "The common belief is that housing prices spiked during the pandemic and real estate is now due for a correction," Rundlett says.
He refers back to the idea that many sellers are waiting for interest rates to drop. If and when they do drop, this will be great news for buyers. "If interest rates do decline, many people who have been waiting on the sidelines may end up putting their house on the market at the same time. With the law of supply and demand, this may lead to a decrease in home prices due to the increased inventory." 
When will that drop happen, exactly? It won't be immediate, but Rundlett predicts it's coming within the next year. "I believe home prices will continue to increase slightly through the remainder of the year as there still is a tremendous amount of demand for houses. It is my belief that we may see an easing of interest rates in the first and second quarter of 2024, which will trigger many people to put their homes on the market for sale and this increase in inventory will finally lead to a decrease in home prices," he says.
Opportunities for Buyers
Since sellers are in a bit of a holding pattern, buyers might be wondering if they'll just have to wait for a better market. Rundlett says that's not necessarily the case.
"I believe that creative financing solutions will become more popular as more people have to buy a home despite the higher interest rates in today's market," he says. "Many people purchased homes with FHA or VA loans when interest rates were in the 3-4% range." 
You're never fully without a paddle. Rundlett encourages buyers who are really interested to consult with a real estate agent now to make sure they have the full picture of what's available to them. "Working with a professional real estate agent will allow you to review many options including some that you may not even be aware of currently," he says.
More From GOBankingRates