Should You Invest in Warren Buffett's Longest-Held Stocks?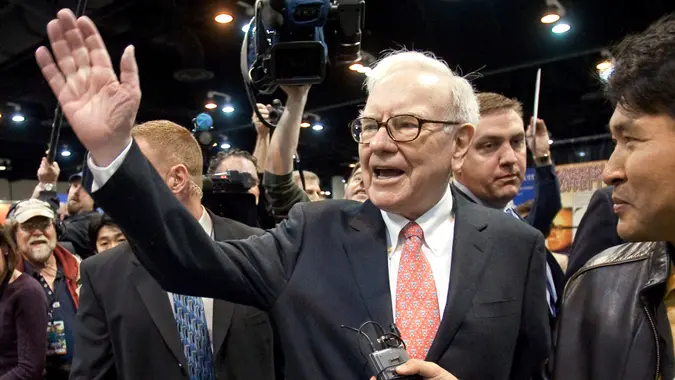 Nati Harnik/AP / Shutterstock.com
Warren Buffett, dubbed the "Oracle of Omaha" in investment circles, earned the name for a reason. The CEO of Berkshire Hathaway, headquartered in Omaha, is currently the sixth-richest person in the entire world, with a net worth north of $117 billion. Between his financial insight and his homespun wisdom, Buffett is something of a folk hero, with thousands descending upon Omaha every year to hear him speak at the Berkshire Hathaway annual meeting.
One of the investment mantras that Buffett repeatedly hammers home is that a long-term approach to investments is always best. As Buffett put it in his 2022 letter to shareholders, "The world is full of foolish gamblers, and they will not do as well as the patient investor." For Buffett, "patience" means a holding period of decades. Here's a look at Buffett's five longest-held stocks, including what he likes about them and what type of investor might want to own them. 
Coca-Cola (KO)
Stock price as of Aug. 3, 2023: $61.70
Buffett's longest-held position, at 34 years, is venerable beverage maker Coca-Cola. An iconic American brand, Coca-Cola typifies the type of company that Buffett will always want to own. With its string of 61 straight years of dividend increases, Coca-Cola now yields a fat 2.98%.
While the company will always have competitors, its brand is one of the most powerful in the world, making it unlikely it will cede its dominant position in the soda industry for the foreseeable future. It's also likely to continue to raise its dividend annually, providing a great stream of increasing income for long-term investors. Berkshire Hathaway's nearly $25 billion investment in the stock represents a sizable 6.6% of the company's entire portfolio.
American Express (AXP)
Stock price as of Aug. 3, 2023: $165.47
American Express comprises 6.7% of Berkshire Hathaway's portfolio, and Buffett has been an investor for 29 years, now owning more than 20% of Amex's outstanding shares. American Express embodies some of Buffett's most beloved investment characteristics, from having a powerful name brand to consistently increasing its dividend, which has been paid for 34 years in a row and has grown at a 12% annual rate over the past decade.
As global payments are likely to increase over time, American Express stands poised to benefit, in which case that steadily increasing income is likely to continue.
Moody's Corp (MCO)
Stock price as of Aug. 3, 2023: $339.05
The name "Moody's" might not mean much to the average American, but it's a heavy hitter in the investment world. Berkshire Hathaway currently owns 13.4% of the company's outstanding shares, which was spun off from Dun & Bradstreet in 2000 and which he has held ever since.
In 2010, Buffett told the Financial Crisis Inquiry Commission, "It's hard to evaluate [Moody's] when you have a business that has that much pricing power. I mean, they have done very well in terms of huge returns on tangible assets, almost infinite." A company with that type of dominant market position fits in well with the type of investments that Buffett seeks.
Globe Life Inc (GL)
Stock price as of Aug. 3, 2023: $112.91
Globe Life may not be the most well-known stock in Berkshire's portfolio, but it's one of Buffett's longest-held positions, at about 22 years. As Buffett has long been a fan of financial companies like banks and insurance companies, it's perhaps not surprising that he has held onto Globe Life for so long.
It's worth noting, however, that Berkshire's initial investment in Globe Life was in the form of Torchmark, which changed its name to Globe Life in 2019. The company is yet another one that meets Buffett's criteria of running a difficult-to-enter business that increases its revenue over time, which is the standard model for insurance companies through the form of rising premiums.
Procter & Gamble (PG)
Stock price as of Aug. 3, 2023: $156.81
Only in a portfolio the size of Berkshire Hathaway's can a nearly $50 million in stock amount to a "0.01%" position of its total portfolio. But that's just the case when it comes to Berkshire's 315,400-share position in consumer giant Procter & Gamble. Buffett has owned the stock for 18 years, and it checks all the boxes when it comes to matching the Oracle of Omaha's investment philosophy. As the undisputed leader in personal care and hygiene products, P&G has a wide moat that makes competitors' entry into the market difficult, if not impossible.
Its CEO, Jon Moeller, has been on the P&G Global Leadership team for 14 years, providing the consistent, quality management Buffett favors. The company also has a relatively hefty dividend yield of 2.41%, and it has raised it for an incredible 67 years in a row, the type of rising cash flow Buffett has long espoused. Although not exciting, investors seeking a reliable company that's an undisputed dividend champion may also want to own Procter & Gamble.
More From GOBankingRates