10 Stocks That Could Be the Next Apple or Amazon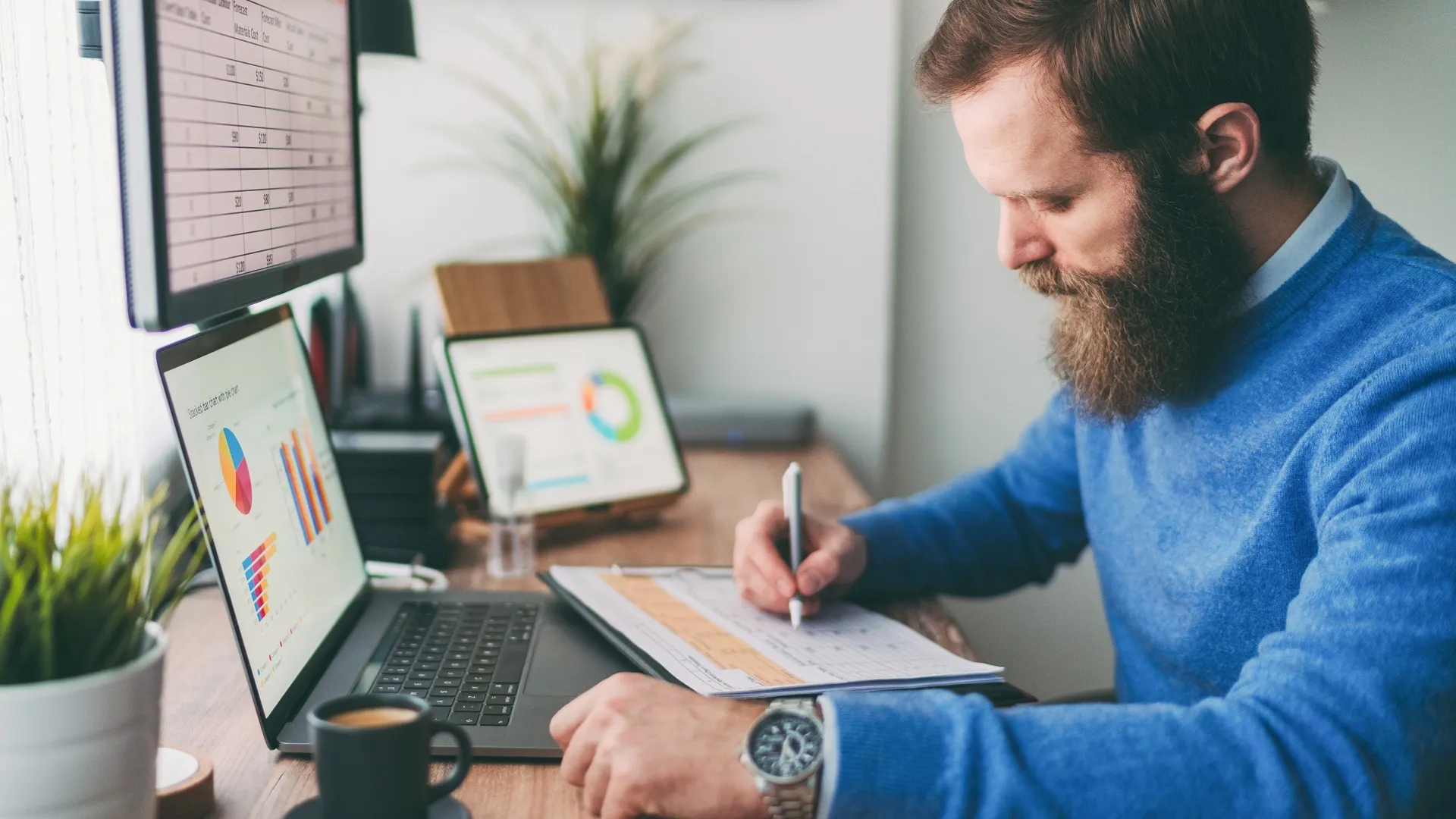 It's no surprise that when companies dominate their industries, their stock prices tend to have long-term success.
Apple and Amazon are two of the most widely discussed names when it comes to business success, as they both have a total market cap over a trillion dollars, and currently rank as the first and fourth largest companies in America. While both of those stocks are likely to remain long-term winners, investors looking to get a little more bang for their buck might want to consider smaller, faster-growing companies to add to their investment portfolios.
Here's a look at 10 stocks that could be "the next Apple or Amazon" in terms of rising to prominence in their industry and providing investors with solid long-term returns — perhaps even on their way to joining the trillion-dollar club. Be sure to consult with your financial advisor before investing, as investing in individual stocks is always risky, and some of these names could be considered speculative.
Block (Formerly Square) (SQ)
Price as of July 13th, 2023: $76.20
Payment processor Block, known as Square until a name change in late 2021, has been a long-term winner since going public. However, as with many growth stocks from late 2021 until now, investors have punished the valuation of Block, cutting the share price around 80% from all-time highs.
But the underlying business fundamentals of the company remain strong, presenting investors with what might be an attractive entry point.
As the company's name change suggests, it has been moving deeper into blockchain applications, and it also moved into the "buy now, pay later" segment of fintech. If the company can get all of its ducks in a row, it could end up being the dominant player in the industry.
Shopify (SHOP)
Price as of July 13th, 2023: $70.37
Add Shopify to the list of high-growth stocks that have fallen back to Earth over the last two years, with shares now sitting about 60% off their highs.
In the last few quarters, the e-commerce stock has been dealing with a much more challenging environment than it faced in the height of the pandemic. Under these circumstances, growth has slowed, and Shopify has had to take measures to cut costs.
Earlier this month, it laid off nearly a fifth of its global workforce. It also sold off its logistics business, a major change in strategy that brings the company closer to its original asset-light business model. If these steps are effective, the company could be poised for a return to high growth.
Meta Platforms, Inc (META)
Price as of July 13th, 2023: $313.41
The last few years have been a real roller coaster for the company formerly known as Facebook.
After Mark Zuckerberg went all-in on the "metaverse," including a name change and tens of billions of dollars of spending, investors left the stock in droves and the price cratered, going from nearly $380 a share to a low near $88.
The company has since stepped back, with Zuckerberg signaling that the business would put more focus back on its advertising business, which actually makes money.
It's impossible to predict if Meta's virtual reality ambitions will come to fruition, but the stock has already climbed back to the high $200's, and there's reason to believe it's on a path back to a trillion-dollar valuation.
Sea Limited (SE)
Price as of July 13th, 2023: $63.06
Sea Limited has often been dubbed the "Amazon of Southeast Asia," and that alone makes it worth watching. That region of the world has a rapidly growing consumer class, or at least it did until the coronavirus pandemic struck.
Combined with the general abandonment of Chinese shares by market participants, a high valuation and its lack of profitability, Sea Limited shares have suffered badly, now sitting more than 80% below their all-time high. But the company's still-rapid growth and plans to expand its e-commerce offering to Latin America and Europe could prove to be huge opportunities for the company.
In addition to its popular e-commerce site Shopee, the company also draws revenue from its mobile game publisher Garena and its payment processing platform Sea Money.
Nvidia (NVDA)
Price as of July 13th, 2023: $459.77
Nvidia has been a tech market leader for years now, and its growth seems unstoppable. The chip maker has been in the right place with the right product at the right time, and its stock price has reflected this.
After taking a big hit to its multiple at the end of 2021 and the beginning of 2022, Nvidia's stock went on a tear and powered its way to a new all-time high, even briefly cracking the trillion-dollar barrier.
Among other things, Nvidia produces graphics processing units (GPUs) that are essential to the video game industry and are used to mine cryptocurrencies. The company also produces chip sets that power everything from robotics to self-driving cars. As all of these AI-adjacent industries are hot growth areas, Nvidia seems likely to continue at its torrid pace.
Airbnb (ABNB)
Price as of July 13th, 2023: $140.09
Airbnb is already a titan in a very highly fragmented industry, with a market share of about 20% of the entire rental vacation market. One of its key competitive advantages is an asset-light business model — it acts as a platform to connect guests and hosts rather than owning and operating its own hotels or vacation homes.
In the long-term, Airbnb's success will depend on the uncertain future of the travel industry, but if you are optimistic about that future, you now have the opportunity to buy Airbnb's stock at a price below the $146 mark it reached on its first day of trading.
Everquote (EVER)
Price as of July 13th, 2023: $7.06
Everquote is definitely a high-risk, high-reward play. The online provider of insurance quotes provides aggregated information from a variety of providers to allow consumers to choose where they want to buy their auto, home, medical, life, renters or commercial insurance products.
Shares are down more than 80% from their all-time highs, as investors have been disappointed with results over the last year and a half, and growth stocks in general have gotten hammered.
Yet, analysts still have a consensus "buy" rating on the stock, with an average price target of $12.00, or about 31% above current levels. If the company can execute on its vision to be the dominant provider of online insurance quotes, it could end up being the Amazon of its industry.
Opendoor Technologies (OPEN)
Price as of July 13th, 2023: $4.83
Called the "Amazon of houses" by some, Opendoor Technologies is a potentially very risky stock that could be a huge winner if it can manage its business successfully over the long run.
The online real estate innovator went public in the summer of 2020 and the stock rose quickly, but when fears over high-growth stocks with no profits took over the market at the end of 2021, Opendoor got swept up in the selloff.
Believers cite the company's strong growth rate in a nascent industry that has the potential to become the "new normal" for real estate transactions. However, currently the company is not profitable, and there are no guarantees it will get there. Whether or not that comes to fruition will determine whether Opendoor Technologies becomes "the next Amazon" or falls by the wayside.
Docusign (DOCU)
Price as of July 13th, 2023: $53.93
Docusign's stock started getting pummeled in late 2021 due to a variety of factors. In addition to the general trend of rising interest rates hurting growth stock multiples, analysts and investors alike jumped ship over worries that Docusign's growth would fall off when the pandemic ended.
Docusign bulls argue that Docusign was growing rapidly even before the pandemic juiced revenue, and that the demand for digitally signed documents will continue to rise.
Docusign has been deepening its relationship with Salesforce and Microsoft and is being integrated into their tools like Slack and Microsoft Teams, which bodes well for its future. With the stock down over 80% from the all-time high of $310.05, Docusign could offer an attractive risk-to-reward proposition for speculative investors.
StoneCo (STNE)
Price as of July 13th, 2023: $12.85
Would you be interested in a stock owned by Warren Buffet's Berkshire Hathaway that trades at almost 90% off of its all-time high? What if it was in the trendy fintech industry? If so, then StoneCo might be just what you're looking for.
The Brazil-based payment processing company provides a cloud-based technology platform to assist businesses with their electronic commerce needs. Like most of the high-flying growth stocks in this list, StoneCo's shares were wiped out due to a combination of Brazilian economic uncertainty, a lack of profitability, and the general trend against high-multiple stocks in 2021 and 2022.
But the core business of StoneCo remains strong, and the opportunity for fintech companies is great in countries like Brazil, which lack the traditional banking infrastructure of more developed companies.
More From GOBankingRates
Cameron Diiorio contributed to the reporting for this article.