Is It Historically Wise To Invest in the S&P 500 as Market Continues Volatile Streak?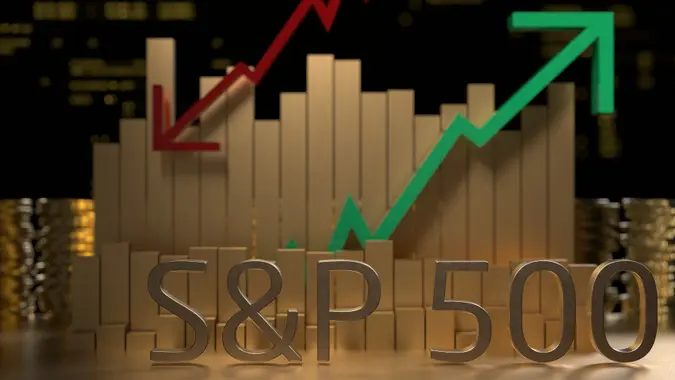 Just_Super / Getty Images/iStockphoto
2022 was an awful year for most investors, marked by high inflation, steep interest rates and the rising threat of a recession. Given the hits to the economy last year — and the market madness Americans have witnessed over the past three years — does it really make sense to invest in the S&P 500 during what is expected to be an unpredictable and potentially volatile 2023? Historically speaking, it does.
According to a recent Allianz Life study, 82% of Americans are concerned about losing even more of their purchasing power to inflation in the next six months and 77% think the market will continue to be very volatile this year. A substantial number of respondents, 62%, believe the U.S. economy is a hair's breadth away from tumbling into a recession.
However, when it comes to investing in turbulent times, you can follow popular opinion or you can make your own decisions and take small risks. If you are intent on increasing your purchasing power, it is a prudent move to strike when S&P prices are at their current lows.
The S&P 500 officially crossed into bear market territory on June 13, 2022, when it closed more than 21% below its record high achieved a few months earlier in January, per CBS News. But history indicates that bull markets often follow bear markets. Bull markets also last longer than bears and yield higher recovery gains… if you're patient.
As the Motley Fool reported, rolling 20-year data compiled by Crestmont Research showed that the S&P 500 has produced positive returns every year since 1919. Holding on to an asset like an S&P 500 exchange-traded fund (EFT) for 20 years at any time since the turn of the 20th century would have been profitable.
If you managed to keep a cool head with S&P 500 investments bought in 2000, you would have doubled your money. If you're ready to invest in the S&P 500 now, you're unlikely to lose on funds purchased cheaply and held for a few years.
A bear market — defined as a dip in stock indexes of 20% or more from recent highs — can last from 13 months at growth peak to 27 months at break-even, according to CBS News. After experiencing its worst year since 2008 — closing out 2022 down 20% for the year — the S&P 500 has already seen a small rebound so far this year and is up more than 7% in 2023, per CNBC.
Timing the start of a new bull market can be difficult, but investors riding out this current downturn might find themselves rewarded with higher returns by "buying the dip" now. If you're wondering where to put your money, try ETFs or an index fund, like the Vanguard S&P 500 ETF, which is a low-cost, safe investment that tracks the entire S&P index and provides immediate diversification.
It's easy to become anxious looking at trends and tickers in these challenging times, but as investors wait for inflation, Federal Reserve hikes and recession talk to calm, there shouldn't be anything preventing you from focusing on your personal financial goals.
More From GOBankingRates