I'm a 27-Year-Old Hedge Fund Founder Managing Almost $1 Billion: Here's Why I Prefer Alternative Investments to Stocks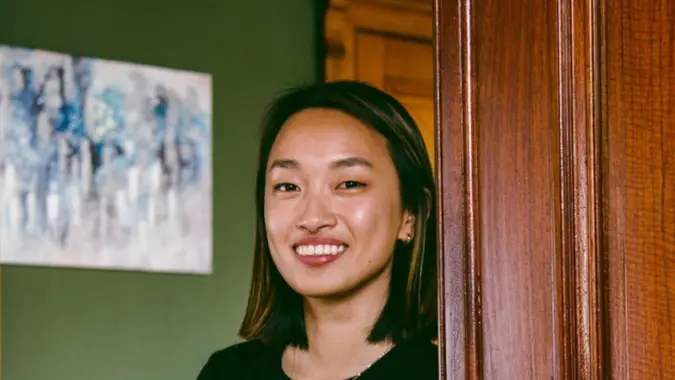 ©Eva Shang
Eva Shang is the co-founder and CEO of Legalist, a hedge fund that specializes in technology-enabled alternative investments, including litigation finance and government contracts. Shang, now 27, founded the company after dropping out of Harvard in 2016 and has since grown her initial $10 million asset portfolio to over $800 million. Her fund is about to close on another $200 million, which will bring its assets to roughly $1 billion.
GOBankingRates had the opportunity to chat with Shang about the idea behind Legalist and why she prefers alternative assets over traditional stocks and bonds.
From College Dropout to Hedge Fund CEO
While Shang was an undergraduate student at Harvard, she and her co-founder Christian Haigh developed an idea to turn court cases into profits by using proprietary sourcing technology to identify cases that were likely to win.
"Our original company looked for court cases that were going to win, and then we sold that information back to lawyers," she said. "What we realized is that lawyers are actually not incentivized to be very efficient because they bill by the hour, and what they're most interested in is getting paid. So if you could come up with a company that would help get them paid rather than help them be more efficient, then that company would do a lot better."
With the analytics already in place, Shang and Haigh decided to use their technology to identify alternative investment opportunities instead.
"The fundamentals of what our company does is [that] we look in government databases, and we crawl through millions and millions of government records to look for alternative investment opportunities in a few different areas that we cover that are disproportionately likely to be successful or to need financing," Shang said.
Searching for Alpha
In order to be successful, Shang's fund had to identify investments that could provide returns above what you can get from traditional assets.
"Let's say a client comes in with a portion of their wealth in the S&P 500 and a portion of their wealth in really safe government treasury bonds, but then they're also looking for some sources of return that are above what they can get in those standard sources," Shang said. "In the investing world, this is a concept called 'alpha' — any kind of advantage that an investment fund has over what you could get in the market. Our firm specifically generates alpha by finding unique investment opportunities."
The Alternative Assets Legalist Focuses On
Legalist specializes in investing in litigation finance, bankruptcy and government contracts.
"Litigation finance is when you invest in a case that a plaintiff is bringing and then if the case is successful, then you make your money back plus margin," Shang explained.
"Another area that we invest in is bankruptcy," she continued. "If a company is in bankruptcy, they might have a bunch of tractors and equipment and land that needs to be sold, so we invest to help facilitate that sales process. Then when the equipment is sold, we get paid back with a healthy margin."
Legalist also invests in government contracts.
"If a company has a large government contract that they haven't been paid on yet, we can lend the money against that and then we'll get paid a healthy margin when the government contract is paid," Shang said.
Why These Assets Provide High Returns Compared to Traditional Investments
Shang and Legalist are very strategic about what they invest in, providing their clients with access to unique opportunities for building wealth.
"What you can see between all of these [investments] is that they're not just your standard lending to a company and being paid back a fixed interest rate. There's some sort of asset that's underlying it," Shang said. "That's what makes alternative credit interesting to a lot of our wealth advisor clients. Their clients, in turn, are looking for unique sources of yield that they can't get elsewhere."
Advantages of Including Alternative Assets in Your Portfolio
Shang views alternative assets as a complement to traditional investments rather than a substitute. Having alternative assets in your portfolio can help it withstand swings in the market.
"The way that most of our wealth advisor clients think about alternative assets is that they're uncorrelated [with the greater economy] and that's what makes it really interesting," Shang said.
"If you're a regular retail investor, it's really upsetting to have the economy do poorly and then your entire portfolio drops by 30%. If you split up your assets into traditional stocks and bonds and things that are correlated, and then things that are a little bit more resistant to market conditions, then you can mitigate some of the volatility that you would normally see."
That's why Shang concentrates specifically on litigation finance, bankruptcy and government contracts.
"The government is still going to pay its contractors whether or not the economy is doing poorly," she said, "and litigation cases are going to win or lose based on its merits, not based on whether the economy is doing well."
How To Get Started Investing in Alternative Assets
The best way to gain access to alternative assets such as the ones that Legalist focuses on is through a financial advisor. Shang notes that clients typically need to ask about these assets, as many advisors won't include them in a portfolio by default.
"Wealth advisors are just now starting to catch on to the fact that alternative investments are really important, so I hate to sound like 'talk to your doctor to get prescribed,' but that is the most important way," she said. "Otherwise, most wealth advisors will just keep investing their clients in whatever is easiest unless the client specifically pushes forward on it."
Unfortunately, it is difficult to access these investments as an individual investor on your own.
"Most really good alternative credit asset classes are capacity-constrained, which is why institutional investors have kind of kept it as a secret and kept retail investors out of it for so long," Shang said. "There are only so many bankruptcies every year, there are only so many litigation cases. Getting access to some of the best alternative assets is part of the challenge, and it is really challenging for a lot of retail investors."
More From GOBankingRates