7 Best Stock Screeners for 2022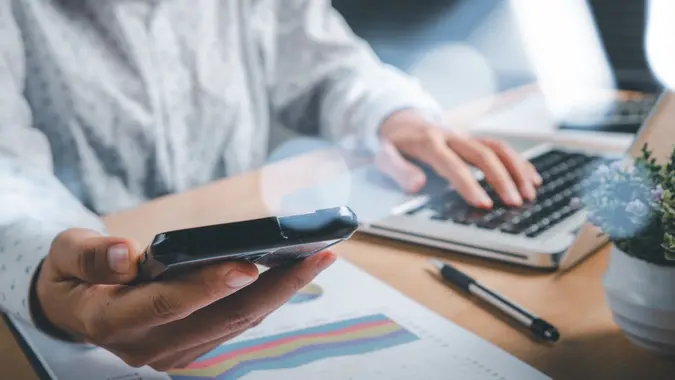 Maxxa_Satori / iStock.com
Choosing the correct stock for your investment portfolio can seem like a daunting task. That is why stock screeners can come in handy when you are trying to sort through huge volumes of stock market data within a short span.
Stock screeners are useful tools suitable for all types of investors. However, before you choose one, you should be aware of all the options in the market and select the best stock screener for yourself.
What Is a Stock Screener?
A stock screener is a tool that helps investors to sort through data related to stock markets and securities. There are thousands of stocks listed on the U.S. stock exchange alone, which makes it difficult for an investor to choose.
Stock screeners will help you to select the right stocks based on your trading and investment strategy, build a stock watchlist and help you in optimizing the returns from your investments.
Best Stock Screeners
As an investor, you should use a stock screener to understand the suitability and availability of various stocks across different stock markets. Here are some of the best stock screeners for 2022.
TC2000
Zacks Investment Research
Seeking Alpha
Trade Ideas
Finviz
TradingView
Stock Rover
1. TC2000
TC2000 is one of the oldest stock screeners in the market, having over 20 years of expertise in the field. If you are an expert trader and can build a step-by-step condition for any indicator, then the condition wizard in TC2000 will be a very helpful tool for you.
Its options charting tools are highly advanced, and you can stream historical bid/ask data to understand market indications even without trading any contracts. The free trading simulator makes TC2000 one of the best stock screeners. You can practice and learn the platform with a basic layout, charts, positions and options chains.
Users can create personalized watchlists for the stocks they are willing to buy. They can also create alerts to check back on specific charts and note down important points in their personal journal.
TC2000 has a free version available for students and the paid plans for stock screening start at $24.99 per month when billed annually.
Being highly experienced in this market, TC2000 is one of the best stock screeners because of its strong technology and outstanding customer service. It is suitable for both beginners and expert traders. However, it only includes stocks from American and Canadian stock exchanges.
2. Zacks Investment Research
Zacks is one the best stock screeners suitable for all types of investors. It allows you to pick stocks based on numerous selection criteria according to your investment priorities. Zacks also has predefined stock screens that can help you to find stocks according to your desired criteria.
The Premium plans start at $249 per year and include daily updates of the Zacks Rank, equity research reports, focus list portfolio and other premium screens. These features make Zacks one of the best stock screeners, because you can easily identify the stocks you want to buy and target the trending industries. The premium plan can be accessed for free as a part of the 30-day trial.
Zacks has multiple advanced charting tools that help users in screening the right stocks. Although technical screening is limited, the trading resources on its website are enough to get started.
Both the free and paid versions allow access to the stock screening and determination of metrics related to investments and earnings.
3. Seeking Alpha
Seeking Alpha has a diverse selection of screening metrics that help investors to choose the stocks they are looking for. It is one of the best stock screeners because of the unique screening metrics and detailed educational material on its website.
A beginner might find it useful to go through the different types of resources related to investments and stock markets. Seeking Alpha has a basic free plan, but the features are very limited and only suitable for casual observers of the stock market. The Premium plan is priced at $239 per year, but you get a discount of 50% for the first year and have to pay only $119.
Seeking Alpha has detailed news and analytical content on its website that can help investors to keep track of what is happening in the markets.
4. Trade Ideas
Trade Ideas is one of the best stock screeners for all active traders because of its highly advanced AI-powered screening methodologies. It can apply hundreds of screening criteria to display the stocks most suited for your investment priorities and risk appetite.
It has features like charting, stock scanning, real-time alerts, backtesting, entry and exit signals, performance tracking, simulated tracking and many others. Users have the option of conducting live trading and risk analysis for the stocks they hold.
There is a basic stock screener available for free on the Trade Ideas website. However, if you want access to the more advanced features like simulated trading, live trading rooms, simultaneous charts and many others, you will have to subscribe to a Standard or Premium plan. The Standard plan is priced at $999 annually and the Premium at $1,999 annually.
The pricing is on the higher end, but the features included justify it to a great extent. For instance, the Premium plan allows the user to set up automatic trades with AI and a connection with a brokerage account. Having said that, these plans might not be suitable for beginner traders.
5. Finviz
Finviz has a very detailed website that provides free stock screening services to a great extent. It is one of the best stock screeners because of the information related to stocks and their movements.
You can simply go to the "Screener" option on the website and choose your specified categories, and you will get the information related to the stocks you are looking for. This is a free version that allows you to filter stocks by descriptive, fundamental and technical metrics and is an excellent tool for someone who simply wants to understand how stock screening works.
Finviz has a paid "Elite" plan that is priced at $299.50 per year. It provides real-time stock quotes, advanced charts, performance tracking of correlated stocks, and other advanced screener functions.
6. TradingView
TradingView is one of the best stock screeners because of the number of securities it covers in the screening process. From looking up the price of a stock to analyzing price patterns with lengthy scripts, TradingView allows its users to do it all.
The fundamental and technical analysis metrics help the users to identify complicated patterns and trends. You can also test your trading strategies with the help of TradingView's simulator. The free version allows you to find out more about the stocks you are interested in, but the information is not real-time.
The paid Pro plan is priced at $14.95 per month, Pro+ at $29.95 per month, and the Premium plan is priced at $59.95 per month. These plans have advanced charting tools and indicators that can help a trader to make big profits. TradingView's Pro plan is one of the most affordable stock screeners, though it gets expensive fast as you step up to more advanced plans.
7. Stock Rover
Stock Rover is one of the best stock screeners if you are looking for fundamental metrics. It helps the users to find, evaluate and compare different investment opportunities and helps them in choosing the right stocks for themselves.
Stock Rover lists securities only from the U.S. and Canadian stock markets, which makes it slightly limited in its scope. However, the different categories of financial metrics, investment comparison, comprehensive charting and detailed portfolio analysis tools make up for it.
Stock Rover has three paid plans: Essentials, which starts at $7.99 per month, Premium at $17.99 per month and Premium Plus at $27.99 per month.
Final Take
Depending on your trading and investment priorities, you can choose any of these stock screeners for yourself.
Zacks and Finviz have the most efficient free plans that can help you in understanding market trends based on your specified parameters. However, if you wish to opt for a paid plan, TC2000 and TradingView are good options because of the advanced metrics and charting tools.
FAQ
Which is the best screener app for stocks?

TC2000 is the best stock screening website because of its advanced metrics, while Stock Rover is great if you are looking for fundamental analysis. Depending on your priorities, there are many great stock screeners available, so compare the options and pick the one that's best for you.

What is the best free stock screener?

Zacks and Finviz have the most features available on their free versions. You can choose from a list of predetermined criteria and search for stocks based on them.

What is the best stock forecasting website?

TipRanks is one of the most popular stock forecasting websites. It also has an in-built stock screener that allows users to choose stocks based on unique signals and data. Although there is a Premium plan, the free tool is quite equipped, as well.