Elon Musk's Best Investments — and What You Can Learn From Them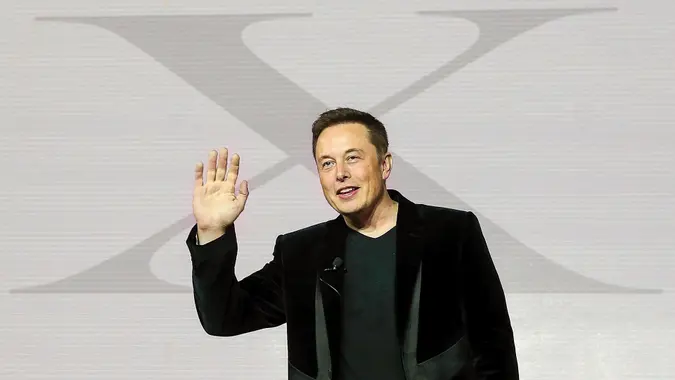 Justin Sullivan / Getty Images
Visionary entrepreneur turned culture influencer Elon Musk is once again the richest man in the world. Forbes lists his net worth at $235.7 billion as of June 13.
He earned his status as one of the most successful, controversial and influential people on earth through a series of daring, high-stakes investments with century-defining potential. Like all great builders, he's suffered many setbacks along the way, but so far, his successes will define his legacy.
This is a look at Elon Musk's best investments, along with some knowledge you can gain from them.
Want to vote for Elon as your favorite money expert? Click here and go to his expert page.
Zip2
Musk had several creative but amateurish entrepreneurial endeavors under his belt before 1995. But that year, according to Money, he took a leap of faith and dropped out of a Stanford Ph.D. program to found Zip2 with his brother on a $28,000 loan from their father.
The company, which provided maps and directories for online publications, must be listed among Musk's greatest investments — because it's the one that made all the others possible. Four years later, the brothers sold Zip2 to Compaq for $307 million, with Elon clearing his first $22 million.
Technically, the lesson is to drop out of school and borrow money from your parents. But when viewed through a wider lens, the message is to take calculated risks and seize the moment. Musk gambled it all — but only when he had a reliable partner, a great idea and the money to back it up.
The dreamer was now a doer. Zip2 made Musk a wealthy player in the emerging online space and gave him the capital to found online banking startup X.com. Elon Musk was just getting started, though.
PayPal
Musk's entrepreneurial brand is built on electric cars and space rockets, but his two most famous endeavors stood on the shoulders of the ones that came before.
"Without a doubt, Tesla and SpaceX are currently the most successful investments in Elon Musk's portfolio," said June Jia, a quantitative researcher at GF Securities and owner of Canny Trading. "However, it's critical to remember that Musk's initial capital for these groundbreaking ventures came from the sale of PayPal to eBay in 2002."
PayPal was formed when Musk's X.com merged with Peter Thiel's P2P payment system Confinity — and it's one of Musk's best investments because he built it into a business worth buying.
"At that time, PayPal was a company with significant growth potential," said Jia.
But Musk faced fierce adversity along the way. In 1999, CBS News named PayPal one of that year's "worst business ideas." One year later in 2000, the board removed Musk as CEO and replaced him with his business partner Thiel while Musk was on his honeymoon.
The takeaway is the importance of perseverance.
"This situation underscores a key investment principle," said Jia. "While risk-laden investments may necessitate considerable sacrifice, they often provide substantial returns."
In 2002, eBay bought PayPal for $1.5 billion in stock, and Musk walked away with $160-$180 million. He was now in the big leagues with the capital and credibility to build the brands that would make him famous.
Tesla
It's hard to argue that Tesla hasn't been Musk's most successful investment. He probably grabs more headlines now for his Twitter takeover, but he bankrolled that deal by leveraging his holdings in the company that brought EVs to the masses.
With nearly $818 billion in market cap, Tesla is one of the seven biggest companies in the world, dwarfing all legacy automakers. Forbes says Musk owns 23% of the company, with about half his holdings pledged as loan collateral.
EVs, charging stations and the Tesla name are all now familiar, but it's hard to exaggerate how steep an uphill climb Musk faced in disrupting the industry that had defined America's capitalistic and industrial culture for a century. Few people are more intimately familiar with the lessons of Tesla than fellow tech entrepreneur and artificial intelligence aficionado David Ciccarelli, founder and CEO of Voices.ai.
"I recall when I was just starting Voices.ai, we were swimming against the current, much like Elon did with Tesla in its early days," Ciccarelli said. "Many thought electric vehicles were a far-fetched dream, yet he pursued it relentlessly. And just look at where Tesla is today. It's an inspiring reminder that innovation often requires going against the grain."
SpaceX
Before there was Tesla, there was SpaceX. Musk used his PayPal windfall to launch the space exploration company in 2003, one year before he dived into EVs.
Musk founded the company with the goal of colonizing Mars and built the business into the most dominant force in the commercial space industry. The brand's extraordinary ambition and execution have come to define Musk's entrepreneurial vision and spirit.
"SpaceX was possibly the most ridiculous, far-fetched idea anyone could have uttered," said Cathryn Chen, CEO and founder of MarketX Ventures, a private equity investment management platform. "Yet it's fulfilling its vision on a scale and a timeline that nobody could have dreamt possible while transforming how different nations and sectors cooperate."
According to Forbes, SpaceX is worth at least $137 billion.
More From GOBankingRates