5 Investments Retirees Almost Always Regret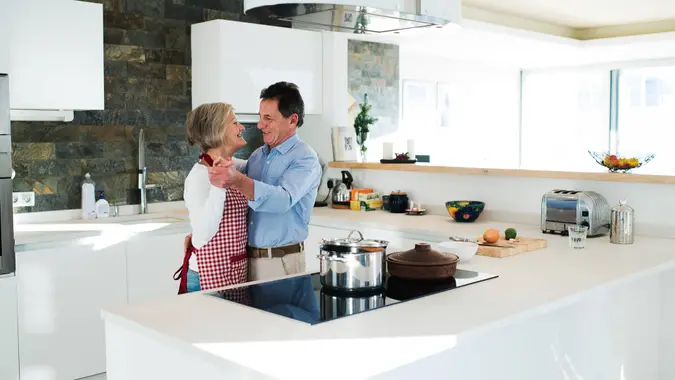 ©Shutterstock.com
If you've worked, saved and invested to the point that you have a comfortable retirement ahead of you, congratulations! You've accomplished something that many American have not.
This is no time to rest on your laurels, though.
Once you've built your nest egg, you'll have to be diligent throughout your retirement to protect it. There are many ways for retirees to spend their money, and not all of them are conducive to preserving a nest egg. In fact, there are plenty of investments that may seem like good options on the surface that could end up costing you.\
To help protect you from losing your life savings, here's a list of common investments that retirees almost always regret.
Buying a New House Without Doing Some Research
A common item on the agenda of new retirees is the desire to move to a new home. Oftentimes, this is weather-related, as in, "I want to move to Florida because I'm sick of Chicago winters." While it's not a bad idea for seniors to move to warmer climates, you still need to do your research to make sure you don't make a bad investment.
For example, if you plan to move to Florida, you'll have to factor in things like homeowners insurance and property taxes that may be different from what you're paying now. You'll also have to consider things like humidity, maintenance costs, hurricanes and flood-prone areas.
While investing in a home in Florida may indeed turn out to be a good investment, if you don't do your homework first and just buy on impulse, you may end up regretting it.
Unsolicited Investments Offered Over the Telephone
According to the Senate Special Committee on Aging, seniors hand over roughly $2.9 billion annually to scammers. Many of these come in the form of telephone solicitations.
Slick-talking scammers can appeal to the soft heart and/or ignorance of retirees, many of whom tend to give strangers the benefit of the doubt. Even worldly and street-smart seniors can fall prey to the emotional pitches that scammers dream up, and many hand over their money for "investments" that are nothing more than hot air.
In nearly every case, an investment a retiree makes over the phone with an unknown person is one they will live to regret.
Jumping on the 'Next Big Thing' in the Investment World
After you've spent decades saving and investing to build your nest egg, the last thing you should do is risk it on the "next big thing" in the investment world. Especially if you have more time on your hands in retirement, it can be tempting indeed to jump into exciting new investments that the news agencies suggest can make you into an overnight millionaire.
In recent years, financial crazes have emerged around cryptocurrency, the metaverse, NFTs and meme stocks, and some fortunes have indeed been made. But countless others have been burned, and when you're retired, you don't have any income to help you recover from any losses you may suffer.
While it's perfectly fine to allocate a very small percentage of your portfolio to "fun," speculative investments, you'll likely regret putting anything of substance into current investment fads.
Buying a Timeshare
For retirees, a timeshare can often seem like a good investment. After all, who wouldn't like a place to stay in a nice resort area like Hawaii, Arizona or even overseas? But timeshares have lots of drawbacks that salespeople aren't likely to highlight.
For instance, timeshares have ongoing maintenance fees and improvement assessments, and they can often be hard to impossible to offload if you decide you want to sell. You'll also have to factor in the cost of traveling to and from your vacation retreat into the overall expense of ownership.
While timeshares work for some retirees, you'll have to know what you're getting into before you snatch one up. Understand all of the financials — and realize that if you end up not liking your timeshare it might be hard to offload — before you make an investment you regret.
Loading Up on Conservative Investments
It might seem odd to categorize conservative investments as ones that you might come to regret. However, if you put all of your life savings into three-month Treasury bills, for example, the purchasing power of your nest egg will vanish. Inflation is constantly eating into the value of your money, so you'll need at least some growth in your investment account.
Something to consider is that even at age 65, you'll likely have a retirement of at least 15-20 years ahead of you. Over that long of a time period, even if you run into a bear market the equity portion of your portfolio will likely recover. But after 20 years of inflation at even 3%, your cost of living will more than double.
Earning the small amount that conservative investments pay out won't likely keep up with those expenses, and you'll regret it.
More From GOBankingRates