Jaspreet Singh Says If You Buy These 5 Assets, You'll Never Have To Work Again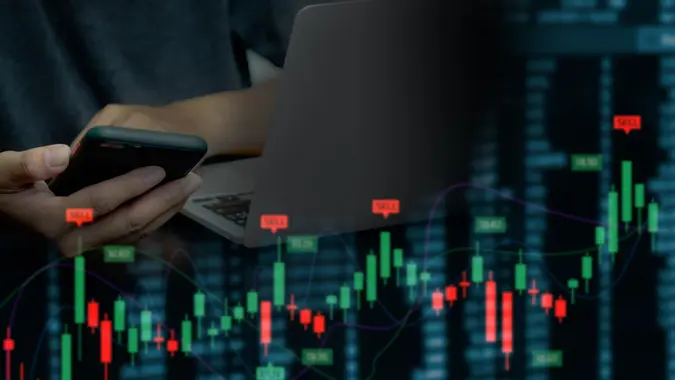 hirun / iStock.com
Jaspreet Singh earned a spot on the GOBankingRates' 100 Most Influential Money Experts list the same way he earned 1.67 million subscribers on his "Minority Mindset" YouTube channel. The licensed attorney and personal finance influencer has a knack for breaking down complex money topics in a way that the everyday person can understand and apply to their own financial lives — and wealth generation is one of his favorite subjects.
In a recent episode of "Minority Mindset," Singh offered five investment ideas that can generate enough wealth for you to quit your job — eventually. They won't make you rich right away, but they'll open the door to passive income, growth and financial security. Here is Singh's advice on five assets it's essential to buy.
Stocks
Singh noted that the stock market is a wealth-generating machine, but those who strive for big, fast payouts will wind up generating wealth for someone else.
He told his audience, "When most people think about investing their money in the stock market, they're thinking, 'How can I buy the next Amazon?' But that's not the only way that you can make money in the stock market. In fact, that's how most people end up losing money."
Instead of picking individual stocks to invest in, he encouraged viewers to buy inexpensive, passively managed ETFs and index funds. While Singh thinks actively managed mutual funds are better than stock-picking, he said they rarely outperform the market and usually cost too much even when they do.
His other favorite stocks — dividend stocks — are the kind that generate passive income. "A dividend is when a stock pays you money for doing nothing except owning the stock," he told his YouTube viewers.
Real Estate
Although regarded as more complex to set up than stocks, Singh said investing in physical real estate is well worth the effort.
"This is going to take more capital and more work on your end, but it allows you to own something that you can see, feel and touch, ideally for the purpose of creating cash flow," he said.
According to Singh, purchasing a property for future appreciation is a speculative investment. He likes real estate purely for its potential to generate cash flow through rental income.
"I'm buying the property based on one goal," he claimed. "If I have to invest a dollar today, how much cash flow will that dollar pay me every single year from here on out?"
Singh said he enters every property invesatment with the goal of earning 7% annually.
Businesses
Though he doesn't consider entrepreneurialism to be a traditional investment because of the effort and risk involved, Singh urged that investing in business is the best way to acheive growth.
"There are two different ways to do this," he said. "One can be in your own business and the second can be in somebody else's business."
He used his own business as an example.
"I run that company. I am the CEO of that company. I work every single day to operate and manage Briefs Media."
The tradeoff is that unlike rental income or ETFs, there's no limit to the return you can squeeze from a successful business — but he recognized that it's not for everyone.
"It works for me because I am an entrepreneur," he said. "I am that type of person, so I'm willing to accept the risk that if the company goes bankrupt, I will lose all the money I invested into it and all the time I put into it."
If you're not an entrepreneur, Singh suggested investing in other people's startups through crowdfunding.
Cryptocurrencies
Singh dedicates 20% of his portfolio to speculative assets like cryptocurrencies. He's a fan of crypto because he recognized it early on as a fast, cheap and easy way to send money across borders when he had to pay contractors abroad through his overseas business dealings.
"That was a big lightbulb moment for me — this has really changed the game of how I can transfer money and how money is done."
He sticks with the big, well-established tokens like Bitcoin and Ethereum, but he's not naive to the potential downside of this volatile asset class. "I believe in the blockchain, but I understand the risks."
Physical Gold
Singh dedicates 2% of his portfolio to gold. He only invests in tangible gold however, instead of through gold funds or EFTs.
"The reason that I buy gold is not because I expect it to shoot up in value," he told his YouTube audience. "I really don't even monitor the price. For me, it's an alternative way to save money. If I were to go to my backyard and bury $50,000 worth of cash and $50,000 worth of gold today, cover it up and come back in 10 years and dig it up, the gold would have more buying power than the cash."
More From GOBankingRates