Joe Rogan's Accidental Investing Tip That's Backed by Warren Buffett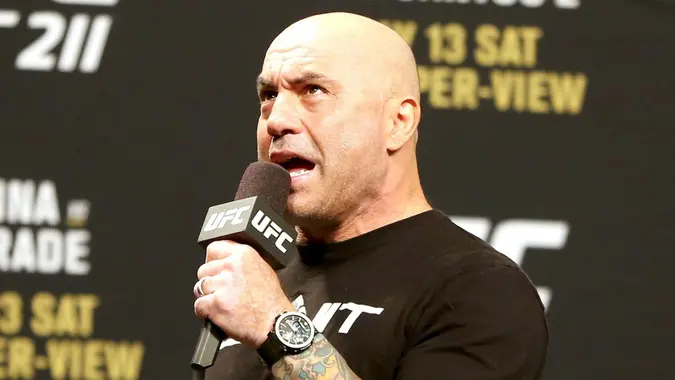 AP / Shutterstock.com
"The Joe Rogan Experience" is an immensely popular — albeit controversial — podcast, with 14.6 million subscribers as of April 2023.
While not particularly known for its investment advice, on one episode host Joe Rogan "accidentally" gave solid investment advice to his listeners in the course of relaying a personal story. A transcript of that podcast could have been mistaken for something out of the mouth of the "Oracle of Omaha" himself, billionaire CEO of Berkshire Hathaway Warren Buffett.
Read on to learn what Rogan said, how Buffett himself has framed the topic and how the advice itself can help you with your own investment strategy.
Rogan's Podcast Quote
In the middle of one of Rogan's podcasts, he began relaying the story of an investment tip he heard about someone who was going to "revolutionize a form of travel," and that Rogan could get in on the ground floor. When he discussed this with his business manager, he brought up the failure of biotech company Theranos, which promised a revolutionary blood analysis machine that could identify a host of potential health problems with just a single prick of the finger. That company's CEO, Elizabeth Holmes, was sentenced to 135 months in prison, or slightly over 11 years, for criminal fraud.
Take Our Poll: Are You Concerned About the Safety of Your Money in Your Bank Accounts?
Rogan went on to explain to his listeners that he had no interest in any "groundbreaking" technology or products until they have proven themselves to be true. As Rogan sees it, there's no point in investing in something that you don't understand. If you have to go to school or read books to understand what someone is even trying to do with their innovation, Rogan says for him the answer will always be "no way, not worth it."
Warren Buffett's Version of the Advice
Although in a different format, Warren Buffett has long espoused the same idea that Rogan mentioned in his podcast. As Buffett once told Forbes magazine, "Investment must be rational; if you can't understand it, don't do it." That is often colloquially translated to "never invest in something you don't understand."
Buffett himself acknowledges that he has missed many opportunities in the market by sticking to his mantra. For example, Buffett is famously averse to technology, not because he doesn't like it, but because he doesn't understand it. The Berkshire Hathaway CEO had admitted to missing out on big moves in companies like Alphabet and Amazon for this very reason.
But that doesn't mean he was wrong. On the contrary, Berkshire Hathaway has vastly outperformed the S&P 500 by investing in things that Buffett understands, like banks, oil and railroads. From 1965 to 2022, Berkshire Hathaway actually doubled the return of the S&P 500, returning 19.8% annually, vs. the S&P 500's 9.9%.
How You Can Apply This Investment Tip to Your Own Portfolio
While it's true that billionaire investors such as Warren Buffett might have access to more information than the average investor, this doesn't mean you can't profit from the same techniques they use. In fact, you might even be able to outperform these investment giants by applying what you already know.
For example, if you work at a company, you might have firsthand knowledge of its efficiency and understand how that is going to translate into future profits. While you can't trade on insider information that is not public, it's not a crime to take note of how a company operates and whether or not it has what it takes to succeed.
Adopting a similar principle from famed investor Peter Lynch, if you shop a lot at a particular store, you might be able to note things that take time to decipher in an annual report that other investors might be reading. For example, you might note that the retailer rarely discounts its merchandise but it still has shoppers buying all the company has and coming back for more. While you'll have to supplement your firsthand observations with actual data from company reports, you might have a leg up when it comes to investing by noting positive trends.
The point is that if you believe in investors like Warren Buffett — and on that given day, Joe Rogan — you shouldn't waste your time gambling on hot stocks in industries you don't understand. While you may luck out and bag a winner, that's not a solid long-term investment strategy.
Just ask investors in the thousands of cryptocurrencies that have disappeared, or even in banks like Silicon Valley Bank, which due to its investment strategy went from Wall Street darling to the second-biggest bank failure in U.S. history virtually overnight. If you truly understand what you're investing in, the likelihood of this happening to you is very low.
More From GOBankingRates