Live From Berkshire Hathaway: Warren Buffett Says 'There Will Always Be Investment Opportunities'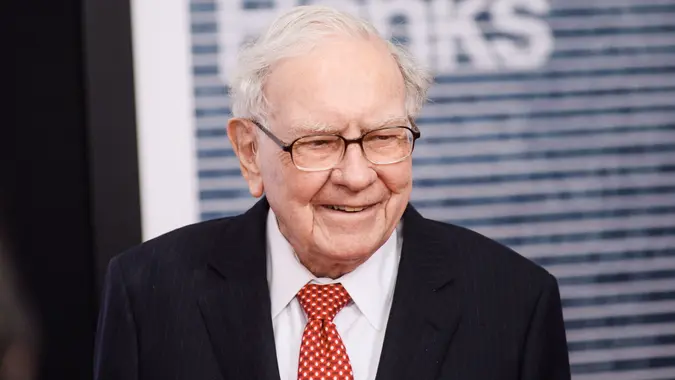 Erik Pendzich/REX / Shutterstock.com
For some, the first Saturday in May means it's Kentucky Derby time, but for others, it heralds the season of the Berkshire Hathaway annual meeting. Far more than your usual staid corporate affair, the Berkshire Hathaway shareholder meeting is more like a celebration, a reunion, or even a party.
In 2023, an energetic vibe filled the CHI Health Center Arena, a 17,000-plus capacity venue normally reserved for concerts, with attendees jamming shoulder to shoulder as Jay-Z and Alicia Keys belted out "Let's Hear it for Berkshire" to the tune of their hit "Empire State of Mind." Financial news network CNBC broadcasted live from Omaha, Nebraska, all weekend, with host Becky Quick moderating the very popular Q&A section of the event headlined by the "Oracle of Omaha" himself, company CEO Warren Buffett. Buffett was joined by his vice chairman, Charlie Munger.
The Berkshire Hathaway annual shareholder meeting is typically replete with solid financial advice and newsworthy comments — and 2023's version was no different. Here's a feel for how things went at this year's meeting, along with the most headline-worthy financial comments Buffett made during the event.
What Are the Festivities Surrounding the Berkshire Hathaway Annual Meeting?
While the "main event" — the actual annual meeting — takes place on Saturday, many of the estimated 40,000 fans and shareholders come on Friday for the shopping. On May 5, 2023 (the day before the actual meeting), the vast space at the CHI Health Center was filled with subsidiary companies of Berkshire Hathaway selling their wares. Discounted prices were available to shareholders.
Attendees lined up in Disneyland-style lines for the most popular merchants, from NetJets and Borsheims to Wells Lamont, Pampered Chef and countless others. Some fans were eager to get the "meeting-only" souvenir T-shirts and other garb from sellers like Fruit of the Loom, while others simply craved the full-sized ice cream confections offered by Dairy Queen for just $1. One of the biggest lines in the immense hall this year was for a brand-new addition, Squishmallows, brought under the Berkshire Hathaway umbrella as part of the company's acquisition of Alleghany in 2022.
On Saturday, Buffett and Munger led a two-part discussion and Q&A stretching for nearly six hours. The presentation touched upon topics ranging from Berkshire Hathaway's Q1 2023 earnings results to Buffett and Munger's opinion on innumerable financial topics. Here were the most noteworthy remarks.
Take Our Poll: Are You Concerned About the Safety of Your Money in Your Bank Accounts?
Are We Heading Into a Recession?
Buffett never mentioned that a recession was on the horizon, but did note that most of his company's businesses have been slowing throughout the year, something he expected to continue. However, this was simply a normal slowdown in Buffett's opinion, as the prior year was an extraordinary time due to lower interest rates and the free flow of money coming out of the pandemic/stimulus era.
There Will Always Be Investment Opportunities
Buffett is famous for his self-deprecating humor, and he's well-known for proclaiming that he's nothing special when it comes to picking investments. What he is good at, he suggested, is identifying opportunities. According to Buffett, you don't need to be brilliant to be a good investor, you simply need to capitalize when other people do dumb things. This is the same line of thinking that originated his famous line that investors should "be greedy when others are fearful, and be fearful when others are greedy."
Invest for the Long Term
Berkshire Hathaway doesn't host analyst calls to talk about the company's progress, and Buffett is not fond of responding to Wall Street in the manner most other companies might. At 2023's annual meeting, he noted that "the world is overwhelmingly short-term focused." Buffett indicated he refuses to do that at his company — as long as he can identify undervalued companies that he understands, he doesn't need a return in a quarter or even a year. If he believes in the long-term potential of a company, he will simply buy it and own it. This is in line with the advice he has offered to individual investors countless times in the past.
Include Your Heirs in Your Estate Planning
Responding to a question from an estate planning attorney, Buffett said it was imperative to include your heirs in your estate planning. According to Buffett, if the first time children are hearing about the thoughts and wishes of the deceased is when they read the will, the parents have made a terrible mistake. Buffett went on to suggest that if you intend your heirs to act responsibly and ethically with your bequest, it's important that you live the ideals you want to pass on to them.
What's the Best Investment?
Buffett is invariably asked to provide specific stock picks during the shareholder meeting, but he always refrains from making a direct suggestion. At the 2023 meeting, Buffett reemphasized one of his core beliefs — that the best investment you can always make is in yourself. According to Buffett, your earning potential is the greatest asset you can have, and any investments you can make in yourself to enhance this potential is the best choice. Specifically, Buffett recommended doing all you can to become the best at what you do, because when you can provide value to a company, a community or a country, you will always be in demand.
The Berkshire Hathaway Annual Meeting in a Nutshell
In 2023's version of the most-watched annual meeting in the world, Buffett and Munger did not disappoint. In addition to providing some news regarding the operations of Berkshire Hathaway overall, Buffett offered his usual homespun wisdom about finance and investing in terms everyone could understand.
Often overshadowed by his highly regarded partner, Charlie Munger kept up with Buffett the whole way, offering direct, punchy one-liners in response to questions or even Buffett's sometimes lengthy responses, all while munching on maple brittle from subsidiary company See's Candies.
For both shareholders and those even remotely interested in the investment world, attending the Berkshire Hathaway annual meeting once again proved memorable.
More From GOBankingRates