I'm a Self-Made Millionaire: Here's How To Know if a Luxury Handbag or Watch Is Actually a Good Investment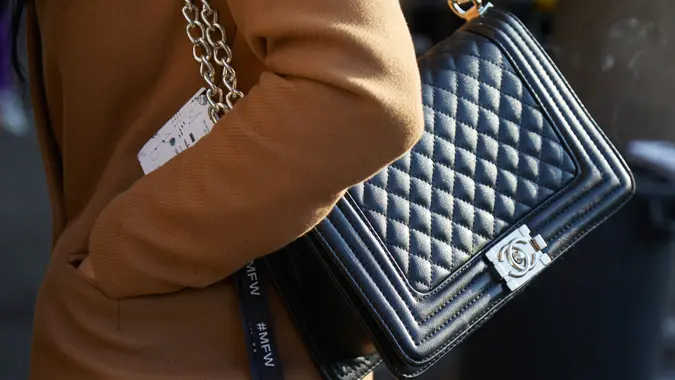 AndreaAstes / Getty Images
As a general rule of thumb, luxury handbags and watches are not great investments if you are hoping to resell them for more at a later date.
"The second an item is used, its value instantly begins to decline," said Thomas Kralow, a self-made millionaire and founder of University Grade Trading Education, an online learning platform for traders and investors. "Even if kept untouched, the price of a bag can be influenced by changes in fashion trends, consumer preferences and the state of the economy. Plus, the market for luxury bags is highly speculative and subject to fluctuations."
However, there are some exceptions to this rule. For example, according to Kralow, the value of a Chanel bag has risen 100% in less than 20 years.
If you want to invest in a luxury item, here's how to know if it's likely to pay off.
Pay Attention to the Brand
Certain brands have better resale value than others.
"Gucci, Bottega Veneta, Saint Laurent, Hermès and Prada offer the highest resale values, closely followed by Louis Vuitton and Chanel," Kralow said. "Like with any investment, analyzing historical data is key. Which similar items have grown in value in the past and what is it that sets them apart?"
Evaluate the 'Timelessness' of the Design
"Typically, you will find luxury investments that grow most in value share one quality: they're timeless," Kralow said. "There are no bright colors, vivid patterns or odd shapes that are likely to go out of fashion in a few months' time. Rather, items like the Patek Philippe Grandmaster or Hermès Diamond Himalaya offer simple designs that will remain in demand no matter how fashion trends change."
Take Our Poll: Do You Think AI Will Replace Your Job?
Look for Items With a Historically High ROI
Some luxury items have a history of increasing in value — this is a strong indicator that it will be a good investment.
"The right luxury investment has the potential to skyrocket your net worth," Kralow said. "It really depends on whether you've done your research. The exclusive Hermès Birkin, for instance, is almost guaranteed to produce a return. It's forecast to double in value in the next 10 years, and that isn't an unlikely target. In fact, the resale value of Hermès handbags rose by 26% in 2022 alone, with many fetching as much as 55% over the original retail price.
"As for watches, it's hard to go wrong with a Rolex," he continued. "The GMT-Master II has an average resale price of up to 118% of its RRP on average, while the Submariner 1680 doubled in value over the previous decade."
Remember That Every Investment Comes With Risk
While luxury items can make a good investment — they "have the potential to grow at a rate that far surpasses the 12% annual growth achieved by stock market indexes such as the S&P 500," Kralow said — you shouldn't bank your entire future on a Chanel bag.
"If you can find the right items, they can form a lucrative part of a diverse portfolio, but the key phrase there is part of," Kralow said. "No investment is guaranteed to deliver results and there is always an element of risk, especially when investing in an asset that is largely influenced by consumer fashion trends. Whether luxury watches, a particular stock or a certain currency, if you put every cent you have into one investment, you could end up losing it all if the market goes against you."
More From GOBankingRates