Warren Buffett Says Make Money While You Sleep: Here Are 5 'Forever Assets' To Buy Now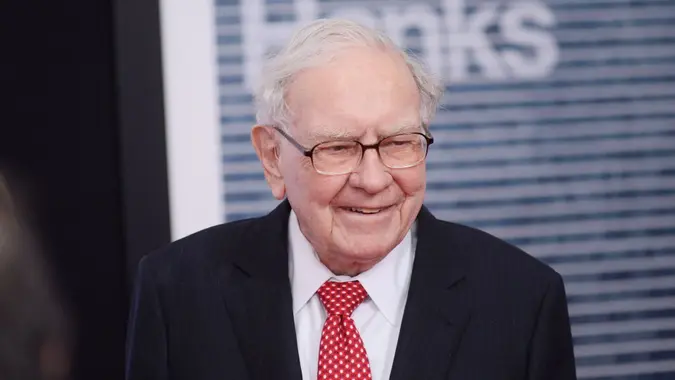 Erik Pendzich / Shutterstock
Billionaire super-investor Warren Buffett has shared plenty of financial wisdom over his almost 70-year career. On the subject of retirement, he famously said, "If you don't find a way to make money while you sleep, you will work until you die."
Obviously, it's true. Without enough passive income (or enough savings to "pay" yourself) you'll never be able to retire. If you're concerned that you may not be on track to get there, you're certainly not alone. A Gallup poll conducted earlier this year showed that 71% of non-retired adults are at least moderately worried about being able to fund their retirement. In a GOBankingRates survey earlier this year, about half of respondents were similarly concerned.
So how exactly do you make money while you sleep? We asked experts for their top "forever assets" that will earn you passive income and/or appreciate in value.
High-Yield Savings Accounts
"Amidst uncertainty, one thing investors can be certain of is the potential to earn more interest through high-yield savings accounts," said Max Lane, CEO of Flourish. "Americans have lost out on at least $291 billion in interest since the start of 2019 by keeping their savings with the biggest U.S. banks. Traditional savings accounts currently have an average APY of about 0.42% while high-yield solutions are offering 4.5% or greater.. That's a difference of thousands of dollars for many households."
Cash is king, but historically it hasn't been a great idea to hold cash long-term. In a low-interest rate environment, inflation often outpaces your return, and your cash actually loses value over time.
"Most people don't think of cash as an investment but rather a source of protection and safety," Lane said. "But cash is becoming an asset class again. With many folks feeling the squeeze of their purchasing power declining, the question everyone should be asking is if their money is working for them right now.
"There is no reason why you shouldn't be getting over 4.5% on cash right now, especially because high-yield accounts are protected by the FDIC (up to a certain amount) and daily liquidity."
Real Estate
Real estate is a classic investment vehicle that can provide you with passive income while also appreciating in value. Dr. David Phelps, real estate expert and CEO of Freedom Founders, believes that real estate is "hands down" the best asset class.
"Real estate as a tangible asset is what we would call or term 'an inefficient market' vs. the financial world, which is known as an 'efficient market,'" Phelps said. "This is a major benefit [that allows the] individual investor to take advantage of the inefficiencies in the real estate market to be able to access and invest where the major funds are not able to access.
"It also offers several additional advantages over other asset types, including tax benefits, depreciation, cash flow and the fact that it can provide additional leverage by being used as collateral to borrow against, so you can invest in additional properties."
Dividend Stocks
One problem with real estate is that it does have a relatively high barrier to entry. Even if you are financing a real estate purchase, investment properties generally require a substantial down payment — something that might be out of your reach, especially if you're just getting started with investing. If that's the case for you, dividend stocks could be a great option.
"Investing is the ultimate game of patience, and 'forever assets' like dividend-paying stocks can truly allow you to make money while you sleep," said Taylor Kovar, CFP and CEO of The Money Couple. "Companies like Procter & Gamble or Johnson & Johnson, with a solid history of paying dividends for decades, are examples of such assets. With their consistent and growing dividends, they can provide a steady stream of passive income. Historically, these stocks have offered investors solid returns, with both firms averaging around a 10% to 12% annual return over the past 30 years."
If you don't know where to start looking for dividend stocks, consider checking out the so-called "dividend aristocrats," a list of stocks that have raised their dividends every year for 25 years.
Broad-Market Funds
Broad-market funds, also called index funds, are investment vehicles that try to replicate the performance of either a total stock market or an index like the S&P 500. Buffett has said one of the best ways to build your retirement savings is to "consistently buy an S&P 500 low-cost index fund. I think it's the thing that makes the most sense practically all of the time."
Rubina Hossain, CFP and contributor at Annuity, said, "You make a passive income on investments that appreciate and generate income over time. That income then gets reinvested while you aren't using it. The biggest bang for your buck would be index mutual funds and ETFs. These funds offer diversification, which means you are not putting all of your savings in one stock or even all stocks. They also offer investment in a mixture of stocks and bonds in one fund, and they are cost-effective.
"Keep it simple and control what you can: The cost of the investment and taxes (index funds tend to be more tax efficient). Over time, you will generate a nice income stream."
Annuities
If you're approaching retirement, you could use your existing savings to create your own "forever asset" via an annuity. Annuities are financial products that offer payments over a period of time in exchange for either an up-front lump sum or periodic payments.
"An annuity is a contract that can offer lifetime or forever payments for retirees," said Evan Potash, Wealth Management Advisor at TIAA. "These payments can be fixed payments or variable payments. Fixed payments are common for those who do not want to see fluctuations in their income. Variable payments can fluctuate year to year depending on the underlying investment like the S&P 500. The goal is to combat inflation. A lifetime annuity along with Social Security can ensure that you never run out of money making this a forever asset strategy."
More From GOBankingRates