Can You Buy Cars Directly From Automakers To Save Money?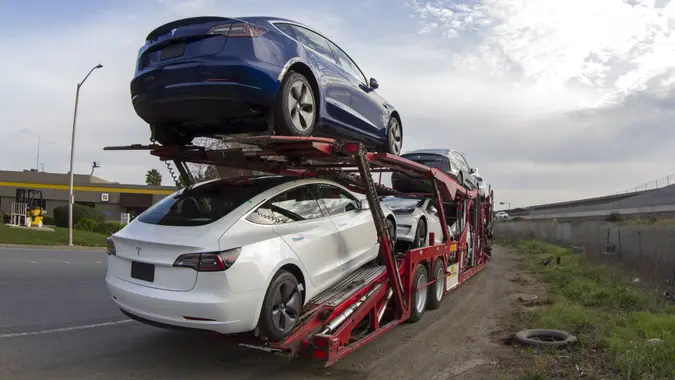 hapabapa / Getty Images
Buying a car during the past few years has presented many challenges to consumers. Between a chip shortage that left a huge void in the market, higher markups due to increased demand and the competition for electric vehicles as tax credits come online, the race for a new vehicle has gone from 0 to 60 in no time.
See: How 2023 Recession Will Differ From 2008 and How You Should Prepare Differently
Read: 3 Ways Smart People Save Money When Filing Their Taxes
The Future of Finances: Gen Z & How They Relate to Money
Given how much more it now costs to take a vehicle off the lot, some are trying to find ways to save money on the total expense. Consumer Reports recently detailed one idea — buying a car directly from the automaker rather than deferring to a dealership and paying the middleman.
CarsDirect noted that, in general, the average markup that a dealer applies to a vehicle they're looking to sell is about 9.9% over MSRP, or a median fee of $3,753. Nixing that altogether would be a huge savings, but is it possible?
As Consumer Reports noted, it is — at least in some cases. Newer automakers like Tesla, Rivian and Lucid offer the option. "For the most part, these automakers don't mark up anything. You buy on their website and then they deliver the car to you when it's ready," said Steve Elek of Consumer Reports.
In general, these modern automakers have their own car "galleries" rather than traditional dealerships because of longstanding franchise laws in many states that prevent vehicle manufacturers from having their own showrooms. Such laws were enacted to protect independent dealerships from having direct competition and going out of business, per Consumer Reports.
Because of those laws, it's not exactly easy to buy into a direct-to-consumer agreement with an automaker unless they've gotten creative to bypass the strict legislation. For example, Consumer Reports pointed to an example wherein Tesla opened a sales and service center on Native American land in New Mexico — land which is technically a sovereign nation and not bound New Mexico's laws — finding a loophole.
However, some of the more established automakers don't offer the same opportunity as they rely heavily on "dealer networks." While you can go to their websites, customize your new vehicle and put down a deposit, you will have to opt into working with a dealership of your choosing to finalize the order. "There is no circumventing the dealer" in these cases, according to Consumer Reports.
Consumer Reports did offer some tips when considering a new (or new-to-you) ride:
Call the dealership to see if they mark up their vehicles and ask for a line-by-line itemization for more transparency — you may be able to barter with them if you find a more competitive deal at another showroom.
When you do buy, ask for a purchase order receipt rather than a deposit receipt, which will help you have a better case for locking in the price in case MSRP goes up before you finalize the deal. It acts like a legally binding contract.
Take Our Poll: How Do You Think the Economy Will Perform in 2023?
More: Should You Buy a Used Car at the Start of the New Year?
There's also the opportunity to buy on the private market through websites like AutoTraders.com, CarGurus.com and Cars.com, though doing so doesn't offer the same protections as doing business with an accredited dealership.
More From GOBankingRates