15 Car Models That Will Have Massive Price Drops in September 2023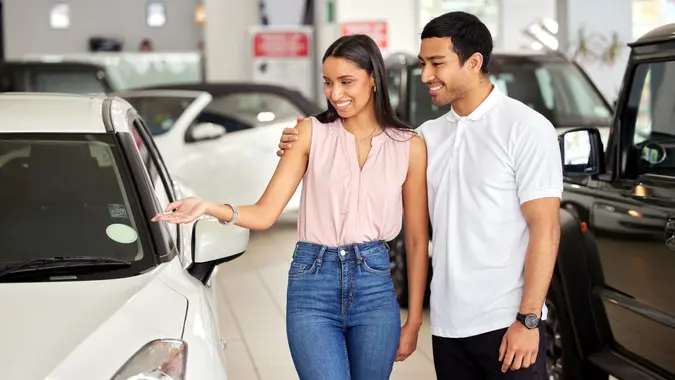 PeopleImages / Getty Images/iStockphoto
Car prices are declining across the board. According to Kelley Blue Book, average transaction prices are down 2.4%, or $1,212, from the start of the year — the biggest decrease in a decade. The average new car in America sold for $48,451 in August, while the average price for a used non-luxury car hovers around $20,000, according to Carfax data.
"After a tumultuous last few years in the automotive marketplace, now we are seeing new-vehicle pricing trends hold steady," said Rebecca Rydzewski, research manager at Cox Automotive. "Dealers and automakers are feeling price pressure, and with high auto loan rates and growing inventory levels, new-vehicle prices seem to have hit a ceiling, at least for now."
Similar factors are contributing to lower used car prices. According to Carfax, the slow rebuilding of new-car inventory, high prices on new cars, the ongoing microchip shortage and higher interest rates are among the biggest factors.
Electric vehicles experienced the largest price drop over the past year, falling over 22%, Carfax noted, followed by luxury car prices. Electric-vehicle price reductions were largely driven by Tesla. In July, the company said that lower raw-material costs and government tax credits reduce the cost per vehicle, Reuters reported.
A RealCarTips analysis revealed that several Tesla models had hefty price reductions. Tesla Model S is currently $82,490 after dropping 31.5% from January, Tesla Model Y is $47,853 after going down 27.5%, Tesla Model X is $84,990, down 26.6%, and Tesla Model 3 is currently $43,935, which is a 20.1% price reduction.
In addition to Tesla, here are car models with the most significant price drops as of September 2023, according to data on new and used cars from RealCarTips and Autoweek:
1. Nissan Leaf: $22,500, down 19% year-over-year (used)
2. Land Rover Range Rover: $75,481, down 18.5% year-over-year (used)
3. Land Rover Range Rover Velar: $46,269, down 17.5% year-over-year (used)
4. Dodge Durango: $36,899, down 17.4% since January (new)
5. Land Rover Discovery: $40,986, down 16.8% year-over-year (used)
6. Hyundai IONIQ 5: $41,315, down 16.2% since January (new)
7. Jaguar E-Pace: $33,213, down 16.2% year-over-year (used)
8. BMW's 5-Series PHEV: $33,600, down 15.5% year-over-year (used)
9. Dodge Charger: $34,559, down 15.4% since January (new)
10. Kia EV6: $39,048, down 14.5% since January (new)
11. Dodge Challenger: $30,755, down 13.1% since January (new)
12. Chrysler 300: $34,020, down 12.8% since January (new)
13. Ford Edge: $41,955, down 12.5% since January (new)
14. Kia Niro EV: $37,542, down 12.1% since January (new)
15. Volvo XC90 Recharge: $69,532, down 11.9% since January (new)
More From GOBankingRates