How to Get the Best Car Loan Rates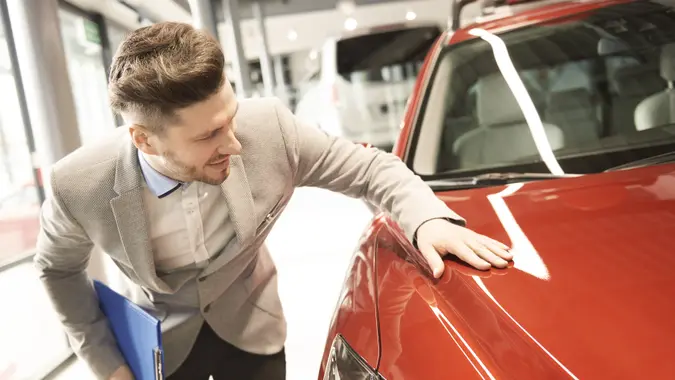 gpointstudio / Shutterstock.com
Car loans provide the funding to allow you to buy a car even if you can't pay for it all up front. Even if you have poor credit, you can find bad-credit car loans and find ways to improve your loan terms if you know what to look for. Check out a sample of current auto financing rates in the following table, and read on to learn how to ensure you lock in the best car loan rates.
Current Auto Loan Rates
Lender
Interest Rate (APR)
Term
Loan Amount
LightStream
3.09% to 5.94%
24 to 36 months
$10,000 to $24,999
LightStream
4.29% to 7.04%
61 to 72 months
$25,000 to $49,999
Navy Federal Credit Union
From 2.29%
36 months or less
N/A
Navy Federal Credit Union
From 5.29%
85 to 96 months
Minimum $30,000
Wells Fargo
From 3.88%
Up to 72 months
N/A
Nationwide
From 2.5%
36 months
$25,000 to $100,00
Nationwide
From 4%
66 months
$17,000 to $24,999
* All examples are for new car financing
6 Tips for Getting the Best Auto Loan Rates
More than 100 million Americans have car loans — if you plan on being a part of this number when you purchase your next vehicle, it's critical to your budget that you shop for the best interest rate. Get a lower interest rate and you'll be able to keep your car payment as low as possible.
Here are six tips on how to get the best car loan rate:
1. Get Your Credit in Order Before You Apply for an Auto Loan
Your first steps toward locking in the best auto loans start before you even set foot in the dealership or start looking for a car online. That's because lenders look at your credit report and credit score when determining whether to approve you for a loan and the interest rate to charge. The more time you have to improve your credit score before you apply the better. Even if you're short on time, there are a few steps that could raise your score quickly:
Check your credit report for errors. You're entitled to a free credit report from each of the three major credit bureaus once a year, so check it and make sure your report doesn't contain any incorrect negative information that could be reducing your score.
Lower your credit utilization ratio. You can do this by paying down the balances on your credit cards. Experian recommends keeping your balances below 30 percent of your credit limit, or even lower if possible.
Don't close existing credit cards. Existing open cards can help improve your credit score even if you're not actively using them.
Always make at least the minimum payment. By making the minimum payment on your credit cards, you'll build a positive credit history.
Related: How to Dispute Credit Report Errors
2. Budget for Your Auto Loan Down Payment
It's possible that you could be approved for an auto loan with little or no down payment. But putting down a larger down payment can help you lock in a lower interest rate, not to mention having an easier time getting approved for the loan. Plus, if your down payment is large enough, you can avoid being upside down on your car — which is when you owe more on the vehicle than it's worth.
3. Find Out Where to Apply for Auto Loans
When you're ready to apply for a car loan, don't settle for the first lender you see. You have a plethora of options including banks and credit unions, automakers' finance companies and online lenders. Getting financing through the dealership is convenient because it's a one-stop shop, but it can be more expensive because it includes a markup for the dealer. Online auto loans might offer lower rates, but beware of fees and make sure that the online lender is reputable. You can inquire about online lenders through the Better Business Bureau.
Check Out: 12 Best Credit Unions for Car Loans
4. Get a Pre-Approved Loan for Your Auto Finance
Showing up to the dealership without any idea of what auto loan you'll use to pay for your car is a definite no-no. If you walk in and just hope that the dealer will give you a good rate, you're at the dealer's mercy if you expect to drive off the lot with a new car.
Getting a pre-approved car loan allows you to compare the rates and fees that different lenders offer you so that way you know how much you can afford to pay for a car. Plus, you can even use other offers to negotiate with the lenders or the dealer to get a better rate. When you do apply for a loan for your car finance, keep all your applications in a short period of time — between 14 and 45 days depending on the credit scoring model used. That way, all the credit inquiries from the loans will be scored as if it was just one inquiry.
5. Select a Shorter Car Loan Term
Car loans come in a range of lengths, from just two or three years to six years or more before your car is paid off. Typically, the longer the term of the loan, the higher the interest rate charged. Plus, not only will you pay a higher interest rate, you'll pay more interest overall because the term of the loan is longer. So, while it might be tempting to use a longer term because the monthly car payment will be lower, you won't get the best car loan rates if you opt for a longer repayment period.
Learn: Pros and Cons of a 96-Month Auto Loan   
6. Time Your Car Purchase
You can save money by purchasing your car during times of the year when dealers are more motivated to sell. For example, dealers are often more motivated to sell at the end of the year, so you might be able to lock in not only lower interest rates but also other rebates and incentives, according to Edmunds. But, that doesn't mean that if you're needing a car at the start of the year that you need to use public transportation to get around until the end of December because the savings often aren't that great.
Up Next: The Best and the Worst Time of the Year to Buy a New Car