10 Japanese Cars That Are Actually Built in the US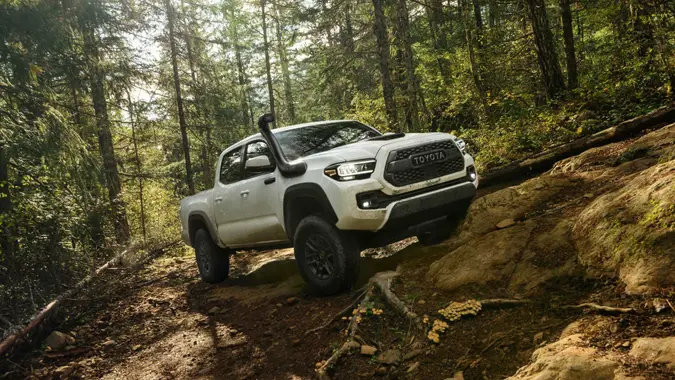 ©Toyota
The first Japanese car to be sold in the United States was the 1958 Toyopet Crown, a Toyota model that was popular in its home country but not well received in America. As Toyota magazine reported, Toyota's U.S. sales administrator at the time, James McGraw, complained that the Crown "is underpowered, overpriced and it won't sell."
Another problem: The Crown couldn't be taken to drive-in restaurants — a popular U.S. destination in the 1950s — because when you hung the tray on the steering wheel it "pushed the bezel and activated the horn." Not exactly a first-rate dining experience.
Although the Crown wasn't a hit with Americans, Japanese cars have since become among the biggest sellers in the United States. Toyota alone sold 2.02 million vehicles in the U.S. in 2022, according to Good Car Bad Car. That was second only to General Motors, which sold 2.27 million cars. Honda, Nissan and Subaru ranked 6th, 7th and 8th, respectively, in U.S. car sales with a combined 2.27 million vehicles.
Although Americans are now big fans of Japanese cars, many might not know that many of those cars are actually manufactured in the U.S. In 2022, Japanese automakers manufactured about 2.82 million vehicles at production facilities in the United States, according to data from Statista.
Here's a look at 10 Japanese cars that are built in the U.S. as cited by the Hot Cars website.
Acura NSX
Manufactured in: Marysville, Ohio
Year assembly started in the U.S.: 2016
Honda Accord
Manufactured in: Marysville, Ohio
Year assembly started in the U.S.: 1982
Honda CR-V
Manufactured in: East Liberty, Ohio and Greensburg, Indiana
Year assembly started in the U.S.: 1997
Acura RDX
Manufactured in: East Liberty, Ohio
Year assembly started in the U.S.: 2006
Toyota Camry
Manufactured in: Georgetown, Kentucky
Year assembly started in the U.S.: 1988
Toyota Sequoia
Manufactured in: Princeton, Indiana
Year assembly started in the U.S.: 2001
Toyota Tacoma
Manufactured in: San Antonio, Texas
Year assembly started in the U.S.: 1995
Nissan Pathfinder
Manufactured in: Smyrna, Tennessee
Year assembly started in the U.S.: 1985
Nissan Titan
Manufactured in: Canton, Mississippi
Year assembly started in the U.S.: 2004
Subaru Impreza
Manufactured in: Lafayette, Indiana
Year assembly started in the U.S.: 2002
More From GOBankingRates