How to Get Your VA Home Loan Approved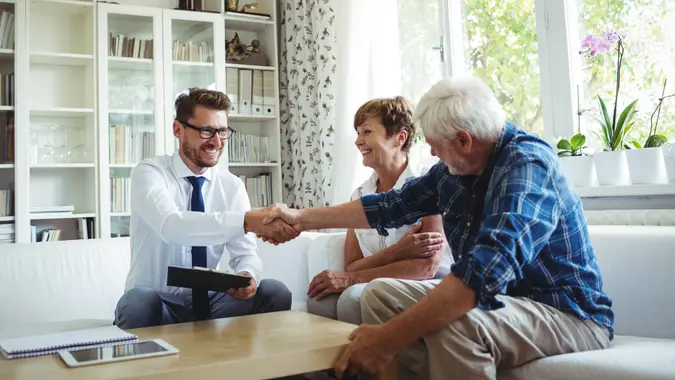 wavebreakmedia / Shutterstock.com
As a service member or veteran, you might be able to get a special home loan through the U.S. Department of Veterans Affairs. Private lenders like banks and mortgage companies fund these loans, a portion of which is guaranteed by the VA, and make them available to current and former members of the military as well as eligible surviving spouses.
Because the VA guarantees a portion of these loans, you can potentially get more favorable loan terms from a lender. First, find out what the advantages of a VA loan are, then follow these steps to boost your loan approval chances.
Keep reading to discover how a VA loan can make buying a home more affordable for veterans like you.
VA Loan Benefits
VA home loan lenders typically provide buyers with very favorable terms, making it possible for them to realize the American dream of homeownership. The VA offers a number of different programs for homebuyers, including the Native American Direct Loan program, which helps Native Americans finance homes, and the Specially Adapted Housing Grant, which helps veterans with service-associated disabilities live independently in an appropriate environment.
Some VA loan benefits include:
No down payment for qualified borrowers
Private mortgage insurance is often not required
Limits on how much you pay for closing costs
Lower VA loan rates
It might be easier to qualify for a low rate on a VA loan than with a traditional mortgage, even if your credit score isn't at its best.
How to Apply for a VA Loan
Learn everything you can about how VA loans work, VA loan requirements and VA home loan eligibility before you start your search for a mortgage lender and a home. Follow these steps to improve your chances of getting a VA mortgage and all the VA home loan benefits that go along with it:
1. Make Sure You're Eligible
For VA home loan eligibility, you or your spouse must meet minimum service and discharge requirements. You might meet VA loan eligibility requirements if you're a veteran, active-duty service member, current or former National Guard or Selected Reserve member or surviving spouse. Verify that you qualify for a VA home loan by getting a VA loan certificate of eligibility. You can apply for one online through the VA website, through a VA lender or by mail.
Related: 15 Mortgage Questions to Ask Your Lender
2. Check VA Home Loan Rates
The VA does not actually set interest rates, but rather, VA home loan lenders set rates according to the current state of your finances. Your VA home loan rate can be determined in part by your:
There's no exact credit score for a VA loan needed, but the better your credit score, the more favorable rate you'll likely get. Your home loan interest rate is not to be confused with the annual percentage rate on a VA loan, which includes the interest rate, origination fees and other fees you're required to pay as a result of securing the loan.
When choosing a lender, look for one that offers few fees. One VA loan lender, for example, is NBKC Bank, which offers pre-qualification and a variety of money-saving benefits, including no lender fees, no origination fees, no underwriting fees, no processing fees and competitive rates.
3. Understand Loan Limits and Requirements
Although the VA doesn't limit the amount you can borrow to finance your home, it does limit how much liability it can assume, which might restrict the amount your lender is willing to approve.
The VA loan limit varies by county because real estate values differ among locations. Find your loan limits on the Federal Housing Finance Agency's website.
4. Meet Occupancy Requirements
Because VA home loans are designed to help eligible borrowers purchase primary residences, the loans come with residency requirements. Typically, borrowers must take occupancy of a home within 60 days of completing the loan process.
Make sure you understand the occupancy requirements because there might be exceptions to this VA home loan requirement. Checking on this matter is particularly important if you — or your qualifying spouse — are an active service member expecting to deploy in the near future.
5. Know Your Closing Cost Limits
Make sure your closing costs are acceptable to the VA because it limits what buyers can pay in these costs. The closing costs can include expenses related to inspections, appraisals and title insurance. Be sure to ask your lender what each fee is for and which fees VA buyers are not allowed to pay.
"Ask the lender if they are experienced handling VA loans," said Military Spouse and Loan Officer at NBKC Bank Amy Stuhr Paterson. "VA requires specially delegated underwriters and has specific guidelines that are different from conventional or even other government loan programs like FHA. It is wise to choose a lender that is very experienced handling VA loans to prevent hiccups later in the process."
6. Gather Documentation
Include all the documents your lender requests with your application to improve your chances of getting the loan. You will likely need:
Proof of income
Proof of child support or alimony for you or your spouse
Military verification
A list of your assets and liabilities
A home appraisal
Contact your prospective lender for specific requirements.
7. Stay Within Your Area's Residual Income Guideline
VA home loans include a residual income guideline — residual income is the amount of discretionary income you have each month after you satisfy your major expenses. The guideline varies depending on your household size and where you live, so find out what yours is before you apply for a loan.
8. Apply for a Home Loan and Prepare to Buy Your Home
It's important you look for a real estate agent who is familiar with VA home loans and knows which local lenders provide them. This will ensure that the mortgage application process goes smoothly and quickly.
"The most common misperception around a VA loan is that they are somehow more difficult or take longer," said Former Army Officer and a Loan Officer at NBKC Bank Jim Schneider. "I believe this comes from real estate agents who don't have much experience with them or from the real estate agents working with lenders who don't have much experience either.  There is no difference in the amount of time or effort required on a VA loan."
Compare local lenders' VA home loan rates and search for properties that will meet VA appraisal requirements. If you're in the market for a condominium, boost your chances of getting a VA loan for one by looking at properties on a VA-approved condo list.
Getting Your VA Home Loan Approved
Be sure to shop around among the best VA lenders for the most competitive rates before choosing a lender for your loan. Look for lenders, like NBKC Bank, that have no lender fees, no origination fees, no underwriting fees and no processing fees. To up your chances of loan approval, make sure you have the appropriate documents gathered, look for homes that meet occupancy requirements and stay within income guidelines. Prior to applying for a mortgage, you'll want to make sure your finances are in top shape.
"The most important steps to improving a veteran's chance of getting approved really go hand in hand," Schneider said. "They want to maintain a reasonable debt-to-income ratio and have a decent credit score. The VA wants our veterans to realize the dream of homeownership and they make qualifying easier than any other type of home loan."
Active-duty service members, veterans or eligible surviving spouses can apply for VA loans. Visit the Veterans Benefits Administration website for more information on its home loan programs, and consider applying for a VA home loan today to get one step closer to the home of your dreams.
Click through to see the 25 best perks for service members and veterans.
Gabrielle Olya contributed to the reporting for this article.