How to Make a Wells Fargo Mortgage Payment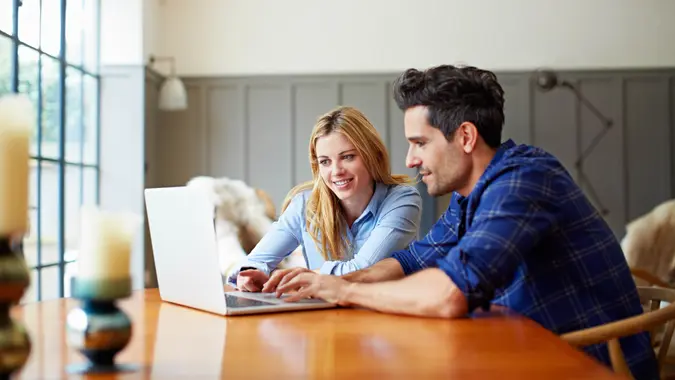 kupicoo / Getty Images
Although there's a Wells Fargo mortgage payment grace period of 15 days past the payment due date, it's important that customers make their monthly mortgage payment on time. Not only will this eliminate the chances of being charged a late fee, but it will also keep your credit in good standing. If you're wondering "Can I pay my Wells Fargo mortgage online?" the answer is yes. There are a few additional choices to consider as well.
Keep reading to find out how to make your mortgage payment.
Wells Fargo Mortgage Payment Options
Click to discover the different ways you can pay your Wells Fargo mortgage:
How to Pay Your Wells Fargo Mortgage Payment Online
Can you pay your mortgage online? Absolutely, and Wells Fargo makes the process a breeze. To pay your Wells Fargo mortgage online you'll need to enroll in Wells Fargo Online using your Social Security Number and your account number. After your account is set up, you can sign in and select the Wells Fargo account you want to transfer the money from. If using a non-Wells Fargo account, you'll need to first click "Add Non-Wells Fargo Account" and enter the account and routing numbers from the account you'd like to use. Next, choose the mortgage account you want to make a payment on. You'll have the opportunity to make a one-time payment or set up recurring automatic payments. Lastly, enter the amount you'd like to pay and press "Continue," then "Submit."
Related: Here's Your Wells Fargo Routing Number
How to Pay Your Wells Fargo Mortgage Payment Over the Phone
If you want to use the Wells Fargo mortgage pay by phone option, dial 800-357-6675 to be connected. Although this Wells Fargo mortgage payment phone number is automated for accepting payments around the clock, customers can also speak to a representative for help if they call Monday through Friday between 6 a.m. and 10 p.m. Central Time and Saturday between 8 a.m. and 2 p.m. Central Time. Wells Fargo is generally closed on Sundays. Before you call, make sure you have your account number and the last four digits of your Social Security number handy. If you plan on making a payment using an account from another bank, you'll also need the bank's account number and routing number.
Related: Your Guide to Wells Fargo SWIFT Codes
How to Pay Your Wells Fargo Mortgage Payment by Mail
Each monthly statement comes with a payment coupon that lists the mailing address where you need to remit your payment. If you lose your payment coupon, you'll need to call 800-357-6675 to find out which address is assigned to your account. This is because the company has multiple payment addresses for the different states it serves. Another option is to sign up for Wells Fargo Online statements. This allows customers to print a copy of their payment coupon from their online account. That payment coupon will contain the correct mailing address to which you can send your mortgage payment.
How to Pay Your Wells Fargo Mortgage Payment in Person
Use the Wells Fargo bank locator tool on the company's website to find the branch nearest you. The results will display the branch's address, phone number and office hours. Take your payment, along with your account number, to the closest Wells Fargo location during office hours and an employee will assist you in posting the payment to your account.
Read more about how to get a Wells Fargo mortgage.
More Mortgage Payments
We make money easy. Get weekly email updates, including expert advice to help you Live Richer™.