The Pros and Cons of Online Mortgage Lenders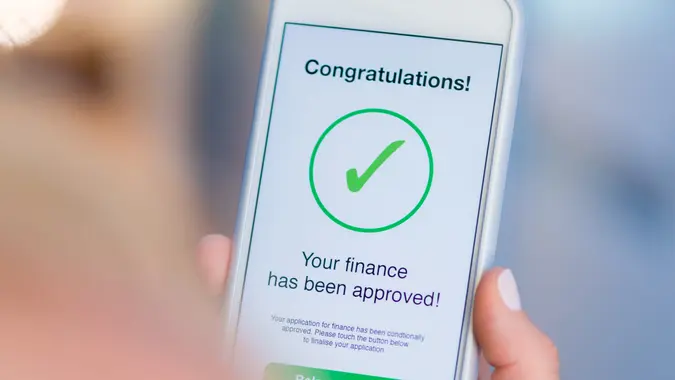 courtneyk / Getty Images/iStockphoto
If you're applying for a mortgage loan, you no longer need to go to a physical bank and meet with a lender to get the loan you need — you can now go through the process entirely online. However, is the easier way always the better way? Not necessarily.
Find Out: 10 Common Mortgage Mistakes That Hurt Your Finances
Take a Look: Here's How Much Mortgage Rates Have Fluctuated Over the Past Decade

Before using an online mortgage lender, be aware of the pros and cons.
Pros of Using an Online Mortgage Lender
There are several advantages to using an online mortgage lender.
It Can Be a Faster and More Streamlined Process
"We've made it easy to do everything from your couch," said Tabitha Mazzara, director of operations at MBANC, a direct-to-consumer mortgage lender. "Even though we don't have walk-in branches like old-fashioned banks, that doesn't mean we don't have personalized service. What it means is that we offer a streamlined process that allows you to have shorter processing times and accurate approvals, because we connect directly to your bank to get the precise information about your finances. Your pre-approval is faster, which in turn makes it more likely you'll get the home you want."
"Digital signing also prevents delays, and that's important in such a competitive market," she continued. "Unsigned paperwork is one of the most common reasons transactions get delayed, but we avoid that altogether."
Helpful: Tips To Get Your Mortgage Payments as Low as Possible
You May Get Lower Rates
"As a direct-to-consumer lender, we also skip mortgage brokers altogether — the same way you probably skipped using an old-school travel agent and booked your last flight by yourself," Mazzara said. "That saves costs."
Those overhead cost savings are often passed down to the customers.
"Online lenders charge less and have fewer fees, making it a great deal for their clients," said Dan Belcher, founder and CEO at Mortgage Relief. "They often offer rates with lower percentages, helping you save money."
Helpful: How Interest Rates Affect Your Wallet and the Bigger Economic Picture 
It Can Be Easier To Get Approved
"FHA, VA, USDA and other loans require a minimum credit to get approved. However, individual online lenders can raise the bar at their own risks," said Seth Williams, co-founder and real estate broker with Ledge & Young Real Estate. "Thus, it can be easier to get approved for a loan online."
Cons of Using an Online Mortgage Lender
In some cases, it may be better to go the traditional route. Here's a look at the possible downsides of using an online mortgage lender.
You May Not Qualify for the Advertised Low Rates
"The vast majority of these online mortgage companies perpetuate business by advertising jaw-droppingly low rates," said Samantha Kalla, a realtor with the Kalla Bay Homes Group. "This seems to be their go-to method for getting consumers hooked, and then much later, my clients have been hit with the 'sinker.' They often get them through the majority of the qualification process and underwriting, and then inform the client that they do not qualify for the advertised rate, and instead are stuck with a rate higher than if they would have gone the traditional banking route."
Find Out: How Much Debt Americans Have at Every Age
You Lack the Convenience of Having a Human Contact If Something Goes Wrong
When you go the traditional route you will be working with a human loan officer, which has its advantages.
"The home buying process is already stressful enough — the last thing you want to be doing is tracking down where your loan file is," Kalla said. "The implications of defaulting on a contract (i.e. a buyer not closing on time) are often more time-consuming and costly than choosing a traditional lender that you have a direct connection to, as well as someone that can be held responsible when underwriting is taking too long, or a back-end department screws up your name on the loan paperwork."
Even if there are no issues, you may want to have a human contact that you can go to with any questions during the process.
"I have worked with home buyers who started off applying online, only to switch to a local and reputable lender who can provide them the guidance and answers they need with a more personal touch," said Jason Gelios, a realtor with Community Choice Realty. "This is not to say that online lenders are not great for some people, but they tend to be better suited for those savvier with the mortgage process."
Good To Know: Why It's Still Worth Refinancing Your Mortgage Now — Except in This Situation
Online Lenders May Be Less Secure
"There is an unfortunate possibility of working with scammers," Belcher said. "Do your research beforehand and look for recommendations from people you trust. Read reviews before reaching out to work with an online lender. A disreputable online mortgage lender may have instances of fraud, so be careful when looking for one."
You're More Likely To Make an Error During the Application Process
"While filling out a form from the comfort of your own home may seem easy, online loan applications can be difficult," said Chris McGuire, realtor and founder of Real Estate Exam Ninja. "The chances of making a mistake are higher than if you were guided by an expert. Making a mistake because you misunderstood a question might cost you extra money or cause an issue down the road."
More From GOBankingRates
Last updated: Oct. 20, 2021