Best Auto Loan Refinance Rates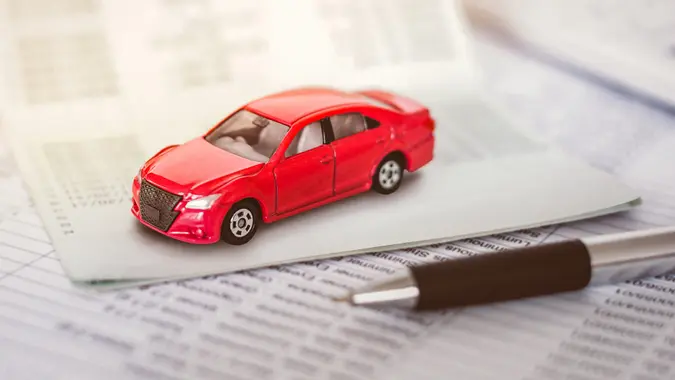 ©Shutterstock.com
If you think that your monthly car payments are too high for the type and age of vehicle you own, you might want to consider refinancing. Refinancing can free borrowers from bad loans they took when auto interest rates were higher or their credit was lower.
Refinancing, however, isn't a magic bullet. It might not be for everyone, and in some cases, it can hurt more than it helps. Keep reading to learn about refinancing, what to expect and what to watch out for before you start shopping for a new loan.
How to Refinance an Auto Loan
You apply for an auto refinance loan the same way you would any other loan, which means you'll have to submit personal and financial information like your income and credit history to a lender. Just as with any loan, you can apply through a traditional bank like Wells Fargo, a credit union or an online service like Openroad or LendingTree.
The Best Auto Loan Refinance Rates
Lender
Used/New
Model Year (if applicable)
Terms
APR (as low as)
LendingTree
Both
12-72 months
1.85%
Innovative Funding Services
Both
max vehicle age: 10 years
36-84 months
1.89%
Openroad Lending
Both
10 years/ 150,000 miles
24-72 months
1.90%
USC Credit Union
Both
36-72 months
1.94%
AutoPay
Both
max vehicle age: 10 years
24-84 months
1.99%
myAutoloan.com
Both
max vehicle age: 10 years/ maximum mileage: 150,000
24-72 months
2.24%
Penfed Credit Union
New
36-72 months
2.49%
Clearlane
Both
36-84 months
2.74%
rateGenius
Both
max vehicle age: 10 years/ maximum mileage: 100,000
24-87 months
2.90%
LightStream
Both
24-84 months
3.09%
Why Should I Refinance an Auto Loan?
The process of entering into a new loan to cover the balance of an existing loan before the existing loan is paid off is called refinancing. Refinancing has nothing to do with the car — you keep the same vehicle. You simply apply for and secure a new loan for the remaining balance of the car, which cancels the obligation of the loan that you originally signed for to finance the car in the first place.
Refinance loans are secured loans — your existing car is used as collateral to guarantee repayment on the new refinanced loan. Since the interest rate is fixed, the monthly payments will always be the same for the life of the loan.
Related: How Your Credit Score Determines Your Auto Loan APR
In most cases, people seek to refinance to get a lower interest rate or a longer or shorter term. In some cases, interest rates might have dropped since the original purchase of the car, which means that the borrower could benefit from entering into a new loan at the new, lower rate. In other cases, the buyer's financial situation and credit score might have improved, which increases the chances of getting a better rate on a new loan.
Like all loans, borrowers with stronger credit get better rates, so refinancing might make sense if you settled for a high-interest loan when your credit was poor at the time of purchase, but you now believe that your improved credit score makes you a lower-risk borrower.
Auto Loan Refinancing Advantages
The biggest benefit of refinancing is the opportunity to get out of a high-interest loan and replace it with one that offers a more attractive rate. The fixed monthly payments are predictable and even if you don't get a lower rate, some borrowers might be able to extend the term of the loan, which can lead to lower monthly payments, even if the tradeoff for that immediate relief is a higher overall cost. Finally, depending on your closing date, you might get a one-month reprieve where no payments are due, allowing strapped borrowers to take a breather and catch up on other bills.
Auto Loan Refinancing Disadvantages
If your credit score hasn't improved enough to lower your interest rate, you might wind up spending a lot of time and energy for a new loan that's no better, or only a little better, than the one you're already paying. It's also critical to make sure your existing loan doesn't penalize you for early payment. If it does, you might wind up negating any gains you make by refinancing.
Don't refinance if your credit or income has decreased and only refinance for extended terms if you absolutely can't make your current payments. Finally, make sure you don't wind up with an "upside-down loan," which happens when the car is worth less than the cost of the loan. In these cases, selling the car won't give you enough to cover the balance of the loan.
The Bottom Line
Refinancing an auto loan makes sense for some buyers when conditions are ideal. Those conditions include good credit, favorable interest rates and market conditions, and a car that is worth more than the loan. It's generally not worth the effort to refinance unless you're certain you can land a significantly lower rate for a moderate term.
Up Next: Top 8 Hidden Costs of Taking Out an Auto Loan 
*All loans are subject to credit approval by LightStream. If approved, your APR will be based on loan purpose, amount, term and your credit profile. Conditions and limitations apply. Advertised rates and terms are subject to change without notice.