How to Refinance a Car Loan in 6 Easy Steps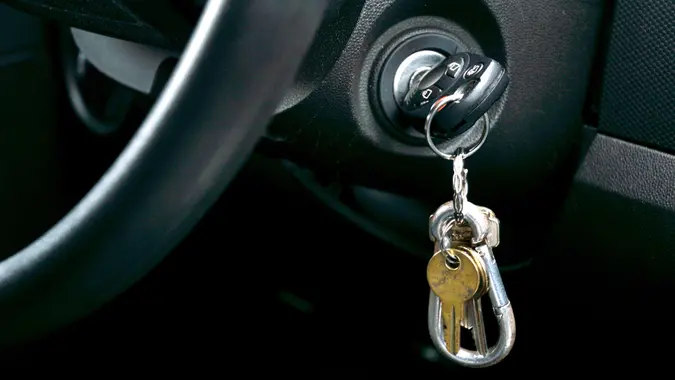 Eliza317 / Getty Images/iStockphoto
If you want to save money in the long term and lower your monthly payments in the short term, refinancing your auto loan could be a smart move. To refinance a car loan simply means taking out a new secured loan to pay off the balance of your current loan, using your vehicle as collateral.
The benefits of getting a refinanced auto loan generally include:
A better annual interest rate
Extended terms
Lower monthly payments
30-day break between payments, depending on the closing date
The best candidate for auto refinancing is someone who bought their car within the last few years and whose credit score has improved since then. If you have repaired your credit since your last car purchase, you'll likely get a better interest rate on any new car loans. Even though you might pay more interest overall by extending the auto refinance loan, you'll reduce the amount you pay each month.
For these reasons, auto loan refinancing can help you negotiate a lower monthly payment. If you qualify for refinancing and are ready to take action, here's how to do it in six easy steps.
1. Research the Requirements
Not all lenders have the same car loan refinance requirements, so be sure to do your research before applying for a particular loan. 
For example, Bank of America requires that you have at least $7,500 remaining on your loan — unless you live in South Carolina or Minnesota, in which case the minimum remaining balance is $8,000 — and that your car is less than 10 years old with no more than 125,000 miles on the odometer.
Chase Bank, on the other hand, used to require that a car must be less than five years old and have a maximum of 75,000 miles on it — 25,000 miles less than Bank of America's limit. At the moment, Chase does not offer auto refinancing, according to their auto FAQs.
2. Calculate Your Savings
Several banks and credit unions — such as Bank of America and Nationwide Bank — offer an online auto loan refinance calculator that will assess your savings. Simply enter the requested information — like how much you want to borrow, your desired terms and your credit score — and it will give you an estimate.
It's a good idea to calculate any potential savings on a new loan before you gather the required information and fill out the application. That way, if you discover that the savings aren't worth it or you don't qualify, you haven't wasted your time.
3. Look Into Prepayment Penalties
Some lenders will actually penalize you for paying off a loan early, as this cuts into the profits they make on interest. So before you refinance, make sure there are no early payment penalties on your original auto loan.
In addition, some lenders require that you pay off the interest before you even touch the principal — to ensure that they receive the full interest amount — which means that there is no benefit to you paying off the loan early.Another reason to read your contract carefully is that if you have a precomputed auto loan, then you are obligated to pay the interest and principal in full, regardless of how soon you pay it off.
4. Gather Your Info
Now that you know you qualify for auto loan refinancing and you're likely to see substantial savings without being penalized, collect all the essential information you'll need — the make and model of your car, the current value and the odometer reading — to apply for a refinanced loan.
Be prepared to share your current loan details as lenders will want to verify:
How much you're paying in interest
How much you still owe
How much time is left on the loan
5. Shop Around
When shopping around for a new car loan, it's a good idea to start with any banks you already have an account with as they might offer deals for customers. 
Bank of America, for example, offers preferred enrolled rewards members a tiered interest rate discount-Gold Tier at 0.25%, Platinum Tier at 0.35%, and Platinum Honors Tier and higher at 0.50%.
It's wise to get quotes from several types of lenders — banks, credit unions and car dealerships — because they're likely to offer a variety of different auto refinance rates, some better than others.
See if the lender you're interested in provides online prequalification and auto refinance quotes. Getting online quotes is an easy way to start comparing prices and getting a better idea of what each lender offers in terms of APR, length of loan and any special terms.
Be sure that you understand all penalties, late fees, finance charges and conditions for repossession so there are no surprises down the road.
6. Submit Your Application
Once you have found an offer that works for you, it's time to submit your application.
Many banks, like Chase and Bank of America, allow you to apply for a loan online. If you're approved, you might be required to provide additional documents — like a notarized power of attorney for your vehicle's title. Other banks might ask that you mail or bring in the signed paperwork.
The lender will take care of paying off your old loan and setting up your new payments, either by mail or online, and then you're free to enjoy your new, lower rates.
More From GOBankingRates
Jake Arky contributed to the reporting of this article.
Editorial Note: This content is not provided by Chase. Any opinions, analyses, reviews, ratings or recommendations expressed in this article are those of the author alone and have not been reviewed, approved or otherwise endorsed by Chase.