3 Ways Student Loan Forgiveness Could Impact the Economy for Decades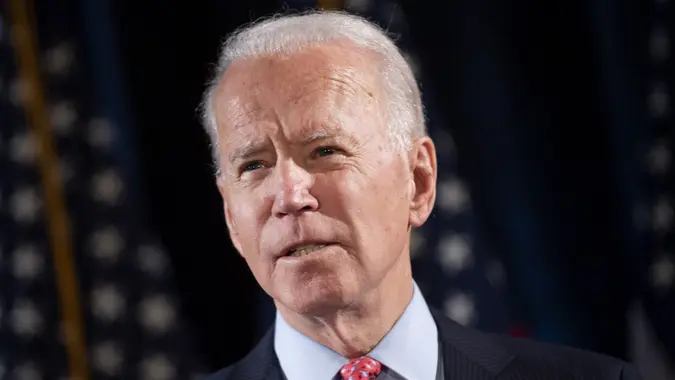 Kevin Dietsch/UPI/Shutterstock / Kevin Dietsch/UPI/Shutterstock
The fate of President Joe Biden's student loan forgiveness program is still unclear, as the Supreme Court is set to hear arguments on Feb. 28. Meanwhile, millions of borrowers are anxiously awaiting a decision — expected in June — which might also impact the economy.
The White House data said that already, 26.26 million student loan borrowers have applied or were deemed automatically eligible for relief under the forgiveness program, and there are 16.48 million fully-approved applications sent to loan servicers for discharge. And it estimates that more than 40 million borrowers would qualify for the debt relief program, with nearly 90% of the benefits of the relief going to borrowers earning less than $75,000 per year.
Americans Will Have Less Money
One impact the rejection of the program could have is that less money in Americans' wallets means less money in the American economy. Indeed, as a report from the Education Data Initiative noted, the effect student loan debt has on the economy is similar to that of a recession, reducing business growth and suppressing consumer spending.
"Consumer spending is directly linked to personal finance. Economists agree that when consumers have less expendable income due to debt obligations, they decrease spending," according to the report. "Each time a consumer's student debt-to-income ratio increases 1%, their consumption declines by as much as 3.7%."
More Americans Could Fall Into Poverty
A February Credit Karma study found that not only 53% of respondents with outstanding federal student loans say their financial stability depends on their loans being forgiven, but 26% of them said the money they previously paid toward their student loans is now being used for bills and necessities.
"Federal student loan payment relief has served as a financial lifeline for millions of Americans who have grappled with a lot of uncertainty over these last three years. With payments set to resume this summer, or potentially sooner, borrowers should start budgeting now," Courtney Alev, consumer financial advocate at Credit Karma, said in the study.
Lower Birth Rates & Older Parents
Another potential impact on the economy if the program fails to pass is that young Americans might delay starting families because the financial cost is too high.
"Having children in the U.S. is enormously expensive, and any disposable income freed up through debt forgiveness can be redirected toward investments in the future generation," Natasha Quadlin, an associate professor of sociology at the University of California, Los Angeles, told Fortune.
More From GOBankingRates