If Trump Wins, What Could Happen To Student Loan Debt?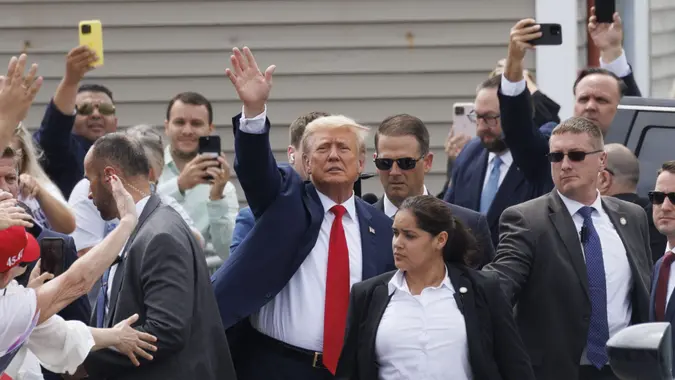 CJ GUNTHER/EPA-EFE/Shutterstock / CJ GUNTHER/EPA-EFE/Shutterstock
Although Donald Trump has been largely silent during his most recent presidential campaign regarding what he plans to do about student loan debt should he win, he made his feelings clear about President Joe Biden's student loan forgiveness program when he addressed attendees at the Moms For Liberty conference in Philadelphia in June.
"Today, the Supreme Court also ruled that President Biden cannot wipe out hundreds of billions, perhaps trillions of dollars, in student loan debt, which would have been very unfair to the millions and millions of people who paid their debt through hard work and diligence, very unfair," Trump said.
After that comment, it's likely safe to say that Trump would not be interested in pushing forward any type of widespread student loan forgiveness programs should he become president again. Here's what else might happen with student loan debt if Trump were to win. 
Trump's Stance on Student Loan Debt
Besides using the HEROES Act to suspend student loan payments and stop interest from accruing due to the onset of the pandemic in March 2020, Trump also extended the student loan payment and interest pause twice more before he left office.
As part of his 2020 presidential campaign, Trump's stance on student loan debt and forgiveness was as follows:
Supported student loan forgiveness via income-driven repayment plans
Proposed simplifying multiple income-driven repayment plans to a single IDR plan
Proposed that undergraduate borrowers receive student loan forgiveness after 15 years of payments instead of 20
Proposed that graduate borrowers receive student loan forgiveness in 30 years instead of 25 years
Proposed that student loan borrowers pay 12.5% of their discretionary income compared to the current 10% as a trade-off for earlier forgiveness
Trump may still hold some (or all) of these same views, but he hasn't vocalized them recently. 
To speculate further on what Trump might do in regards to student loan debt, it might help to consider what one of his allies, his former vice president and Republicans in general think about student loan debt.
Kari Lake's Stance on Student Loan Debt
Kari Lake, a former TV anchor who ran for Arizona governor and lost, is one of a few people Trump is considering for his running mate in the 2024 election.
Like Donald Trump, Lake made it clear in 2022 that she was against Biden's student loan forgiveness plan by tweeting from her official campaign Twitter account for Arizona Republican nominee for governor, "Democrats like @JoeBiden & @katiehobbs will rob you blind and expect you to thank them for it."
Mike Pence's Stance on Student Loan Debt
In a similar fashion, Pence tweeted the following after Biden's student loan forgiveness plan was rejected by the Supreme Court: "Joe Biden's massive trillion-dollar student loan bailout subsidizes the education of elites on the backs of hardworking Americans, and it was an egregious violation of the Constitution for him to attempt to do so unilaterally with the stroke of the executive pen."
Pence is running for president, and his presidential campaign website lists no agenda for student loan debt. 
What Republicans Generally Think About Student Loan Debt
In general, Republicans are against any form of widespread student loan debt cancellation, and that includes Trump. However, many members of the GOP acknowledge that student loan debt poses a financial burden that needs to be addressed. 
In June, Senators Bill Cassidy, M.D. (R-La.), Chuck Grassley (R-Iowa), John Cornyn (R-Texas), Tommy Tuberville (R-Ala.), and Tim Scott (R-S.C.) introduced the "Lowering Education Costs and Debt Act," which consists of five bills intended to address the root causes of student debt issues, including the rising cost of college tuition and students applying for and accepting loans they will eventually struggle to repay.
"Our federal higher education financing system contributes more to the problem than the solution," Cassidy said. "Colleges and universities using the availability of federal loans to increase their tuitions have left too many students drowning in debt without a path for success. Unlike President Biden's student loan schemes, this plan addresses the root causes of the student debt crisis. It puts downward pressure on tuition and empowers students to make the educational decisions that put them on track to academically and financially succeed." 
Grassley said, "Our legislative package takes a proactive approach by informing students and their families of their best options, and I'm proud to see my legislation included in the package."   
Cornyn said, "Students should not be getting federal loans for degrees that don't result in better-paying jobs. I'm proud to join my colleagues in supporting this legislation to streamline this confusing system, save students money, and ensure higher education is accessible to Americans without an out-of-touch loan cancellation scheme." 
"More and more of our students are paying more to get less," Tuberville said. "Over my four decades as a coach, I watched prices go up and academic achievement go down all across our nation, and that was one of the reasons I ran for Senate. Today, Senate Republicans are putting forward a plan that would ease the burden on the taxpayer, and especially ease the burden on young people starting out. This legislation would be the first step to ensuring that America's future generations get a better deal."  
Scott said, "Education is the closest thing to magic in America. Ensuring access to an affordable, high-quality education — from grade school to post-secondary — is the key to a brighter future. … This groundbreaking, conservative package attacks the root cause of skyrocketing student loan debt, seeks to drive down the cost of education and sets all students up to succeed."
Trump's Plan for Student Loan Debt Remains To Be Seen
What Trump might do regarding student loan debt if he wins is all speculation at this point. What he supported and proposed in 2020 might not hold true this go-round. For now, Americans interested in this issue will just have to wait and see.
More From GOBankingRates