Is Student Loan Forgiveness Doomed If Biden Fails To Secure Re-Election?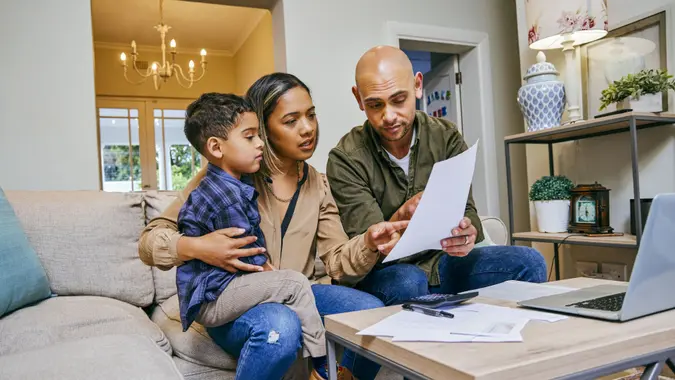 Moyo Studio / Getty Images
Last week President Joe Biden announced his intention to seek re-election in 2024, setting up a possible rematch of the 2020 election against ex-president Donald Trump. Although Biden secured a solid victory the last time around, there's no guarantee he will be successful in 2024 given how close the voting has been in a handful of key swing states. In the meantime, student loan forgiveness hangs in the balance.
As The New York Times reported, Biden faces a number of headwinds in 2024, ranging from his advanced age and low approval rating to an uncertain economy that could be headed for a recession.
According to one recent poll, even most Democrats (51%) don't want Biden to run for a second term. That's despite the fact that the president has secured some major wins, including a $1.9 trillion Covid-19 relief package, $1 trillion infrastructure bill and the Inflation Reduction Act that poured billions of dollars into green energy and healthcare.
One win Biden hasn't rung up (yet) is a federal student loan forgiveness program that would cancel up to $20,000 in debt per borrower. That plan has been hit with a number of lawsuits since it was unveiled in August 2022 and is currently being reviewed by the U.S. Supreme Court.
A failure to provide student debt forgiveness could hurt Biden with millions of younger voters who depended on the plan to provide financial relief in an environment of high inflation.
"He will be launching his 2024 reelection campaign as American's debt collector," Astra Taylor, co-founder of the Debt Collective, said in a statement.
If Biden does fall short of a second term, student loan forgiveness will almost certainly be doomed as well.
A Republican president is unlikely to pursue a massive student loan relief program. In fact, the debt ceiling bill recently passed by the GOP-led U.S. House specifically targets federal student loan forgiveness among its proposed cuts.
Even if a president other than Biden tries to implement a mass student loan forgiveness program, the current Supreme Court is unlikely to uphold it.
Many legal experts say the six conservative justices will rule that the Biden administration is exceeding its authority with loan forgiveness, which could set a precedent for future rulings on executive authority.
For example, the court is unlikely to support the administration's contention that the Heroes Act of 2023 grants presidential authority for student loan relief. The act grants certain powers in the event of war or national emergency — and in the case of loan forgiveness, the national emergency was the COVID-19 pandemic.
"If it was an emergency, why wait three years to provide the forgiveness?" higher education expert Mark Kantrowitz told CNBC. "Why present it in a political framework, as fulfilling a campaign promise?"
Northeastern University Dan Urman expressed a similar view, telling CNBC that during oral arguments, the conservative SCOTUS justices seemed skeptical the debt relief plan was allowed under the Heroes Act.
"I expect the court to strike down the program," Urman said.
More From GOBankingRates