Senate Repeals Biden's Student Loan Forgiveness Plan — But It's Not Dead Yet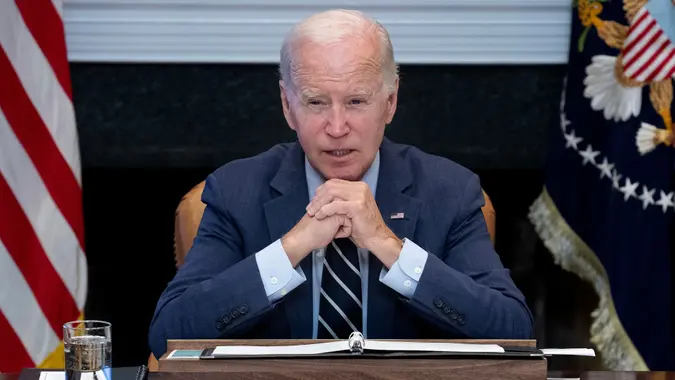 MICHAEL REYNOLDS / POOL / EPA-EFE / Shutterstock.com
A GOP effort to quash President Biden's student loan forgiveness plan passed the Senate on June 1, but the White House warns it will veto the action, per CNBC.
Federal student loan borrowers are still waiting for the Supreme Court to decide whether the Biden administration can erase up to $20,000 in student debt. The Biden administration previously said that the payment pause would resume 60 days after the Court makes a decision or 60 days after June 30, whichever comes first.
The GOP-led measure, which passed the House the previous week, would also cancel the pause on student loan payments, CNBC indicated. It could also require borrowers to repay the interest they saved over the past three years.
Take Our Poll: Who Has Given You the Best Money Advice You Have Ever Received?
Because the White House is expected to veto the measure, experts say not to worry.
"It's not going anywhere," higher education expert Mark Kantrowitz told CNBC. "It's basically a form of political posturing to appeal to their base."
Senator Joe Manchin (D-W.Va), who voted against Biden's plan, said he did so because the country cannot afford to add $400 billion to its national debt. The policy "forces hard-working taxpayers who already paid off their loans or did not go to college to shoulder the cost," Manchin said, as reported by CNBC.
Biden said the last extension on the student loan payment pause is officially the last. Education Secretary Miguel Cardona confirmed his department is preparing for loan payments to resume this year, according to The Hill.
If everything falls through, experts told The Hill that the Biden administration would consider alternatives, including reforming income-driven repayments and changing the Public Service Loan Forgiveness program.
More From GOBankingRates