Social Security: Student Loan Borrowers With Past Due Accounts Could Have Checks Garnished As Soon As Fall 2024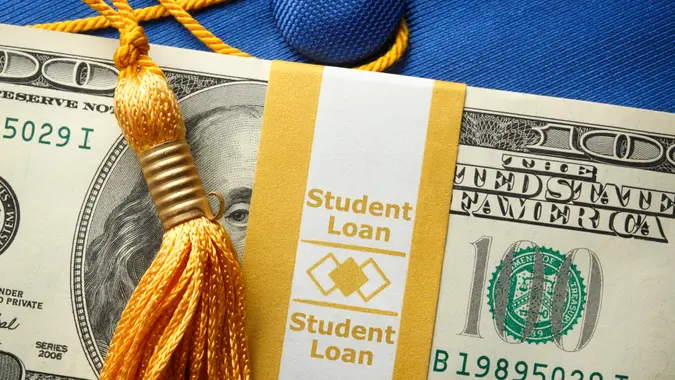 DNY59 / Getty Images/iStockphoto
The resumption of student loan payments will begin in October following a three-year hiatus, putting a dent in millions of Americans' budgets. But for a specific group, this might also translate into Social Security benefits garnishments.
"The resumption of student loan debt payments may be a tipping point for many older consumers who are already struggling with their finances," said Austin Kilgore, an analyst with the Achieve Center for Consumer Insights.
Kilgore added that it's important for all student-loan borrowers, including Social Security recipients and the loved ones they may have co-signed loans for, to be proactive about obtaining the new relief options they are eligible to receive. It's much harder to go back and fix these issues after the fact than to start out by seeking the help that's available.
With the resumption looming, last week, a group of lawmakers reintroduced the Protection of Social Security Benefits Restoration Act — a legislation, that restores federal protections of Social Security benefits to prevent the federal government from garnishing them for the repayment of all non-tax federal debt — such as student loans, according to a statement.
According to the statement, the number of people  60 and older who still have student loan debt has increased six-fold since 2004 to 3.5 million and the amount they owe is now 19-fold, amounting to more than $125 billion in student loans. More than 60% of older borrowers with outstanding student loan debt say they do not have enough savings to cover their expenses for three months in an emergency.
On average, delinquent borrowers are estimated to face about a $2,500 reduction in annual Social Security benefits, representing 4%-6% of household income, according to the Center for Retirement Research at Boston College.
Kate Lang, director of federal income security at Justice in Aging — an organization that has backed the proposal — said she was concerned about the resumption of payments, specifically about the fact that some will "no longer have that money that they have been relying on since March 2020 to meet their basic needs for food, medicine, etc."
Lang added that she does not believe the proposed legislation will be made into law.
"Congress is at a very high level of dysfunction. Any bill that does not have bipartisan support/co-sponsors is extremely unlikely to make any progress through the legislative process," she said.
These garnishments can leave older adults with only $750 dollars a month to live on, an amount that has not been adjusted since 1996, according to her.
What Can Borrowers Do?
According to Bridget Haile, Chief Customer Officer of employee benefits solution for student loans Summer, there couldn't be a better time to get out of default than right now.
"Borrowers can contact the Default Resolution Group of Federal Student Aid to get out of default and enroll in income-driven repayment (like the SAVE plan) at the same time," she said, adding that once loans are in good standing, borrowers can take advantage of the benefits of the SAVE plan, such as lower monthly payments and the cap on interest growth so that it doesn't happen again.
Haile added that the key is not just getting out of default but staying out of default. Indeed, she noted that as many as 2/3 of borrowers who default do so multiple times, and each time compounds the fees that are added and limits the avenues back to good standing.
Another crucial point is that once garnishment resumes, borrowers shouldn't assume that because their wages or Social Security payments are being garnished it's equivalent to making payments — that's a common misconception.
"Often those garnishments are being eaten by interest and fees while the loan balance grows and the borrowers' credit continues to suffer," she said.
According to Haile, this is not a fringe issue, as approximately 35% of federal student loan borrowers had defaulted at some point.
"We've seen it occur even when borrowers are in good financial standing — they just may not realize that they have one loan at a different servicer than the bulk of their other loans," she said. "This is easy to miss because borrowers don't have a choice of federal loan servicers and because they change frequently — four in 10 people will be making a payment to a new servicer come October."
Fresh Start Program
Another option is the  Fresh Start program but it requires borrower action and isn't automatic, said Haile.
Fresh Start is a "one-time temporary program from the U.S. Department of Education that offers special benefits for borrowers with defaulted federal student loans," according to the Department of Education.
The challenge will be making sure those who need it most have clear access to help, according to Haile.
"Federal Student Aid and loan servicers may not have up-to-date contact information for borrowers and borrowers who are frequently prey to student loan scams may not trust the communication they receive," she said.
Loans Can Be Discharged If You Have a Disability
Lang explained that some Social Security beneficiaries can get a total and permanent disability (TPD) discharge and debtors have to apply to the Department of Education.
"You can submit a certification from a licensed medical professional who is licensed to practice in the United States that you are totally and permanently disabled," according to the Department of Education.
More From GOBankingRates