Student Loan Forgiveness: Could One-Time Payment Adjustment Eliminate Your Debt?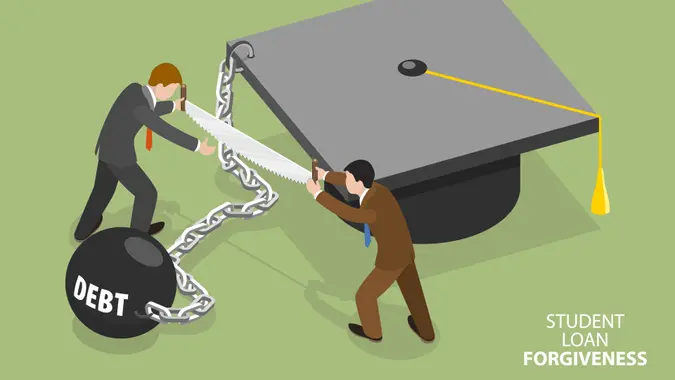 TarikVision / Getty Images/iStockphoto
With the future of student loan forgiveness still hanging in the balance, borrowers may be planning for a worst case scenario. That would include student loan payments resuming at the end of August, at the latest, as previously reported by GOBankingRates.
See: Student Loan Forgiveness Could Succeed In Spite of Executive Overreach — Here's How
Find: Biden Targets Top College Executives in Student Loan Forgiveness Fight — How Taxpayers and Borrowers Benefit
But there is another tactic that could help some borrowers eliminate their debt. In 2022, the Department of Education announced a one-time payment adjustment that will count certain months toward student loan forgiveness for borrowers with an income-driven repayment (IDR) plan.
"Student loans were never meant to be a life sentence, but it's certainly felt that way for borrowers locked out of debt relief they're eligible for," said U.S. Secretary of Education Miguel Cardona in an archived press release.
Some loan servicers, the department reported, had placed borrowers into forbearance when their monthly payment could have been $0 under an IDR. These borrowers didn't make progress toward IDR forgiveness (or public service loan forgiveness) while the loans were in forbearance.
But, once the department corrected this, some borrowers could come out of the summer with no remaining student loan debt. "Any months in which borrowers made payments will count toward IDR, regardless of repayment plan," according to the Department of Education press release.
Borrowers on most IDR plans receive forgiveness after 20 years of payments.
Take Our Poll: Do You Think Bankruptcy Is an Acceptable Way To Escape Student Loan Debt?
More: If Biden's Student Loan Forgiveness Plan Is Killed, What's Next for Borrowers?
If this sounds like you, reach out to your student loan servicer to see where you stand after this one-time payment adjustment. Regardless of whether or not the Supreme Court allows Biden's student loan forgiveness plan to proceed, you could find yourself one step closer to being free of student debt.  
More From GOBankingRates