Student Loan Forgiveness & Payment Pause End Top Budget Cuts in GOP Debt Ceiling Plan — Will You Need to Begin Paying Your Loans Now?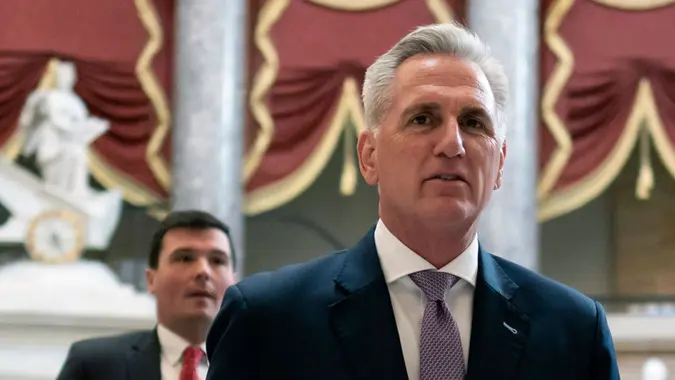 WILL OLIVER/EPA-EFE/Shutterstock / WILL OLIVER/EPA-EFE/Shutterstock
The Republican proposal to address the current debt-ceiling crisis aims to save trillions of dollars over the next decade by dismantling several federal government programs — including the Biden administration's federal student loan forgiveness plan, which is already being threatened on the legal front.
On Wednesday, U.S. House Speaker Kevin McCarthy (R-Calif.) unveiled the GOP plan. One of its key features is to block the embattled student loan forgiveness plan, which aims to cancel up to $20,000 per borrower. The plan has faced a series of legal and political challenges since President Joe Biden announced it last summer. It is currently being reviewed by the U.S. Supreme Court.  
That's just one of the ways the GOP debt-ceiling proposal targets student loan forgiveness. Republicans also call for an immediate end to the payment pause that went into effect during the early days of the COVID-19 pandemic, Business Insider reported.
In addition, the GOP plan would block a revised income-driven repayment plan that could result in considerable cuts to loan payments, with some borrowers getting $0 monthly payments.
Finally, the McCarthy bill would prevent the U.S. Secretary of Education from implementing future student debt relief programs without congressional approval, CNN reported.
The fact that Republicans want to gut the Biden administration's student debt-relief programs is hardly surprising. Some GOP leaders have already signaled their intention to overturn sweeping loan forgiveness.
That doesn't mean they'll succeed, however. According to CNN, McCarthy's bill has "virtually no chance" of becoming law because it is likely to run into stiff opposition from both Senate Democrats and the White House. McCarthy is pushing for the House to pass it by next week.
Melissa Byrne, executive director of the debt relief advocacy group We, The 45 Million, accused McCarthy of trying to "hold the debt ceiling hostage and risk crashing the global economy in order to hurt 40M student loan borrowers and our families…The American people deserve better."
Take Our Poll: Do You Think Bankruptcy Is an Acceptable Way To Escape Student Loan Debt?
Even if the McCarthy proposal falls short, millions of federal student loan borrowers will soon have to begin repaying their debt. The latest extension of the payment pause — the eighth so far — is set to expire 60 days after either June 30, 2023, or whenever the Supreme Court rules on the plan. In either case, payments are likely to resume late this summer.
More From GOBankingRates