Student Loan Forgiveness: You May Qualify to Have Your Debt Forgiven if You Graduated Before 2000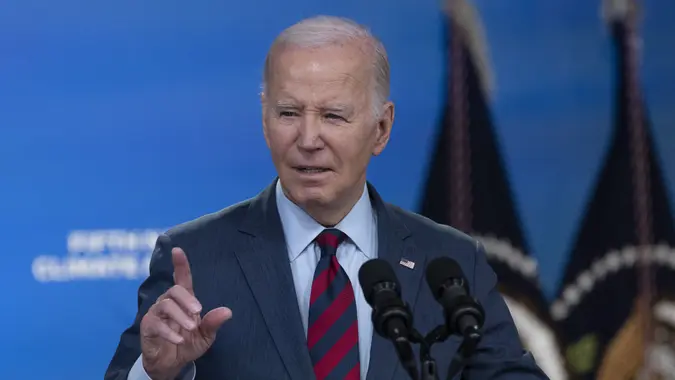 Pool/ABACA/Shutterstock / Pool/ABACA/Shutterstock
Student loan forgiveness has been a hot topic since President Joe Biden hit the campaign trail during the last presidential election cycle promising Americans debt relief if elected. Under his administration, the program as originally proposed, was struck down by the Supreme Court.
However, millions of eligible recipients saw their student loan balances either reduced or totally erased under targeted relief efforts by the Biden administration. Some existing programs can provide student loan forgiveness in a variety of circumstances, including for those who were defrauded or misled by their school, for borrowers working in public service jobs, and for people who are disabled.
Now, the administration is taking a closer look at those who left school a long time ago and are still stuck with old loans. 
How The IDR Credit Allows For Student Loan Forgiveness
Forbes reported that the Education Department is currently implementing what it calls the IDR account adjustment. Through this initiative, past loan periods will count toward 20- or 25-year student loan forgiveness terms under income-driven repayment (IDR) plans. This includes borrowers who haven't been repaying their existing loans under those plans.
Payments under IDR student loan repayment plans are calculated based on income level and family size. Payments are adjusted higher or lower annually based on income changes. If there's any remaining balance after 20 or 25 years (depending on the type of loan and repayment plan), the remaining balance of your loans would be eligible for forgiveness.
The Education Department is also making a program change to count previous payments under other student loan repayment plans toward loan forgiveness through IDR plans. In other words, if you spent years making payments on a standard or other type of repayment plan, those payments may be eligible to count toward the number of payment years needed for forgiveness on the remaining balance.
To date, 800,000 borrowers have already received forgiveness under this new plan adjustment.
HEA Program Will Provide Further Student Loan Relief
After Biden's original student loan forgiveness proposal for up to $20,000 in relief per borrower was struck down by the Supreme Court earlier this year, his administration is working on a new plan. Under the Higher Education Act, a new plan is being created under a process called negotiated rulemaking. The plan would provide targeted relief for those borrowers who entered repayment at least 25 years ago, potentially including those who left school in 1998 or earlier.
The first round of negotiated rulemaking talks took place last week with another meeting scheduled for December 2023. The final details of this new loan forgiveness program should be finalized sometime in 2024.
It's uncertain if the Biden administration will be able to find a new path to broad student loan forgiveness for all federal borrowers, or if targeted relief efforts will be the only viable solution moving forward. Be sure to do your research to find out if you're already eligible for an existing student loan forgiveness initiative. If you're not, stay tuned for new developments.
More From GOBankingRates