When To Expect Hard Answer on Student Loan Forgiveness Following Biden's Veto — Experts Give Odds of Approval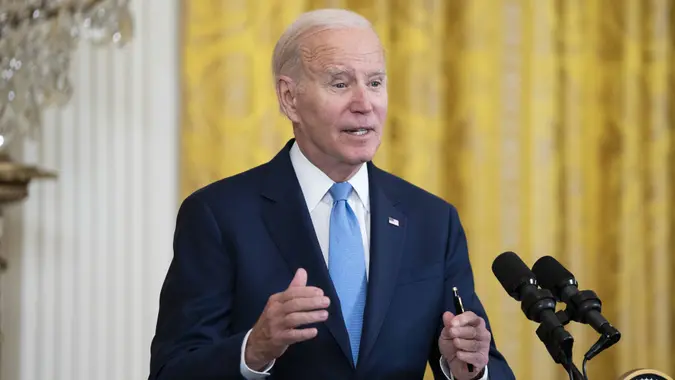 Bonnie Cash / UPI / Shutterstock.com
President Joe Biden vetoed Republican-led legislation that would have overturned his student loan debt relief program on June 7. Now, the fate of the program is in the hands of the Supreme Court, which will review it later this summer.
In late February, the Supreme Court heard oral arguments against the program — announced last August — and the decision is widely expected to be released before the end of the Court's term. The lawsuits challenging the program hinge on the argument that it is "unconstitutional" and that the HEROES Act — enacted in the wake of the Sept. 11 attacks — does not provide authority to grant relief from student loans.
Millions of student loan borrowers are anxiously awaiting decision day.
Higher education expert Mark Kantrowitz told CNBC that a ruling from the justices should come by early July, before their summer recess.
"The court is likely to issue a decision before the end of June, probably on a Thursday," Kantrowitz told CNBC, indicating justices have been publishing their opinions on that day of the week, typically.
Take Our Poll: Are You Concerned About the Safety of Your Money in Your Bank Accounts?
Now, several experts believe that the odds of Biden's program surviving the Court's decision are slim.
Gregory Caldeira, a political science professor at Ohio State University, told CNBC he wouldn't be surprised if the Court rules against it.
"The court's conservatives have been very aggressive in striking down the decisions of Congress and the president," Caldeira told CNBC.
Another expert, Dan Urman, law professor at Northeastern University, agreed, also telling CNBC that the conservative justices believe government agencies "exert too much authority and violate the separation of powers."
What's more, The Wall Street Journal reported on June 8 that while White House officials "maintain publicly they are confident the Supreme Court will uphold the program, some in the administration have expressed concerns in private that the conservative majority will kill it."
The Wall Street Journal added that administration officials have been discussing alternatives in case the program is barred.
In November, the White House said that 26.26 million student loan borrowers had applied or were deemed automatically eligible for relief under the forgiveness program — and that 16.48 million fully-approved applications had been sent to loan servicers for discharge.
In addition, the White House estimated that 40 million borrowers would qualify for the debt relief program, with nearly 90% of the benefits of the relief going to borrowers earning less than $75,000 per year.
More From GOBankingRates