How CommonBond's Co-Founder Took on the College Debt Crisis and Funded $2.5 Billion in Student Loans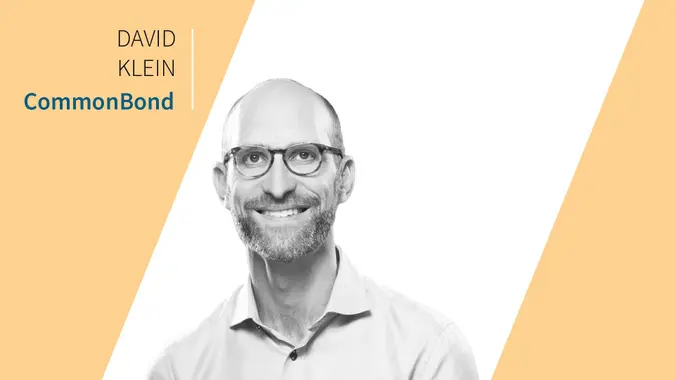 When David Klein was applying for student loans for business school, he found himself frustrated by the whole process — from the poor customer service to the high interest rates. He co-founded CommonBond to make the process of taking out student loans less painful, with lower rates, premium customer service and more intuitive loan options. CommonBond has now funded over $2.5 billion in student loans, and the company Klein launched was named one of Time magazine's "Genius Companies" in 2018.
In this installment of GOBankingRates' "Best in Business" series, which sets out to discover what makes the people behind top innovative companies tick, Klein shares how fear acted as an initial motivator, the importance of having a larger social purpose — and ways that you can find (or build) your own dream job, too.
When did you know you had to start this company?
Seven years ago, I was an incoming business school student at Wharton and looking to pay my way 100 percent with student loans. My rate options were unreasonably high, the process was confusing and the customer service was pretty poor. I thought, "There has to be a better way!"
I had gone into business school wanting to start a company, but didn't expect the inspiration to strike so quickly. I ended up getting the idea for CommonBond when I was going through the process of paying for school myself, developing the concept with my co-founders that first year of school, and then left Wharton after that year to grow the business.
Make Your Money Work Better for You
Discover: How This Expert Paid Off $40,000 in Student Loans in 7 Months
What were your biggest fears about launching your own business?
The biggest fear when you start something new is: What if it fails? But what I realized along the way is that fear can be a healthy motivator.
Fear, in combination with passion and commitment to making it work, can be a very strong set of drivers to turn nothing into something.
Learn More: Doing Something That Scares You Could Help You Build Your Wealth
What was the most surprising thing about the process?
Before you launch, you never really know what will happen. Will customers respond? Will you be able to properly fulfill their expectations? When we launched our pilot loan program at Wharton with a $2.5 million fund, we ended up receiving $2.5 million in applications within 24 hours — we knew we were onto something. We had a hunch it would work, but we were still surprised to see that.
What was the hardest part?
One of the biggest challenges for us was getting the institutional support to make our business model work. CommonBond was one of the pioneers of marketplace lending, and in particular, student loan refinancing. At the time, the idea that a company could provide student loans for a lower rate, and then also generate attractive returns for investors, was virtually unheard-of.
Make Your Money Work Better for You
We had to wade through a myriad of legal considerations, capital hurdles and credibility requirements in order to pull it off. It was no easy feat. There was no set blueprint on how to do it. We frankly figured it out along the way, propelled by an undying belief in the idea, and good old-fashioned luck in meeting the right people at the right time in the process.
Did any previous jobs inspire you to run CommonBond the way you do?
I was at [global management consulting firm] McKinsey before business school, which gave me the opportunity to learn the importance of strategic thinking, client service and people management. The company believed its success was directly tied to the impact it drove for its clients and its people. That idea — that we're only as successful as the impact we drive for our members — has helped shape the ethos at CommonBond.
We've developed a set of 10 values, and, perhaps not surprisingly, the first value is all about our customers. At one point in my career, before CommonBond, I worked for a large company and was struck by how inconsistent standards and expectations were. I did not want such variability in my own organization.
Also See: Powerful Ways to Build Your Entrepreneurial Skillset
Who are the people you lean on most?
My co-founders were immensely helpful partners and sources of support in the early days. My family, as well, was a source of support and inspiration in the beginning. I'm fortunate to come from a family of entrepreneurs. I was around it from an early age, so when it was my turn to do my own thing, I had infinite childhood memories to draw from, as well as incessant conversations with close family members and fellow entrepreneurs, like my mom.
Make Your Money Work Better for You
What advice would you give to someone who wants to start their own business?
First, start now. There's never going to be an ideal time to start a business. Just do it.
Second, if you're building something truly innovative, you're going to encounter resistance — that's just part of the process. Use that resistance as fuel to keep going. It means you're doing something right.
Third, make the company's mission bigger than you. I'm a strong believer that for-profit businesses, no matter the size, have an obligation to impact social change. Before we funded our first loan, we developed the only one-for-one social mission in finance, and today have donated over $1 million to support education. Make sure your company stands for something big from the start.
When did you realize CommonBond was going to make it?
I've always felt we've had work to do. I've always felt we've had so many things to accomplish. I still do. In other words, it's a process; it's not an end point.
How do you define success?
I think less about success and failure, and more about what has worked and what hasn't. And, importantly, why. That constant process of analysis and debrief, with yourself and with others, is what leads to being better tomorrow. So that's how I'd define success — being better tomorrow than you were today.
More on Entrepreneurship
Make Your Money Work Better for You
We make money easy. Get weekly email updates, including expert advice to help you Live Richer™.