7 Companies That Have Reinvested in America Following Trump's Election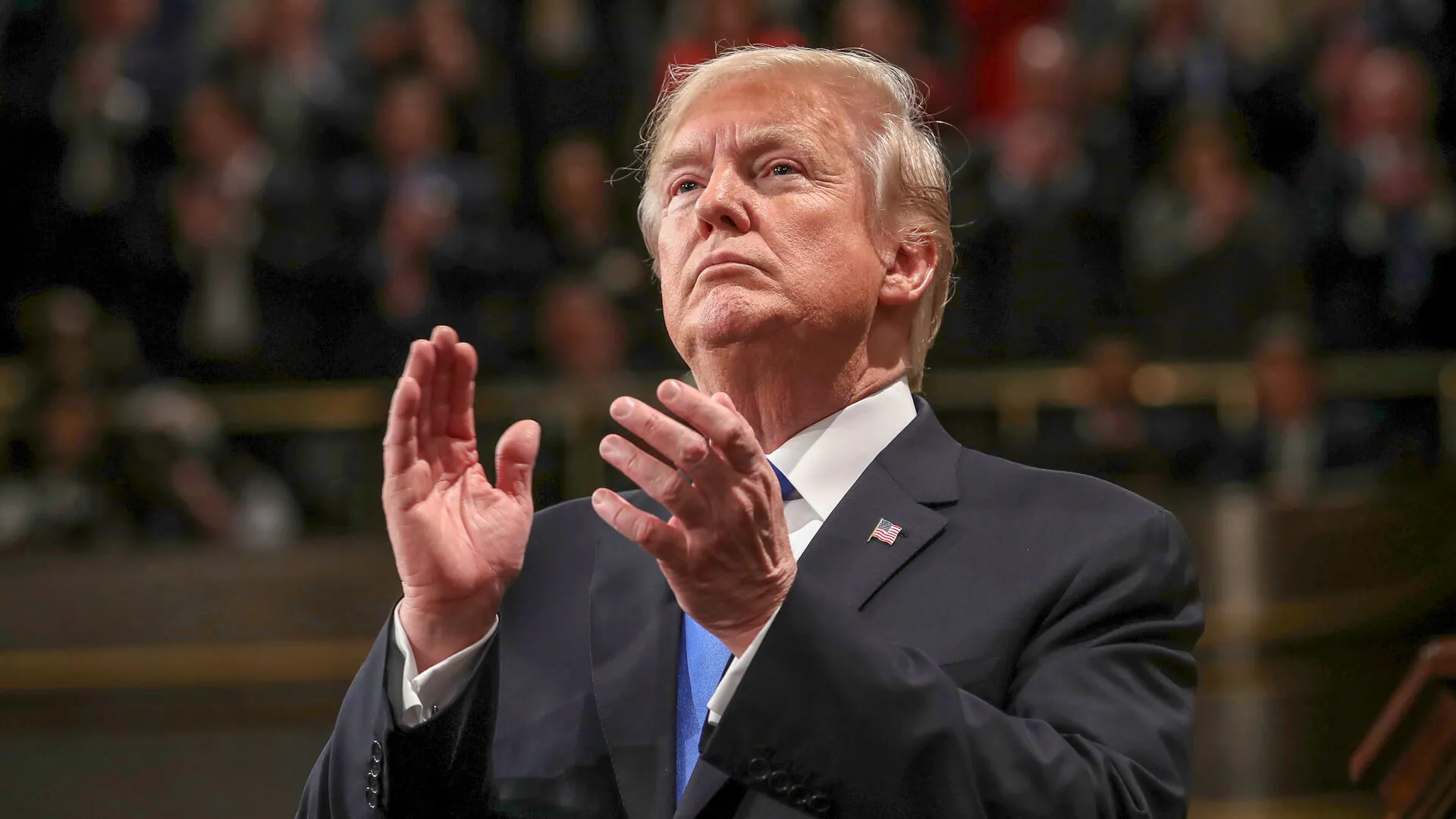 "Made in the USA." This phrase described 92 percent of the goods sold in the country in 1960. But, less than 50 years later, the U.S. production landscape significantly changed: The 2008 recession spurred manufacturers to move their facilities to countries with cheaper costs. President Donald Trump aimed to change all that.
Even before Trump was sworn in as president, he touted his success at bringing jobs back to the U.S. In his first week in office, President Trump met with the leaders of some of the nation's labor unions and top manufacturing companies with the goal of bringing jobs back to America. And, to date, some of the president's goals have been realized.
Now, however, a new war is brewing, which could alter the U.S. production landscape yet again: $16 billion in Trump tariffs.
Here's a look at the current status of some of the companies who originally pledged to bring jobs back to the U.S., including those that have been affected by the Trump administration's recent tariffs.
Ford
In September 2016, Ford announced that the automaker's small-car production would exit the U.S. for Mexico, where production costs are lower. Although the move drew criticism from then-candidate Trump, the presidential hopeful met with executive chairman Bill Ford, Jr. the following month to threaten steep tariffs on Ford imports should he become president.
After Trump's election, Ford issued a press release announcing that one vehicle slated for production in Mexico, the Lincoln utility vehicle, would continue to be manufactured in Kentucky. "We are encouraged that President-elect Donald Trump and the new Congress will pursue policies that will improve U.S. competitiveness and make it possible to keep production of this vehicle here in the United States," the press release stated.
On Jan. 3, 2017, Ford announced plans to cancel a new $1.6 billion plant planned in San Luis Potosi, Mexico. Opting not to relocate production outside of the country saved approximately 3,500 U.S. jobs, according to a Ford press release. Instead, 700 additional new jobs will be created from a $700 million expansion of a Michigan plant focused on building high-tech electric and autonomous vehicles along with the Lincoln Continental and Mustang.
In June 2017, Ford announced that it would move its U.S. production of the Ford Focus to China in 2019 without causing a loss of U.S. jobs. Ford already makes the Focus in China for Chinese buyers. But by September 2018, Ford had changed its plans to import the small car to the U.S. from China due to the expense of import tariffs that the Trump administration implemented in July.
Check Out: Watch FedEx to Protect Your Investments During Trump's Trade War
Make Your Money Work Better for You
Dow Chemical
At Trump's post-election victory rally in Grand Rapids, Mich., on Dec. 9, 2016, the spotlight wasn't just on the President-elect. Dow Chemical's Chairman and CEO Andrew Liveris announced the company was bringing jobs to the Great Lake State.
The CEO took the stage to describe the company's' more than 100-year history in Midland. "We aren't stopping there," Liveris said at the rally. "Tonight, in honor of the President-elect and his being here to thank you all, we've made a decision."
Liveris described the new state-of-the-art center that will add several hundred jobs to the 7,000 Dow already provides in the community. "We're going to use American hard work and American brains," said Liveris. The center will bring 100 jobs to Midland, plus restore 100 lost to foreign operations.
In December 2016, president-elect Trump named Liveris to head the Manufacturing Jobs Initiative, a council that meets with business leaders to gain insights on promoting American job growth. Less than a year later, in August 2017, the council was disbanded due to multiple CEOs stepping down, and President Trump announced he was ending it via Twitter.
Trans-Lux
It's likely that the Jumbotron you're watching at the stadium was made by Trans-Lux. The manufacturer of LED digital displays and lighting planned to eventually bring its Chinese production facilities back to the U.S. However, Trump's promises of tariffs on products manufactured in other countries sped up the move, according to the company's website.
For the past two decades, the company has manufactured much of its products in Shenzhen in Southeast China. As China's business economy grew, expenses for labor and shipping increased, triggering the company's plan for an eventual move back to America.
Trans-Lux announced it was "getting ahead of the curve" by shifting more of its production to the U.S. on Dec. 7, 2016. On Jan. 6, 2017, it announced its intent to move 100 percent of its manufacturing to the U.S.
The company pledged to move the majority, if not all, of its China operations into a leased warehouse in Hazelwood, Mo. The move includes a $650,000 forgivable loan from the city of Hazelwood. Trans-Lux reported the facility will employ 90 people within four years. The company also stated that one of the two operations of the company's Fair-Play division, housed in a 68,000-square-foot plant in Des Moines, Iowa, was also set to move to Hazelwood.
Click to see the value of President Trump's most lavish properties.
Make Your Money Work Better for You
Sprint
Although telecommunications company Sprint has its roots firmly planted in American soil, 84.94 percent of its shares belong to the Japanese company SoftBank.
But that didn't stop President-elect Donald Trump from negotiating returning jobs to American soil with Masayoshi Son, the billionaire chairman of Sprint and SoftBank's CEO. After a private meeting on Dec. 7,  2016, the mogul pledged to create 50,000 new American jobs and invest $50 billion in the U.S.
On Dec. 28, 2016, Sprint issued a news release announcing its commitment to bring back or create 5,000 American jobs in 2017. In January of 2017, Sprint announced the creation of 100 new jobs at subsidiary Virgin Mobile's headquarters in Kansas City, Mo., by summer.
"We are excited to work with President-elect Trump and his administration to do our part to drive economic growth and create jobs in the U.S.," Sprint CEO Marcelo Claure said in the company's press release. "We believe it is critical for business and government to partner together to create more job opportunities in the U.S. and ensure prosperity for all Americans."
As of August 2018, Sprint and T-Mobile are seeking approval for a merger, which, according to the Communications Workers of America will eliminate more than 28,000 U.S. jobs.
General Motors Company
General Motors Company produces vehicles on six continents, but its history began in America. Shortly after Trump won the election, the company issued a congratulatory press release affirming its commitment to support the U.S. manufacturing industry.
"GM looks forward to working with President-elect Donald J. Trump and the new Congress on policies that support a strong and competitive U.S. manufacturing base. GM will continue to do its part to transform the future of mobility, in America and around the world."
The day following the election, General Motors announced a $900 million investment in an upgrade to facilities in Ohio, Michigan and Indiana for future product programs.
On Jan. 17, 2017, just a few days before the inauguration, GM announced a $1 billion additional investment in U.S. manufacturing operations on top of the $2.9 billion in commitments the company made in 2016. The projects will create or retain 1,500 jobs and develop advanced technology, automobile components and new vehicles.
Although the announcement coincided with President-elect Trump's push to return manufacturing to the U.S., GM has consistently moved in that direction over the past four years. The company created 25,000 jobs in engineering, IT, manufacturing and other professional positions.
In late June 2018, however, GM warned that the Trump administration's proposed import tariffs could drive its vehicle prices up, stifling demand — resulting in the company scaling back its business and cutting American jobs. But Trump trade advisor, Peter Navarro dismissed the warnings, saying they were smoke and mirror tactics.
Make Your Money Work Better for You
Carrier
On Feb. 10, 2016, HVAC manufacturing giant Carrier announced its intent to move 1,400 jobs from its Indianapolis factory to Mexico. The move was set to begin in 2017 and fully transition jobs south of the border by 2019.
Video of the announcement captured by a worker hit social media. Then-presidential candidate Donald Trump seized the event during his campaign as a central example of how Americans lose jobs to foreign countries.
Trump later didn't remember saying the words, "Carrier will never leave," during his campaign rhetoric. Watching a nightly news show profiling Carrier a few weeks after the election, Trump realized people who were hearing his words were counting on him to keep his promise.
The president then began negotiations with Carrier by picking up the phone and dialing Greg Hayes, chairman of United Technologies, Carrier's parent company. Subsequent negotiations resulted in 1,100 jobs remaining in the U.S. Perks for Carrier to stay included $7 million in training grants and conditional tax credits over the next 10 years.
IBM
International Business Machines, commonly known as IBM, has roots in the U.S. going back as far as 1888. By 1914, the company lived up to the "international" part of its name, with operations expanding from the U.S to Asia, South America, Europe and Australia.
By 2007 — the last year that the company broke down U.S. vs. non-U.S. employee counts — 69 percent of the company's workforce was abroad. The company cut as many as 14,000 U.S. jobs in 2016.
After Trump's election, IBM announced its intent to hire 25,000 U.S. workers over the next four years. The announcement came just days before Trump met with executives from IBM, Apple and other tech companies in December 2016, which also resulted in the promise of a $1 billion investment in training and development of American workers.
In March 2018, however, reports of job cuts in the IBM salesforce were swirling. IBM declined to comment.
Click through to read about the companies that will shape the future.
More on Business
Cynthia Measom contributed to the reporting for this article.
Photo Disclaimer: Please note photos are for representational purposes only.

BEFORE YOU GO
See Today's Best
Banking Offers