Grant Cardone and Mark Cuban Have Advice — and Warnings — for New Entrepreneurs in 2023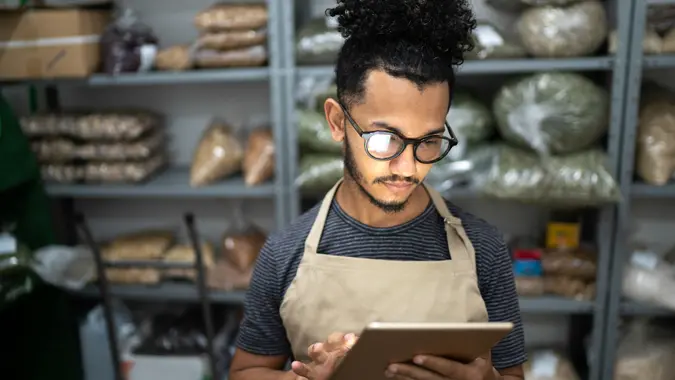 FG Trade / Getty Images
As the business world continues to evolve in 2023, aspiring entrepreneurs find themselves at a crossroads of opportunity and challenge. In a new GOBankingRates survey of more than 1,000 people, more than 15% of respondents said they plan to start a new business within the next six months.
What can they expect as they navigate the current business climate?
GOBankingRates asked seasoned entrepreneurs Mark Cuban and Grant Cardone what advice or warnings they have for people looking to start a business in 2023.
Be Prepared for Adversity
"(Get) ready to be punished, tested, and made into the best version of yourself." That's Cardone's message to prospective business owners.
This serves as both a caution and a call to arms, urging entrepreneurs to confront challenges head-on, transforming adversity into opportunity.
Seek Advice From People Who Have Traveled the Road to Success
While Cardone acknowledges the trials, he also emphasizes the value of community.
Cardone's counsel: "Network with others who are actively building and have accomplished the targets, and ask a lot of questions, but only from those who have achieved more." 
The act of questioning is a pivotal aspect Cardone highlights. Yet, he discerningly advises seeking answers from those who've traveled the path to success. The mentorship of individuals who have achieved more becomes a guiding light in the tumultuous journey, providing insights that only firsthand experience can offer.
Make Your Money Work Better for You
It's Always a Great Time To Start If You're Prepared To Grind
Cuban's perspective aligns with Cardone's. "It's always a great time to start a business if you are prepared and ready to grind," Cuban said.
Preparedness is Cuban's cornerstone, underlining the significance of a well-crafted business plan and a thorough understanding of one's industry. Armed with this foundation, entrepreneurs can navigate the terrain with clarity and resilience, mitigating the unforeseen with strategic foresight.
More From GOBankingRates