Tesla's Net Worth: How Much Is Tesla Worth Right Now?
©Alexis Georgeson
Tesla is the electric car company that is probably equally well known for its exciting lineup of products and its outspoken CEO, Elon Musk. Yet, the company has already proven to be a huge success and is already ranked #124 on the Fortune 500 list. Although still looking to turn a profit, the company is an undisputed Wall Street darling, with its stock absolutely skyrocketing in 2020.
To see how much Tesla is worth, take a look at this snapshot of the company's current state, along with a discussion of the company's history, value and future outlook.
Tesla: Company Snapshot
Headquarters
Palo Alto, California
Year Founded
2003
Founders
Elon Musk, Martin Eberhard, Marc Tarpenning, Ian Wright, JB Straubel
CEO
Elon Musk
How Much Is Tesla Worth Now?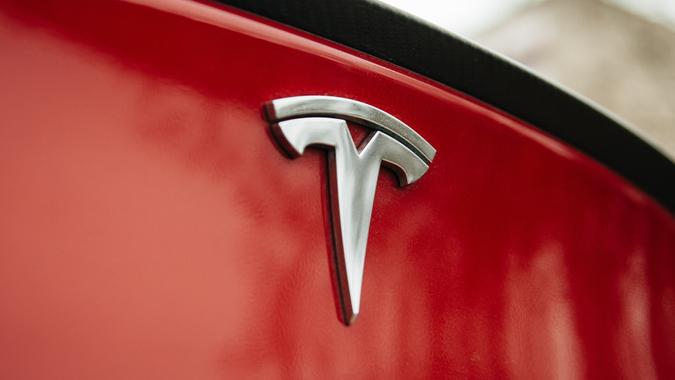 From a 52-week low of $65.42, Tesla's share price reached a high of $502.49 in 2020, a jump of more than 650%. This put the company's market capitalization at over $476 billion during the year. Market pundits use this figure to express how much a company is worth. As of Nov. 9, Tesla's share price had settled back down to $421.26, putting its current market capitalization at $399.3 billion.
What Is Market Capitalization?
Market capitalization is simply the number of outstanding stock shares a company has issued times its current market price. So, for example, if a company has issued 1 million shares of stock and its share price is $50, the company has a market capitalization of $50 million. Tesla currently has about 947.9 million shares outstanding, so 947.9 million times the closing stock price of $429.95 on Nov. 6 equals about $407.5 trillion.
Market cap does have its drawbacks as an evaluation method, however. For starters, market cap changes frequently, and it's closely tied to the company's current share price. It doesn't take into account any of the direct financial metrics of the company, such as earnings per share, growth rate or book value.
By way of comparison, the price/earnings ratio, which is another popular valuation method, is also closely tied to a company's market share price. The P/E ratio also relies heavily on a company's earnings, which some investors feel is a more important determinant of a company's valuation.
Tesla's Market Cap Range
Tesla's market cap varies from moment to moment based primarily on its share price. Although an increase in outstanding shares could also increase its market cap, that type of change occurs far less frequently than a change in share price, which can occur in less than one second. Here is Tesla's share price range over the past 52 weeks:
Share price: $65.42-$502.49
As a result, Tesla's market cap over that same period has also fluctuated in this range:
Market cap range: $62,011,618,000-$476,310,271,000
With such a wide fluctuation in share price, Tesla's market cap has also been extremely variable.
Tesla's Net Worth
Tesla's net worth as of the quarter ending Dec. 31 was $7.261 billion.
What Is Tesla Worth Now?
Share Price, 52-week range
$65.42-$502.49
Market Cap, 52-week range
$62,011,618,000-$476,310,271,000
Fiscal Year 2019 Revenue
$24.578 billion
Fiscal Year 2019 Profit
-$862 million
GOBankingRates' Evaluation of Tesla's Net Worth
$10,560,667,000
Of course, methods of determining the value of a company are wide and varied, each with its own merits and blind spots.
GOBankingRates uses company data to calculate net worth in a slightly different manner. The GOBankingRates company net worth is a calculation of a company's worth based solely on concrete, measurable figures like assets and revenue. It's a more conservative valuation than most, taking into account only full-year profits and revenue from the last three years and the company's assets and debts.
By this GOBankingRates metric, Tesla's net worth is currently $10,560,667,000.
Tesla's Founders
Tesla has five founders: Elon Musk, JB Straubel, Marc Tarpenning, Ian Wright and Martin Eberhard. Eberhard and Tarpenning were the original founders, but after Eberhard was ousted, the remaining three were named co-founders after a court battle.
According to Forbes, CEO Elon Musk's current net worth is a whopping $92.1 billion.
Key Product Lines Contributing To Revenue
Tesla's prime product line is electric cars. In fact, Tesla's Model 3 is now the best-selling electric car of all time. For the company's most recent quarter, $5.3 billion of its $6.3 billion total revenue came from the sale of its cars. In addition to its primary product of all-electric vehicles, Tesla also builds clean energy generation and storage products.
For the company's most recent year end, Dec. 31, 2019, the company reported an annual net income of negative $862 million.
Current Top Shareholders
The top 10 shareholders of Tesla stock are all asset managers/mutual fund companies. As a group, institutional and mutual fund shareholders own 45.94% of all Tesla shares, with just 6.33% held by individual shareholders. Here's what the top shareholders list looks like:
Tesla's Top Shareholders

Capital Research & Management, 5.63% of shares
The Vanguard Group, 4.47% of shares
Baillie Gifford & Co., 4.18% of shares
BlackRock Fund Advisors, 2.74% of shares
Fidelity Management & Research, 2.32% of shares
Jennison Associates LLC, 1.98% of shares
SSgA Funds Management, Inc., 1.67% of shares
JP Morgan Investment Management, 1.17% of shares
Goldman Sachs & Co. LLC, 0.97% of shares
BAMCO Inc., 0.85% of shares
Any of these shareholder percentages can change at any time, even dropping down all the way to 0%. Tesla is currently a popular stock on Wall Street, so these percentages may hold, but if the company's fortunes turn sour, institutions may bail out at any time.
How Does the Future Look for Tesla?
Tesla is rapidly transforming itself from a simple electric car company into a global clean energy powerhouse. In its Q3 press release, the company announced the advancements to come during its next phase.
This includes ambitious architectural changes to improve manufacturing cost and efficiency and additional areas of insourcing. The company also announced plans to manufacture battery cells in-house to aid in its rapid expansion, as it sees continued growing interest in its products.
Consider This

Thus far, Tesla has been a great bet in 2020, with the stock up nearly sevenfold over its 52-week low. But some think that the runup has been too far and too fast. Although seven market analysts have an average "buy" rating on the stock, the consensus price target of $379.26 is more than 10% below recent prices.
Is Tesla Worth the Money?
Tesla is the ultimate love-it or hate-it stock. Short sellers keep betting the company will go out of business, while dreamers and believers see the company as changing the fundamental auto and energy landscape. Therefore, the stock is likely to continue to undergo enormous price swings.
Whether or not you find Tesla to be worth the money will likely depend on which camp you fall into — will Tesla change the world with its innovative technologies, or will it continue to lose money until it goes into bankruptcy?
Regardless of your choice, share price is just one of the variables you should consider when investing in a specific stock. Your financial situation plays a large part in determining whether or not you should invest in stocks at all — let alone invest in a specific stock like Tesla. Working with a fiduciary financial advisor is a good way to delineate your investment objectives, risk tolerance and personal financial situation to determine if investing in stocks is a good match for you.
Company Net Worth Guides
Sean Dennison contributed to the reporting for this article.
Information is accurate as of Nov. 11, 2020.
Our in-house research team and on-site financial experts work together to create content that's accurate, impartial, and up to date. We fact-check every single statistic, quote and fact using trusted primary resources to make sure the information we provide is correct. You can learn more about GOBankingRates' processes and standards in our editorial policy.