5 Affordable Places for Gen Z With the Best Commutes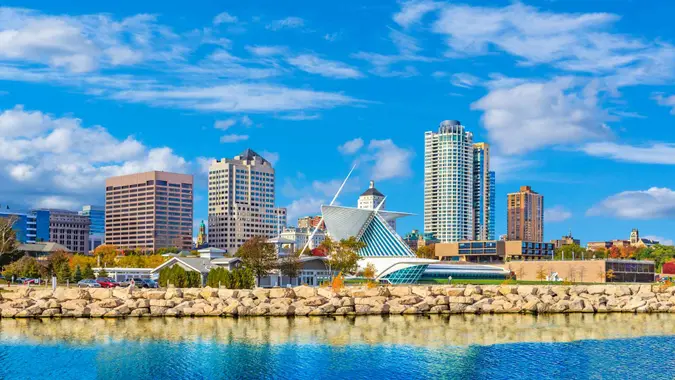 Ron and Patty Thomas / Getty Images/iStockphoto
The oldest members of Generation Z, born between 1997 and 2012, are now in their mid-20s and setting their sights on cities that best fit their priorities. The younger generation is coming of age while dealing with inflation, a higher cost of living and a possible climate crisis, and they have made it known that they prioritize frugality, a healthy work-life balance and sustainability when choosing the best place to live.
To help Gen Zers identify the best metros across the U.S., CommercialCafe analyzed major cities across various key metrics. CommercialCafe used an Affordability Index expressed relative to the national average at 100% and a Green Commuting category, which is a combined percentage of public transportation, walking and cycling as a means to travel to work for each city.
Using these two metrics, here are the most affordable places for Gen Z with the best green commutes.
Minneapolis, Minnesota
Affordability: 98.9
Green commuting: 12.1
According to the study, 9.9% of Minneapolis residents are Gen Zers. The city ranked the highest for providing a sense of community. Minneapolis has a lower cost of living compared to the national average and a large number of parks (4.03) per 10,000 residents.
Meet Minneapolis, a non-profit destination marketing organization, indicated the city's Metro Transit operates one of the largest public transportation systems in the country, with fares ranging from $2 to $3.25 depending on the time of day.
Make Your Money Work for You
Milwaukee, Wisconsin
Affordability: 99.6
Green commuting: 8.5
Milwaukee has a cost of living slightly lower than the national average and about 4.06 parks per 10,000 residents. The city has local transportation options — buses, biking, taxis, trains and scooters — and a compact downtown, which makes walking to work a breeze, according to Visit Milwaukee.
TMJ4 News reported that Milwaukee wants to have the most walkable downtown in the Midwest by 2040. Right now, the city boasts a downtown walkability score of 99 out of 100, and is described as "a walkers paradise." For the entire city, the walk score is 62.
Houston, Texas
Affordability: 92.1
Green commuting: 5.7
Houston, Texas, ranks highest in the recreation category. CommercialCafe noted that the city has a very low cost of living, and Gen Zers living here (7.3% of the population) may have enough funds left over to enjoy recreational activities.
Houston ranked lower in the Green Commuting category, and it doesn't have as many parks per capita, but improvements are on the horizon. Houston Public Media reported that the Texas Transportation Commission has allocated $345 million toward adding sidewalks, bike paths and other improvements to improve safety and mobility across the state.
Columbus, Ohio
Affordability: 89.7
Green commuting: 4.1
CommercialCafe found that Columbus, Ohio, stood out for its lower cost of living — 10% cheaper than the national average. The city has a Gen Z population of 8.8% and a score of 4.1 in the Green Commuting Category.
The Columbus Dispatch reported that the city ranks fifth in the U.S. among cities with the best commutes, according to a report from Yardi Kube. Motorists spent a daily average of 21.5 minutes driving one-way to work in 2022 — five minutes below the 2022 national average of 26.4 minutes.
Make Your Money Work for You
Kansas City, Missouri
Affordability: 94.9
Green commuting: 3.3
Kansas City had the eighth-lowest cost of living on CommercialCafe's list, and approximately 6.8% of the city's population belongs to Gen Z. Kansas City scored low on the Green Commuting category, but the city could see major improvements to its infrastructure.
The U.S. Department of Transportation could provide upwards of $15 billion in financing to mobility projects, reported KMBC News, and Kansas City Mayor Quinton Lucas said the money would likely go toward a streetcar extension. The Kansas City Streetcar is a free-to-ride option and currently travels two miles through the heart of downtown.
More From GOBankingRates