America Turned To Pizza and Alcohol To Get Through Election Night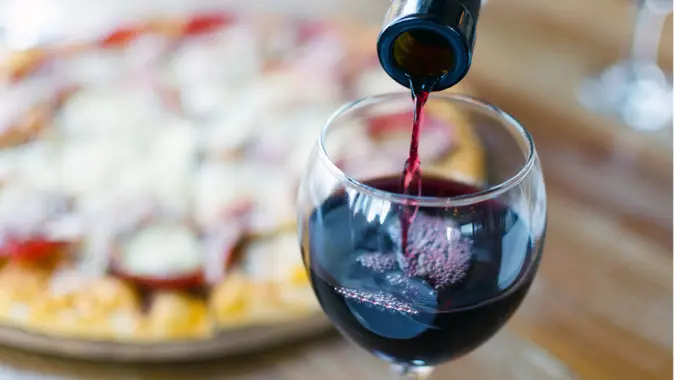 ©iStock.com
The 2020 election has been a real nail-biter. And it isn't even over yet. Two days after election night, we're still anxiously awaiting the results of the nation's most important poll. Considering the pandemic and the large number of mail-in votes, the waiting is, of course, to be expected. In fact, we've been told for weeks (months) that we shouldn't expect results on election night. There would be no victories or concessions. There would also be no pizza rolls or group drinking because you can't have an election night party when it could threaten to be a super-spreader event.
Traditions are hard to break, though. So while we could have spent Tuesday night just chilling and hoping for the best, many of us were still glued to our phones and TV screens hoping against hope that our candidate would win in a landslide. And because the energy to both hope and have a panic attack at the same time takes fortification, we ate. We ate and ate and ate. We drank and smoked cannabis, too. Although the latter could have something to do with marijuana's legalization in several states.
Make Your Money Work for You
According to data from DoorDash, no shortage of people turned to comfort food to soothe their frayed nerves during the tense evening hours on Tuesday. French fries reigned supreme when it came to delivery — mozzarella sticks and chicken fingers also finished in the top 10. Cheese was also a big winner on election night, with swathes of the population filling up on nachos, cheesesteaks and quesadillas. Cheese pizza orders were up 80% compared to the previous Tuesday.
A little more surprising? Hot fudge sundaes also hit big, so let's give it up to the people who had the forethought and control to get their ice cream delivered in portioned sizes rather than just nuking a gallon of Breyer's and pouring it directly down their throat to deal with their deep and complicated emotions.
What mixes well with hot, fried, cheesy foods? Alcohol. Americans purchased a lot of that on election night, too. According to Drizly, an alcohol delivery company, use of the service saw over a 75% increase on election night in blue states — compared to the previous four Tuesdays. Swing states were on edge, too: Drizly saw a more than 50% increase in orders in states including Arizona, Pennsylvania and Georgia. If alcohol were having an election, red wine would be giving a victory speech right now. Unfortunately, alcohol can't be president, so we just have to continue waiting.
Make Your Money Work for You
In California, Eaze, a marijuana delivery company, reported a 17% increase in sales on Election Day, especially among products that came ready to use and hit fastest. Here's hoping that the hangovers didn't hit quite as hard as the news that we still don't have election results did. But at least we all did our part in keeping the economy running and food services in business.
Check out some others ways young people are spending their money.
More From GOBankingRates
Make Your Money Work for You