Are We in a Recession? Depends on Your Tax Bracket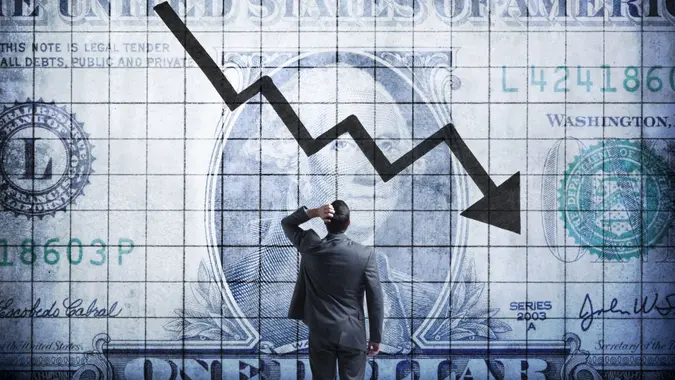 DNY59 / Getty Images
Following months of talks about a potential recession, fears about one actually happening are slowly waning. Indeed, in June, Goldman Sachs economists revised downward their projections for a recession to a 25% chance of recession in the next 12 months, from their earlier projection of 35% shortly following the failure of Silicon Valley Bank in March.
Yet, for Americans in certain tax brackets, it feels like a recession has already started — and it seems mostly confined to one segment of the population: the rich and higher income class.
There has even been a term coined by the Wall Street Journal to describe it: the "richcession."
What Is a 'Richcession'?
While recessions typically affect the broader population, and lower- and middle-class workers are usually the ones taking the brunt of it, this is different, partly due to the massive tech layoffs, where salaries are generally higher than in other industries.
"Data confirms that the so-called [richcession] is still happening," said Bobbi Rebell, CFP,  founder of Financial Wellness Strategies and author of "Launching Financial Grownups: Live Your Richest Life by Helping Your (Almost) Adult Kids Be Everyday Money Smart."
"The wealthy remain wealthy, but they are being disproportionately impacted by economic setbacks, such as layoffs. While many can find high paying new work, it may not be as lucrative or as secure."
Make Your Money Work for You
And indeed, a recent Bank of America report shows that the number of unemployment benefits recipients among higher-income households — those who earn more than $225,000 — increased more than 40% in April from a year ago. This was also more than five times the increase in households earning less than $50,000.
Why Is a Richcession Happening Now?
One of the reasons for the richcession is that the tech sector — where salaries are usually high — continues to take a beating. A Challenger, Gray and Christmas report from July 6 shows that the sector is leading in job cut announcements this year with 141,516, up an eye-popping 2,353% from the 5,769 cuts announced in the same period last year.
"Itfeels like a 'richcession' might still be happening. Contrary to previous expectations, a full-blown recession has not arrived," said Andrew Hunter, co-founder of Adzuna. "In reality, a slowdown is being felt most acutely among workers in the tech industry and on Wall Street, as well as other high earners who are losing jobs. Layoffs are disproportionately affecting higher-earning workers."
Over-Hiring Is One Cause
Hunter explained that there has been massive over-hiring since 2019, particularly at big name companies — with the increased adoption of tech during the pandemic leading to a frenzy for companies to grow their staff.
"Between March 2020 and September 2022, for example, Meta's headcount grew from just shy of 50,000 to more than 80,000 employees," he said. "The pace of tech growth then slowed after the pandemic, alongside wider economic pressures, leading to the recent spate of layoffs — particularly at big tech companies that had excessive management layers like Meta."
Make Your Money Work for You
Hunter notes that while there have also been layoffs in other sectors, such as financial services and retail, they are not nearly to the extent that we have seen in tech.
"Those other organizations didn't over-hire like the tech industry did, nor did they massively overpay for some roles like Google did. The majority of cuts in tech have been higher wage earners," he said.
High Salaries Played a Part
Another reason these high earners are also disproportionately affected is because — while there are jobs still out there — Americans in this income bracket may have a hard time matching the salaries they previously earned, Hunter added.
"Rich people are certainly focused more on austerity now, simply because it feels like the right thing to do in the face of economic uncertainty. The rich are still traveling, going out and spending — but they are being more selective," he said.
Will the Richcession Lead to a Recession?
What about Americans in lower tax brackets? According to Rebell, while they may not be feeling it now, they should be aware that when the wealthy pull back on spending, it can impact the broader economy.
"Middle-class workers may not feel an impact, but there should be an understanding that even the perception of economic strain can change behavior and impact the economy. Consumer behavior of one group can have a detrimental impact on others. The overall economy is not insulated from the behavior of the wealthy," she said.
In addition, lower and middle-income Americans have taken the brunt of the relentless inflation — which, while cooling, made a huge dent in savings and retirement plans.
Make Your Money Work for You
As Hunter noted, middle-income and other Americans will be uniquely affected by the loss of a job, as the loss of health insurance and paying down debt will be more difficult for people who aren't high earners.
"The biggest issue the middle class is facing right now is that savings are dwindling and credit debt and borrowing are skyrocketing," he said. "There's a limit to how much debt people will be able to take on, and at some point, it will hit a wall. People will have to cut back on their spending in big ways, which may include dialing back plans to buy a house or to travel."
More From GOBankingRates