Bacon Prices Through the Years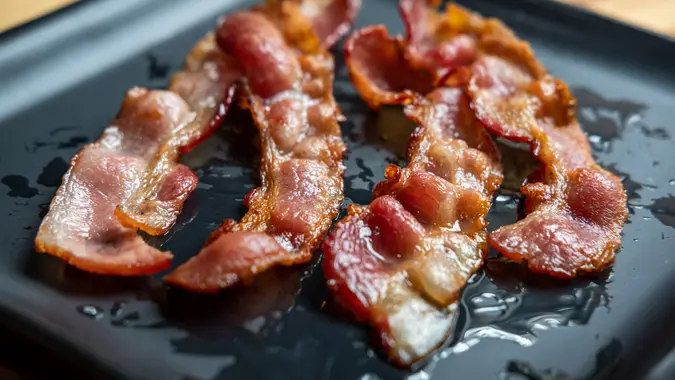 kitzcorner / Getty Images/iStockphoto
Much like other breakfast staples like eggs and cereal, bacon has not been immune to the soaring cost of inflation this year. According to data published by the Bureau of Labor Statistics (BLS) and shared via the U.S. Inflation Calculator, the average price for a pound of bacon was $7.61 in October 2022. 
Take a Look Back: 2022 Year in Review
Check Out: 11 Grocery Items To Buy at Dollar Tree
Bacon enthusiasts may be shocked by these record highs and curious about how much bacon used to cost. So here we'll look back at the absolute price of bacon throughout the decades, how much bacon has increased in price over the last few years, and contributing factors leading to bacon's steady price hikes. Here's how much bacon prices have gone up over the years.
Bacon Prices in the 1940s and 1950s
Southern Living has a nifty timeline breaking down the absolute price of bacon over the decades. If you lived through the 1940s and 1950s, you never paid more than 67 cents for a pound of bacon. At its cheapest, bacon could be purchased at an absolute price of $0.23 cents in 1940. Adjusted for inflation, this price tag would be $3.91 today.
Make Your Money Work for You
Bacon's highest price spike in the 1940s was in 1947 when it reached the absolute price of $0.64 cents. Throughout the 1950s, it would fluctuate anywhere between $0.52 cents to $0.67 cents, the latter at its peak pricing in 1954. In 1956, bacon did enjoy a brief cheap drop down to $0.48 cents with consumers.
Bacon Prices in the 1960s and 1970s
The 1960s saw bacon inching upward in price. Bacon peaked at $0.82 cents in absolute pricing in 1966. The remaining years of the decade saw bacon prices in the 70-cent range. 
Take Our Poll: How Do You Typically Split the Restaurant Bill?
In the 1970s, bacon prices reached $0.82 cents in absolute pricing and then began hitting dollar territory. For the first time in 1973, bacon prices cost more than a dollar at an absolute price of $1.16. While this number shifted a bit in the years afterward, peaking at $1.59 in 1978, bacon prices did not dip below a dollar in price again in the decades to come.
Bacon Prices in the 1980s and 1990s
Throughout the 1980s, bacon prices progressively climbed towards $2. Bacon's absolute price of $2.12 arrived in 1986. Adjusted for inflation, this price tag would be $4.67 today. In 1987, bacon would price hike once more to $2.23, but would tumble back under $2 in 1988 and 1989.
Make Your Money Work for You
A short-lived U.S. recession from July 1990 through March 1991 led to bacon's increase in pricing once more. Bacon would return to an absolute price of $2.21 and $2.34 in 1990 and 1991, respectively. In the aftermath of this mild recession, bacon remained firmly within the $2 camp until it hit a peak increase at $3.20 in 1997.
While the USDA reported there was a constant amount of sales of food purchased in grocery stores, sales were also constant at restaurants. The demand for pork, especially bacon, was high and resulted in higher retail prices.
Bacon Prices in the 2000s and 2010s
In a post-Y2K world, bacon prices never got back down to $2 per pound again. Bacon steadily increased in its $3 range throughout the 2000s until it finally hit $4.13 in 2004. Throughout the rest of the decade, bacon would remain in the $4 absolute pricing range.
2010 marked the end of The Great Recession, lasting from 2007 through 2009, but the topic of bacon's increasing price was heavy on the minds of many Americans. 
Make Your Money Work for You
A CNBC article published in 2010 stated the rising price of bacon was a good economic sign. Due to The Great Recession, farmers had pared back their hog herds. Demand began to pick up for bacon again and farmers began ramping up hog stocks accordingly. Restaurants were also hard at work luring back customers with promises of bacon on menu items.
By 2011, bacon had exited $4 absolute pricing and entered $5 territory at $5.14.
Bacon Prices in the 2020s
Bacon, according to CPI data, started in 2020 at an average price of $5.58 per pound and moved to $6.64 by 2021. With the price of bacon per pound in the $7 range in 2022, it's a bit unnerving to watch bacon continue increasing this quickly within the span of just a few years.
What's driving the price increase of bacon in 2022? According to The Food Institute, meat inflation and supply chain challenges continue to be an ongoing issue with bacon's pricing (as well as most grocery staples). 
Demand is also driving up the price, especially among professionals who now work remotely or from home and are changing the occasions where they eat bacon. Consumers want bacon for breakfast, certainly, but they also want it for lunch. The type of bacon we consume is also changing. Rising in popularity are craft bacon varieties and plant-based bacon alternatives.
In the face of demand, it would appear bacon innovations, in all their many flavors and seasonings, could be the key to offsetting traditional bacon's price tag.
More From GOBankingRates
Make Your Money Work for You