7 Best Countries for Middle-Class Expats To Live In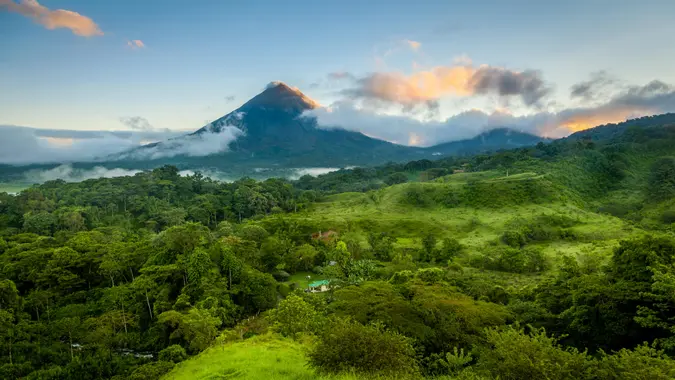 alexeys / Getty Images/iStockphoto
Pursuing an ex-pat lifestyle is a popular choice these days. Many countries have lower costs of living than the U.S., which has made them popular places to move to for years. However, before the remote work boom, the transition wasn't necessarily an easy one to make. You might have had to find a job in the ex-pat country, learn the language and gain an understanding of cultural norms.
Check Out: 20 Most Affordable Places To Live That Have Great Weather, Too
Options: 20 Best Places To Live on Only a Social Security Check
That is all changing with remote work. Now, people can work anywhere in the world as long as there is a reliable internet connection. Learning the language in your ex-pat country is useful, but may not be necessary — especially if you live in a larger city.
Of course, that's not to say you can't still pursue opportunities locally in the country you choose. In fact, the best ex-pat countries have ample opportunities in addition to the obvious benefit of being affordable places to live. I asked the experts which countries they recommend for middle-class ex-pats, and they had a lot to say about which countries they would choose for the ex-pat lifestyle.
Make Your Money Work for You
Find Out: 35 Countries Where Social Security Goes Far
Costa Rica
Costa Rica has become one of the premier destinations for ex-pats due to its endless beaches, excellent and affordable healthcare and a slower pace of life. "Residents of Costa Rica have access to free emergency treatment, low-cost medical procedures, and free or almost free prescription medicines as part of the country's healthcare system," said Rameez Usmani, chief marketing officer at PureTuber.
"Costa Rica's hassle-free residency programs, safety and security, and democratic stability are just a few more reasons to make the move to this beautiful country your retirement home," Usmani said. He also noted that a $2,000 monthly budget can support a healthy standard of living in Costa Rica.
Take a Look: Here's How Much You Need To Earn To Be 'Rich' in Every State
Panama
Panama is known for shipping goods via the Panama Canal, but these days, the country is also a great place for ex-pats. Stephen Curry, CEO of CocoSign, explained why Panama is the ideal destination for ex-pats. "This country stands out among the world's expat destinations due to its solid infrastructure and proximity to North America. And, in terms of value and variety, Panama is unrivaled," Curry said.
Make Your Money Work for You
As Curry said, salaries can be lower, but so can the cost of living. "Salary levels may be lower than elsewhere depending on your profession, but a low cost of living offsets this. A one-bedroom apartment in the city center can cost up to $1,268 per month."
Related: 10 US Cities With Plenty of Jobs and Cheap Housing
Portugal
Bordering Spain to the west is Portugal, a country that has become another haven for digital nomads and ex-pats. According to Tanner Arnold, president and CEO of Revelation Machinery, the cost of living is quite low in Portugal, which is one big reason ex-pats love the country. "It is possible to get by on less than $1,500 a month without sacrificing much comfort," Tanner said.
He also said it's easy to obtain a resident visa there, and ex-pats don't have to worry about double taxation. "Non-habitual residents are exempt from paying taxes on their overseas pensions and other retirement income as a result of a government policy."
He continued, "Because of the hospitable nature of the Portuguese people, foreigners find it much easier to settle in this country in southern Europe. It's hard to beat Portugal's combination of historic charm and forward-thinking modernity as a retirement destination."
Make Your Money Work for You
See: The Most Expensive Countries To Live In
Colombia
Another country in South America, Colombia has been growing in popularity as a place for ex-pats. According to Gilberto Salcedo, VP of Tourism for ProColombia, the country has a lot to offer. "Colombia is the most biodiverse country in the world per square mile, offering expats an incredible variety of nature-drive activities to enjoy while they're not working," Salcedo said.
Salcedo also noted that the country has a world-class yet affordable healthcare system — something that can appeal to older ex-pats in particular. Additionally, the country has a high demand for English speakers. "Because there are a lot of international companies choosing to relocate to Colombia, there is a high demand for English-speaking skilled workers, as well as many traditional opportunities for expats in fields such as teaching, or to become digital nomads."
Thailand
Thailand has become a popular destination in recent years, both for digital nomads and for ex-pats. Sitting on the Gulf of Thailand, the country has gained popularity as people look to escape higher costs in the U.S. and western Europe.
Marc Stitt, chief marketing officer (CMO) of FMX, said there's plenty to love about Thailand. "Young professionals flock to Thailand for its limitless beaches, vibrant culture, and awe-inspiring street food," he said. "Bangkok, Thailand's capital, is home to both traditional floating markets and cutting-edge technology centers."
See: The 50 Best Cities for Renters
Turkey
Turkey is a popular choice for ex-pats who want the big city life offered by Istanbul and Ankara, but perhaps with a slightly warmer climate. "34,000 British expats call Turkey home, and it has long been a popular tourist destination for Britons looking to get a tan," said Kevin Patel, founder and CEO of Convrrt. And Patel said there's more to love about Turkey than just the warm weather. "Travel to the mountains, see the world-famous salt flats, or stay in Mardin's ancient Old Town."
Qatar
Qatar isn't always one of the first ex-pat countries to enter the discussion, but it's worth a look for a couple of reasons. For example, Michael Butt, vice president of marketing at Vertai.ai, said the country has around 8,100 British nationals and the country relies on expatriates to help with labor shortages. "Getting a job in this country is simple because of the high percentage of international workers and residents," Butt said.
According to Butt, Qatar has established several new labor practices as a result of criticism around the FIFA World Cup. Those include minimum wage for all workers regardless of nationality, easier job transitions for ex-pats and employment contracts.
More From GOBankingRates
Make Your Money Work for You