Biden Met With AI Experts on Safeguarding Economy and More — What Are the Financial Risks?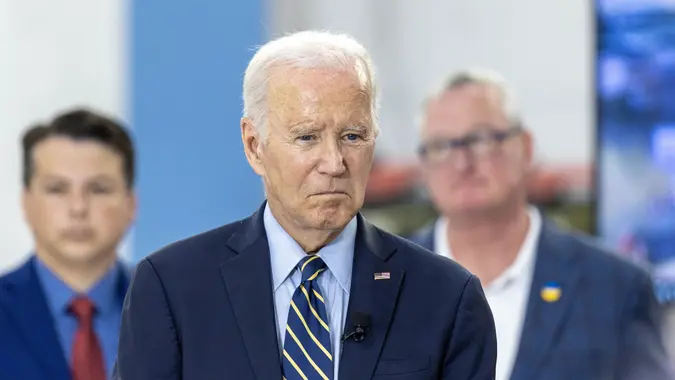 Laurence Kesterston/UPI/Shutterstock / Laurence Kesterston/UPI/Shutterstock
President Joe Biden met with artificial intelligence experts on June 20 to discuss the technology's "enormous promise and its risks."
"In seizing this moment, we need to manage the risks to our society, to our economy, and our national security. My administration is committed — is committed to safeguarding America's rights and safety, from protecting privacy, to addressing bias and disinformation, to making sure AI systems are safe before they are released," Biden said, according to a transcript of his remarks.
The meeting included Sal Khan, the CEO of Khan Academy Inc.; Common Sense Media CEO Jim Steyer; Tristan Harris, executive director of the Center for Humane Technology; Oren Etzioni, former CEO of the Allen Institute for Artificial Intelligence; Fei-Fei Li, co-director of Stanford University's Human-Centered AI Institute; Joy Buolamwini, founder of the Algorithmic Justice League; Jennifer Doudna, a professor of chemistry at the University of California, Berkeley; and Stanford political science professor Rob Reich, according to Bloomberg.
"As I've said before, we're — we'll see more technological change in the next 10 years than we've seen in the last 50 years and maybe even beyond that. And AI is already driving that change in every part of the American life, often in ways we don't notice," Biden added in his remarks.
Last October, the White House released a "Blueprint for an AI Bill of Rights," as well as issued an executive order that directs "federal agencies to root out bias in their design and use of new technologies, including AI, and to protect the public from algorithmic discrimination."
Make Your Money Work for You
The rapid surge of AI has prompted several experts to raise the alarm about the technology's potential risks. A few such risks include the possibility of advanced AI attacks on financial institutions, the insertion of bias or a lack of privacy when dealing with massive amounts of client data — and an overall lack of human care and empathy when dealing with those facing problems or hardship, per Cointelegraph.
Expert CEOs Warn About AI's Potential for Economic Damage
Earlier this month, a group of industry leaders — including OpenAI CEO Sam Altman, Google DeepMind CEO Demis Hassabis and Anthropic CEO Dario Amodei — joined forces to sound the alarm, issuing a one-sentence stark warning.
 "Mitigating the risk of extinction from A.I. should be a global priority alongside other societal-scale risks, such as pandemics and nuclear war," read a one-sentence statement released by the Center for AI Safety, a nonprofit organization. The open letter was signed by more than 350 executives, researchers and engineers working in AI.
Another much-talked-about effect of AI's rapid surge is the toll it's taking on jobs. And earlier this month, a new Challenger, Gray & Christmas report found that nearly 4,000 jobs were lost due to AI in May, as GOBankingRates previously reported.
This was the first time AI was cited as a reason for layoffs in the report, a Challenger, Gray & Christmas spokesperson said in an emailed statement.
Asked whether this development was surprising, the spokesperson said that, "With the speed at which AI is evolving and being adapted, we knew it was coming, but we are surprised at how quickly."
More From GOBankingRates
Make Your Money Work for You