California's 25 Biggest Earthquakes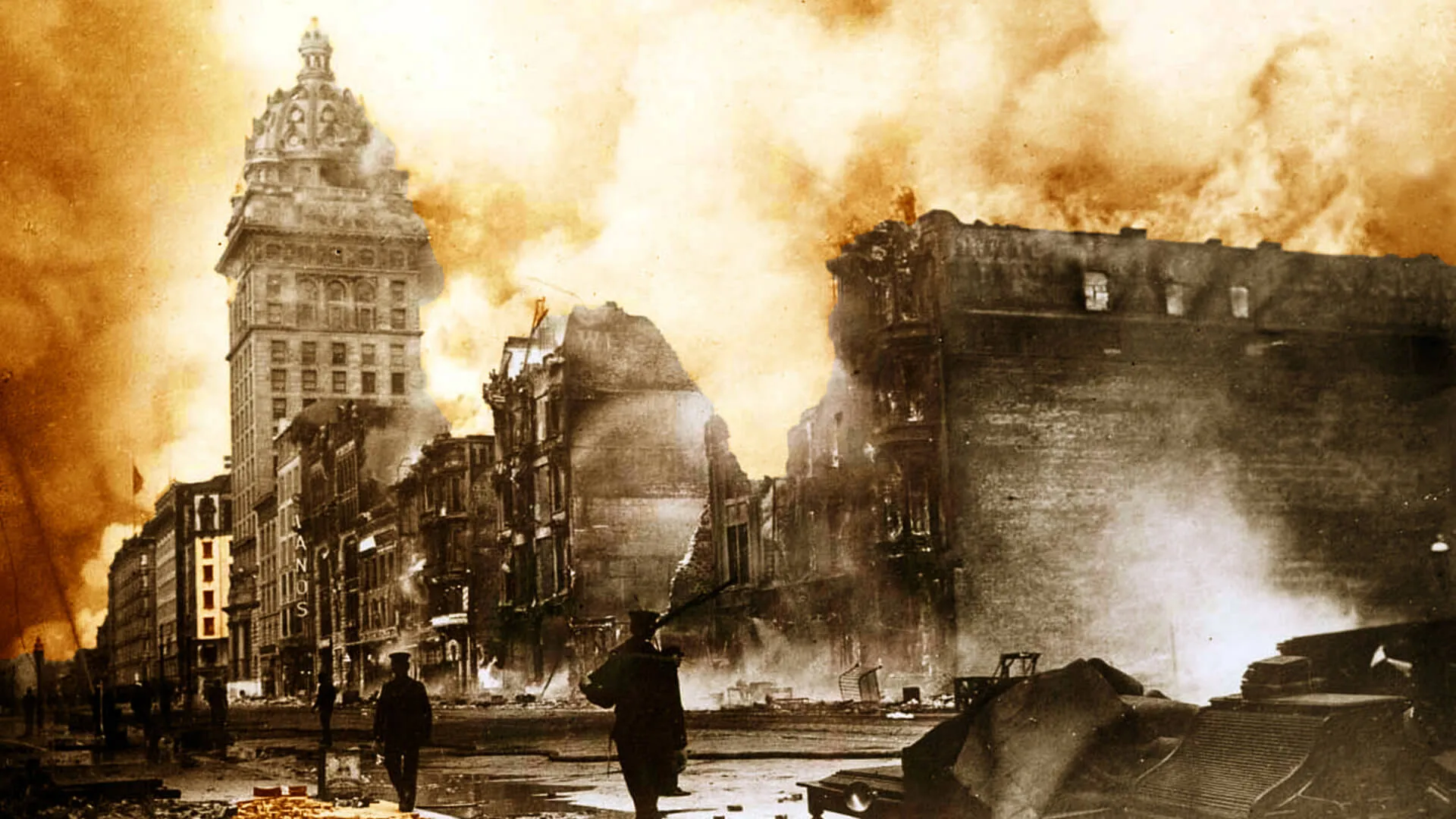 With the recent earthquakes near Ridgecrest, California, talk of the "big one" and quake awareness are once again reaching epic proportions in the earthquake capital of the United States. Researchers have an extensive historical record of powerful California earthquakes to draw on when it comes to understanding quakes, but predicting them remains an enigma.
GOBankingRates looked at the 25 most powerful quakes in California history by magnitude. In terms of property damage and loss of human life, it turns out that the biggest earthquakes are not necessarily the most damaging.
25. 1994 Northridge Earthquake on Jan. 17, 1994
While it's not the most powerful earthquake on GOBankingRates' list, the quake that hit Northridge, California, in 1994 inflicted a staggering amount of damage. According to the National Institute of Standards and Technology, approximately 80,000 to 125,000 people were temporarily or permanently displaced from their homes due to damage from the quake. The earthquake — which struck at 4:31 a.m. local time — was also one of the deadliest in California history, resulting in an estimated 60 deaths and 7,000 injuries. In total, destruction from the quake cost $40 billion in 1994, which equals $70,066,210,700 in 2019 dollars.
24. 1925 Santa Barbara Earthquake on June 29, 1925
The devastating earthquake that struck the seaside community of Santa Barbara, California, in 1925 taught researchers a lot about the damage that earthquakes can cause. Unlike the infamous 1906 San Francisco earthquake, which caused much of its destruction from the resulting fires, the Santa Barbara quake nearly destroyed the entire 36 blocks in the downtown business district from shaking alone. The world-famous Mission Santa Barbara was one building that suffered significant damage, and there were 13 total fatalities reported. Occurring at 6:42 a.m., the quake likely would have caused an even greater loss of human life had it struck during normal business hours. The destruction cost a total of $8 million in 1925, which equals approximately $117,070,628.57 in today's dollars.
Make Your Money Work for You
23. 1918 San Jacinto Earthquake on April 21, 1918
Although this powerful quake struck the cities of San Jacinto, California, and Hemet, California, in the afternoon, additional loss of life was no doubt averted because the shaking hit on a Sunday. Numerous large masonry structures collapsed in the central business districts of both towns, but those areas of the cities were nearly empty, resulting in one fatality and a relatively low number of injuries. According to the Southern California Earthquake Data Center of the California Institute of Technology, a landslide swept a car off a roadway, but the two occupants were saved by a tree that prevented the car from rolling down the hillside. The actual cost of the earthquake was $200,000 in 1918, which equates to $3,606,929.58 in 2019 dollars.
22. 1868 Hayward Earthquake on Oct. 21, 1868
The 1868 Hayward quake is one of many notorious California quakes that affected San Francisco. According to the U.S. Geological Survey (USGS), this quake was one of the most destructive in California history, causing significant property damage and 30 fatalities. The destruction from the earthquake cost $350,000 — a staggering number for 1868. At the time, the population in the area was only 260,000. If such a quake were to strike the same area today, the USGS estimates that hundreds of people would be killed, with thousands left homeless and the local economy devastated. Bay Area officials are working to be prepared for such an event, as the USGS considers the Hayward fault to be a "tectonic time bomb," ready to unleash another earthquake in the magnitude 6.8 to 7 range at any time.
Make Your Money Work for You
21. 1989 Loma Prieta Earthquake on Oct. 18, 1989
Striking near Loma Prieta peak in the Santa Cruz Mountains, this powerful earthquake is infamous for the damage it wreaked on the San Francisco-Oakland area. The actual cost of the quake was $5.6 billion in 1989, which equals $11,418,114,650 in today's dollars. Commonly referred to as the World Series earthquake — as it occurred during the start of a World Series baseball game at nearby Candlestick Park — the Loma Prieta earthquake lasted only 15 seconds but managed to destroy the double-deck Nimitz Freeway in Oakland, California. An estimated 3,757 people were injured, and 62 fatalities were reported. Although the quake occurred during rush hour, many residents in the area were either at the World Series game or watching it at home, which likely prevented further casualties.
20. 1979 Imperial Valley Earthquake on Oct. 15, 1979
The Imperial Valley earthquake of 1979 was the largest in California during the last quarter-century, and although it caused extensive property damage and 91 people were injured, there were no fatalities on record. The cost of destruction from the quake was $30 million, which totals $102,164,361.70 in today's dollars. This largely agricultural region sits right along the international border to Mexico, near Mexicali, which also sustained damage. The earthquake provided valuable information for researchers, as the Imperial County Services building in El Centro, California — one of the few tall buildings in the area — was fitted with numerous earthquake sensors.
See: Here's Exactly How Much You Should Have Saved in an Emergency Fund
Make Your Money Work for You
19. 1812 San Juan Capistrano Earthquake on Dec. 8, 1812
Also known as the Wrightwood earthquake, records from this long-ago quake are sparse, but one thing is certain — 40 Native Americans attending Mass at the Mission San Juan Capistrano were killed when the shaking brought down the mortar walls and roof of the church. The exact size and location of the quake are unknown, but it is believed to have originated in the Mojave segment of the notorious San Andreas Fault.
18. 1994 Mendocino Fault Earthquake on Sept. 1, 1994
This large earthquake was centered in the Pacific Ocean, about 85 miles west of Cape Mendocino, which is a sparsely populated, heavily wooded area. That's why the quake — which was the largest to strike the continental U.S. in 1994 — caused little damage. However, it was powerful enough to be felt across a 50,000-square-mile area, from southwestern Oregon to the San Francisco Bay Area. Notably, the shaking also produced a 5.5-inch tsunami. While the wave was not large enough to cause any damage, it did highlight how quake-prone areas could potentially produce large and damaging tsunamis in the future. There are no records of fatalities or injuries.
17. 1838 San Andreas Earthquake in June 1838
There aren't many records of this quake from the early 19th century, but historians know it occurred on the San Andreas Fault. The earthquake is believed to have stretched from San Francisco to San Juan Bautista, California, and ruptured a short segment of the San Andreas Fault, estimated at between 48 and 62 miles. There are no records of fatalities or injuries.
16. 1992 Petrolia Earthquake on April 25, 1992
This monstrous quake affected the Humboldt County communities of Ferndale and Petrolia, causing 98 injuries and damaging hundreds of homes. Miraculously, there were no fatalities. Although the area is sparsely populated, it is popular with locals and tourists alike due to its dramatic scenery. The 100-year-old general store, the original post office and a gas station all burned to the ground. The actual cost of the destruction was $7.5 million in 1992, which translates to $13,768,387.10 in 2019 dollars.
Make Your Money Work for You
15. 1934 Imperial Valley Earthquake on Dec. 31, 1934
The sparsely populated, agricultural Imperial Valley was rocked on New Year's Eve in 1934 by one of the few California earthquakes to ever register a magnitude greater than 7. It ruptured the Cerro Prieto Fault, with up to several meters of surface slip. There are no records of fatalities or injuries.
14. 2019 Ridgecrest Earthquake on July 5, 2019
Following a Fourth of July temblor that registered a 6.4 magnitude, Ridgecrest was hit by another, more intense earthquake the next evening. Amazingly enough, structural engineers found relatively little damage to the town's buildings. Some mobile homes were tipped off their foundations, gas leaks and fires were reported, and residents temporarily lost power, but there were no reported fatalities or serious injuries in the area. As of July 6, the USGS estimated that the economic loss from the damage caused by the earthquake exceeded $10 million, with a 30% chance of damages crossing the $100 million threshold. The Ridgecrest earthquake was the largest to hit Southern California in roughly 20 years, according to the Los Angeles Times.
13. 2005 Offshore Northern California Earthquake on June 14, 2005
Yet another earthquake in a series of strong quakes to hit off the coast of Northern California, this 2005 earthquake struck in the Pacific Ocean, approximately 146 kilometers west of Crescent City, California. As the quake was so far out to sea, there were no records of injuries or fatalities. However, light shaking was reported from the southern Oregon coastline down to Northern California.
12. 1999 Hector Mine Earthquake on Oct. 16, 1999
This powerful shaker rattled the remote portion of the Mojave Desert housing the Marine Corps Air Ground Combat Center in Twentynine Palms, California. Residents throughout Southern California felt the quake, which also reached parts of Nevada. Luckily, the remoteness of the quake resulted in only four injuries for such a powerful event.
Make Your Money Work for You
11. 1980 Eureka Earthquake on Nov. 8, 1980
Another quake in a sequence of powerful earthquakes off the coast of Northern California, the 1980 Eureka earthquake was strong enough to cause six injuries and five deaths but dealt surprisingly low property damage for such a powerful quake. Also known as the Gorda Basin earthquake, the actual cost of the destruction was approximately $2.8 million in 1980, which equals $8,236,877.19 in 2019 dollars. Intense shaking lasted for about 15 to 30 seconds and was felt from San Francisco to Salem, Oregon.
10. 1940 El Centro Earthquake on May 19, 1940
This quake ranks as the most powerful of all the numerous earthquakes to hit California's Imperial Valley, and it caused significant property damage and loss of life. In total, the destruction cost $33 million in 1940, which translates to $603,645,428.60 in today's dollars. There were 20 people injured and nine deaths reported. The quake was strong enough to sway buildings in Los Angeles, and its effects were felt as far away as Tucson, Arizona. Damage to irrigation systems was widespread, and the fault rupture spread far across the Mexican border.
9. 1923 Humboldt Earthquake on Jan. 22, 1923
The northwestern coast of California is sparsely populated now, and it was even less populated in 1923, when the area was hit by one of the most powerful earthquakes to ever strike off the coast of Northern California. As a result, this huge quake resulted in no reported loss of life and relatively minor property damage, although homes were damaged in several towns. Strong shaking was felt as far away as Reno, Nevada.
8. 1927 Lompoc Earthquake on Nov. 4, 1927
The 1927 Lompoc quake was one of the most powerful earthquakes in Southern California in the 20th century. However, a low population density in the area and the quake's epicenter about 10 miles offshore helped reduce its effects, with no records of deaths or major injuries. People in the nearby town of Surf, California, did report being tossed about, and the quake triggered a 2-meter tsunami in the area, which caused extensive fish deaths.
Make Your Money Work for You
7. 1812 Santa Barbara Earthquake on Dec. 21, 1812
Another powerful ocean-based quake hit off the coast of Santa Barbara, California, and Ventura, California, in 1812 — just two weeks after the powerful San Juan Capistrano earthquake that ranks No. 19 on GOBankingRates' list. Although records from 1812 are limited, the effects of this quake are well-documented. It destroyed the Mission Santa Barbara and nearly wiped out Mission La Purísima Concepción, near present-day Lompoc, California. A Spanish ship anchored 38 miles offshore also sustained damage, possibly from a quake-related tsunami. There was one fatality reported.
6. 1992 Landers Earthquake on June 28, 1992
This shaker was the biggest to hit Southern California in 40 years. The powerful quake ruptured five separate faults over 53 miles, with faults slipping by as much as 18 feet. As the quake was centered in the Mojave Desert — about 120 miles from Los Angeles — the damage was relatively constrained for such a massive seismic event, although it did cause 400 injuries and three deaths. The actual cost of the destruction was $92 million in 1992, which translates to $168,048,958.60 in 2019 dollars.
5. 1922 Offshore Northern California Earthquake on Jan. 31, 1922
As with many quakes in Northern California, this rattler struck 37 miles offshore, west of Eureka, which helped limit its effects. In 1922, the Eureka area was less populated than it is today, which no doubt contributed to the casualty count of zero. This earthquake ranks as the strongest in recorded history for this region.
4. 1952 Kern County Earthquake on July 21, 1952
Striking near Grapevine, California, and Bakersfield, California, in Kern County, this quake registered as one of the largest in U.S. history. With 12 fatalities reported, it was the biggest American quake since the infamous 1906 San Francisco event. Near Bealville, California, reinforced Southern Pacific Railroad concrete tunnels with walls 46 centimeters thick cracked open, and rails were bent into S-shaped curves. About 160 kilometers away at Owens Lake, salt beds shifted. The quake was felt from Reno, Nevada, to San Francisco and all the way south to San Diego. The initial destruction from the quake cost $60 million in 1952, which totals $575,487,640.40 in today's dollars.
Make Your Money Work for You
3. 1872 Lone Pine Earthquake on March 26, 1872
According to the USGS, the earthquake that struck Lone Pine, California, in Owens Valley is regarded as one of only three quakes on record that generated shaking across the full or nearly full extent of California. A total of 27 people were killed, and it was reported that the quake "stopped clocks" and woke up people as far south as San Diego. The earthquake also produced a dramatic surface rupture length of 90 to 100 kilometers. There were 57 people injured, with the total damage costing $250,000 in 1872.
2. 1906 San Francisco Earthquake on April 18, 1906
The famed 1906 San Francisco earthquake ranks as the most lethal earthquake in California history, with over 700 official deaths and likely many more. The quake ruptured 296 miles of the San Andreas Fault and shook for 45 to 60 seconds. Its effects were felt from southern Oregon to the south of Los Angeles, and all the way across to Nevada. The total damage cost a staggering $400 million in 1906.
1. 1857 Fort Tejon Earthquake on Jan. 9, 1857
The most powerful California earthquake in recorded history occurred in 1857, about 45 miles northeast of San Luis Obispo near Parkfield, California. Estimates for the quake's magnitude range from 7.9 to 8.3. The power of this quake, which happened along the infamous San Andreas Fault, was enough to horizontally displace land on the Carrizo Plain by 9 meters. Strong shaking lasted for one to three minutes. Property damage was heavy at Fort Tejon, but despite this, only two deaths were attributed to the earthquake.
Click through to see which states receive the most in disaster aid every year.
More on Making Money and the Economy
Chris Jennings contributed to the reporting for this article.
Methodology: GOBankingRates determined the biggest earthquakes in California in terms of magnitude by analyzing all registered earthquakes after 1800 with a magnitude of 6 or above, sourced from the National Oceanic and Atmospheric Administration, and ranked according to the highest magnitude. All data was compiled on July 1, 2019.