Child Tax Credit Reduction Pushed Poverty Higher, but There's Another Major Culprit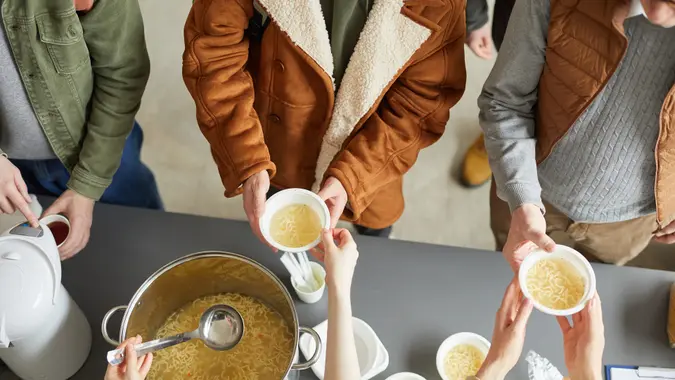 SeventyFour / iStock.com
The expanded Child Tax Credit approved during the COVID-19 pandemic lifted nearly 3 million U.S. children out of poverty in 2021, according to U.S. Census Bureau data. When the program ended last year, the child poverty rate rose by 41% in the space of a single month.
See: Will Ending SNAP Emergency Funds Hurt Biden 2030 Anti-Hunger Goal?
Emergency SNAP Funding Ends in March: How To Prepare a Tighter Budget
Efforts to revive the expanded CTC and even make it permanent have so far fallen short. There was hope late in 2022 that President Biden would convince Congress to revive the program by attaching a work requirement to it, but that never happened — even with a Democrat-controlled lame-duck Congress.
Biden brought the subject up again during his Feb. 7 State of the Union address when he said, "Let's also restore the full Child Tax Credit, which gave tens of millions of parents some breathing room and cut child poverty in half, to the lowest level in history."
That might be a tough sell with Republicans in charge, however.
Make Your Money Work for You
One thing Biden didn't mention was the minimum wage, even though research indicates it also has a major impact on poverty in the United States. The federal minimum wage is $7.25 an hour — and it's been set there since 2009 despite a steep rise in the cost of living that included 2022's historically high inflation rate.
Some states have taken matters into their own hands by hiking their own minimum wages. As GOBankingRates previously reported, at least 23 states and the District of Columbia implemented minimum hourly wage hikes in 2023, ranging between 23 cents and $1.50.
Of the 20 states that haven't raised their minimum wages above the federal minimum, 16 of them have more than 12% of their children living in poverty, The Motley Fool reported, citing a States Newsroom analysis of wage and poverty data.
A 2021 report from the Economic Policy Institute estimated that raising the federal minimum wage to $15 an hour in 2025 would lift up to 3.7 million Americans out poverty — including 1.3 million children.
Among the states where legislatures have not raised the minimum above the federal rate are Mississippi, Louisiana, Georgia, Oklahoma, Tennessee, Kentucky, North Carolina and South Carolina. As the Virginia Mercury reported, each of these states have child poverty rates of 20% or higher, according to Census data analyzed by 24/7 Wall Street. Mississippi has the highest child poverty rate in the United States at 27.6%, while Louisiana follows at 26.3%.
Make Your Money Work for You
Explore: 1 in 5 Americans Buying Groceries at Dollar Stores, New Research Shows
Food Stamps: 3 States Join New $25M Healthy Eating Initiative
But even states with comparatively high minimum wages — including Washington ($15.74 an hour), California ($15.50) and Massachusetts ($15) — also have high costs of living that often mitigate the impact on poverty rates.
More From GOBankingRates
Make Your Money Work for You