Should SNAP Emergency Money Stay Permanent? How Food Insecurity May Worsen as Funds Cut Back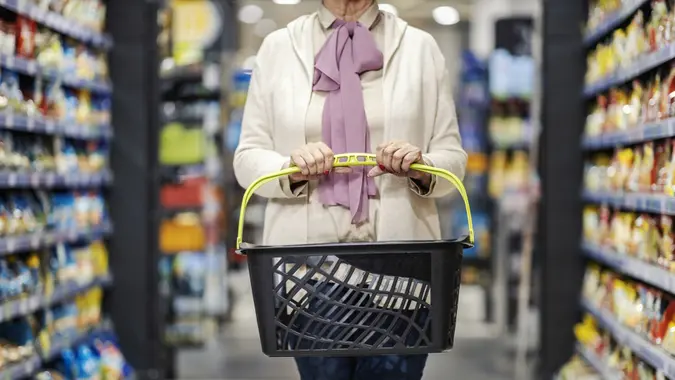 dusanpetkovic / Getty Images/iStockphoto
One of the major impacts of the COVID-19 pandemic was that it contributed to a food crisis for households that suddenly faced a loss of income due to business shutdowns. The U.S. government responded by expanding the Supplemental Nutrition Assistance Program (SNAP) to include emergency allotments in addition to regular monthly payments.
See: Surprising Things You Can Buy With Food Stamps
Read: 3 Ways Smart People Save Money When Filing Their Taxes
Find: Here's How Much Americans Have in Their Savings Accounts in 2023
With the pandemic no longer considered a major health crisis, those emergency allotments are due to end nationwide beginning in March 2023. Some individual states have already ended emergency allotments, according to the U.S. Department of Agriculture. These include Alaska, Arizona, Arkansas, Florida, Georgia, Idaho, Indiana, Iowa, Kentucky, Mississippi, Missouri, Montana, Nebraska, North Dakota, South Dakota, Tennessee, and Wyoming.
Make Your Money Work for You
SNAP, formerly known as food stamps, is a federal food purchasing assistance program overseen by the USDA but administered at the state level.
When the emergency allotments end, SNAP recipients who qualified for the extra money will see their monthly payments fall by $95 or more. According to some estimates, the average monthly SNAP benefit will be reduced by $82 a month per person.
These developments have prompted hunger advocates to sound the alarm about the potentially devastating impact on the food security of millions of financially strapped American households.
In a Jan. 31 report for the Union of Concerned Scientists, interdisciplinary scientist Alice Reznickova warned of an "approaching hunger cliff" for many of the 42 million people who depend on SNAP. That's mainly because SNAP benefits might not have been enough even before the emergency allotments were approved.
"Because so many people are now at risk of going hungry without these extra benefits, this shows that pre-pandemic SNAP was insufficient," Reznickova wrote. "In other words, the pandemic expansion of SNAP was not just an emergency benefit, but rather an integral supplement that would have made SNAP work better in the future."
Make Your Money Work for You
Food Insecurity Remains a Concern in America
Between 10% and 15% of U.S. households were deemed food insecure each year over the past two decades, Reznickova noted, citing USDA data. That's the case even with the assistance of SNAP benefits.
What's more, not everyone who is food insecure even qualifies for SNAP.
To be eligible, a household's gross income must be at or below 130% of the poverty line, according to the Center on Budget and Policy Priorities. For a family of three, the poverty line used to calculate SNAP benefits in fiscal year 2023 is $1,920 a month. This means that 130% of the poverty line for a three-person family is $2,495 a month, or about $29,940 a year. The poverty level is higher for bigger families and lower for smaller families, the CBPP said.
But as Reznickova pointed out, studies on food security have found that nearly 19% of households with incomes between 130% and 185% of the poverty threshold identify as food insecure. But because of their income, they don't qualify for SNAP benefits.
"Many who need help putting food on the table may not qualify and those who do [qualify] may not receive enough benefits," Reznickova wrote. "The introduction of new necessities (such as technology) as well as skyrocketing costs for healthcare, education, and housing take up more space in a household budget while incomes have stagnated. This means that households may be spending more than 70% of their income on other necessities and may not be able to afford food even at incomes higher than the federal poverty threshold."
Make Your Money Work for You
Take Our Poll: Are You In Favor of More Inflation Relief in 2023?
SNAP and More: Why Record Inflation Hasn't Heavily Impacted Food Insecurity
She recommended that government officials re-evaluate the eligibility requirements for SNAP, while others have urged lawmakers to make the emergency SNAP payments permanent. So far, neither of those things have happened.
More From GOBankingRates
Make Your Money Work for You